TechEagle partners with AIIMS Rishikesh to deliver TB medicines
The Vertiplane X3 drone carried 3 kilograms of TB medicines from AIIMS Rishikesh to New Tehri PHC, covering 36 kilometers in 2 kilometers in 29 minutes. It is 6X faster than ground transportation, as the road journey is 72+ kilometers long and takes 2.5-3 hours.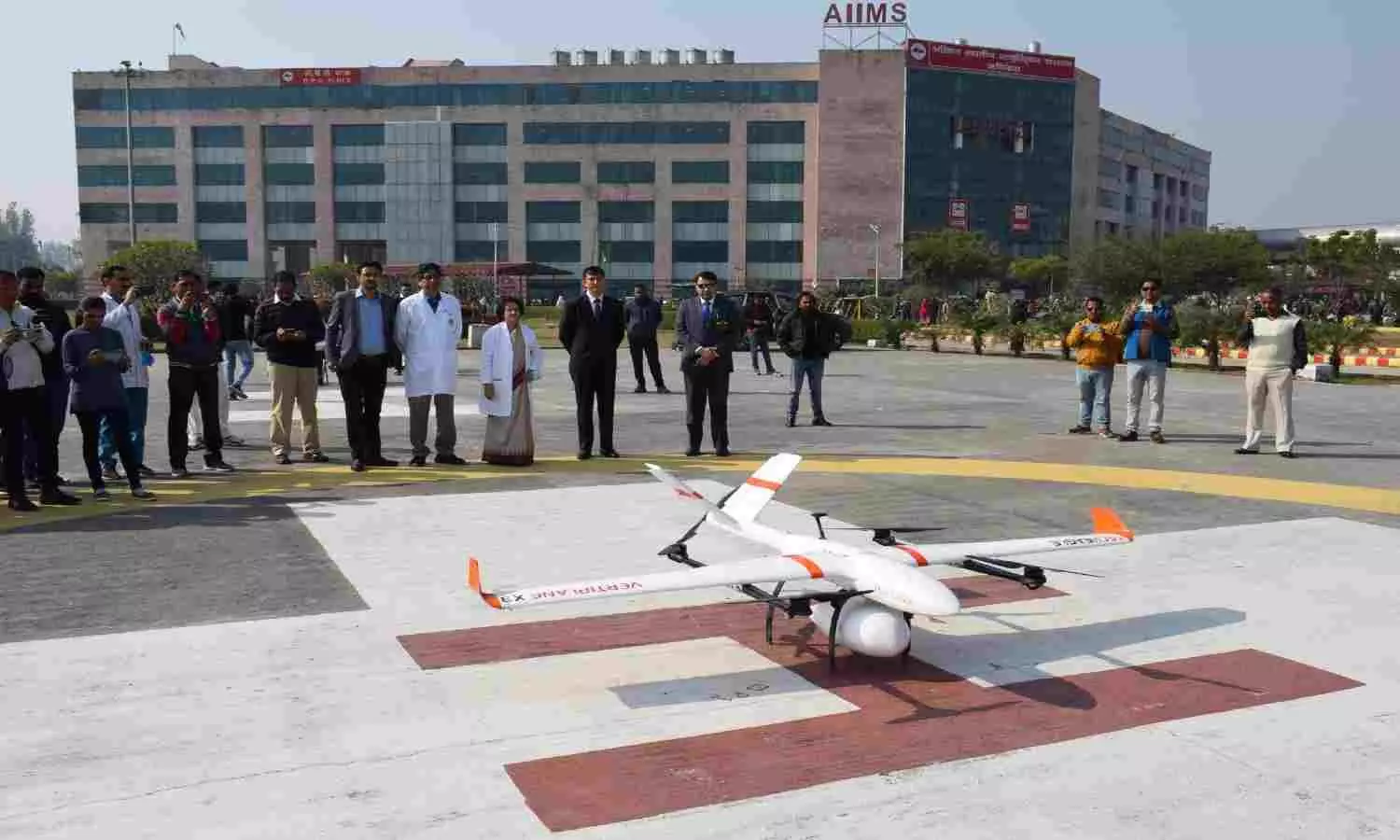 On February 16, TechEagle's Vertiplane X3 drone conducted its first delivery in Uttarakhand, bringing 3 kilograms of TB medicines from AIIMS Rishikesh to New Tehri PHC, covering a distance of 36 kilometers nonstop and gaining 2 kilometers in 29 minutes.
It is 6X quicker than ground transportation, as the route by road is 72+ kilometers and takes around 2.5-3 hours. The TB diagnostic samples from the patient's family members were returned by the drone.
This effort is part of the Indian government's Pradhan Mantri TB Mukt Bharat Abhiyaan, which was started last year. The end-to-end Drone technology stack from TechEagle has the ability to increase healthcare access in remote and underserved regions throughout Uttarakhand.
Dr. Meenu Singh, Executive Director & CEO, AIIMS Rishikesh said, "Our effort is to deliver essential medicines to the needy in all the remote areas of Uttarakhand. Especially in Uttarakhand, we have made efforts in the direction of tuberculosis control. Prime Minister Narendra Modi reiterated the resolve of a TB-free India. We have tried to make this resolution a reality in Uttarakhand. After completing all the homework under the campaign to send medicines by drone, we have selected Tehri Garhwal district of Uttarakhand for this service."
Vikram Singh Meena, Founder & CEO, TechEagle said, "We are extremely grateful for the opportunity to work with AIIMS Rishikesh and the Government of Uttarakhand and to transform the healthcare supply chain in the state. Our team at TechEagle is committed to expanding this project statewide, leveraging the power of drone delivery to save and improve lives in the country. This is not just a business opportunity for us, but a chance to make a meaningful impact on the society we serve. We are proud to be leading the way in the adoption of drone delivery solutions for healthcare in India and look forward to continuing creating a larger drone ecosystem in India."
"TechEagle's Vertiplane X3 is a state-of-the-art e-VTOL drone that is designed to revolutionise the logistics and healthcare industries in India. With its incredible range and speed, our drone can transport anything weighing up to 5kg over a distance of 100km, making it the fastest and longest-range hybrid drone in the country. The drone's unique ability to take off vertically like a helicopter and then convert into fixed-wing mode for greater speed and longer distances is what sets it apart from other drones in the market. In addition, it can also land in small areas of just 5m x 5m, making it ideal for delivering essential supplies to remote or hard-to-reach areas. We are excited to bring this cutting-edge technology to India and make a real difference in people's lives," Meena added.
AIIMS Rishikesh also expressed gratitude for the initiative and its potential to enhance the lives of patients in the region. This project's success might pave the door for more widespread use of drone delivery technologies in healthcare and beyond.
With its innovative drone delivery systems, TechEagle is at the forefront of revolutionizing India's healthcare supply chain.
TechEagle has reached significant milestones in its journey to offer people in India universal access to healthcare. In 2018, it pioneered the world's first tea delivery by drone in Lucknow, Uttar Pradesh. In addition, with the World Economic Forum's Medicine from the Sky Project, the company completed Asia's first cold chain vaccine delivery by drones in the state of Telangana. It has also performed the longest parcel delivery with drones for India Post, delivering Covid-19 vaccines and medicines to hard-to-reach locations in Himachal Pradesh and Meghalaya.
TechEagle's drone delivery solutions are transforming the healthcare supply chain in the country and enabling enterprises to transport essential items. The company is committed to providing universal access to healthcare for all people in the country to save and improve lives.