'Logistics would probably be our first customer'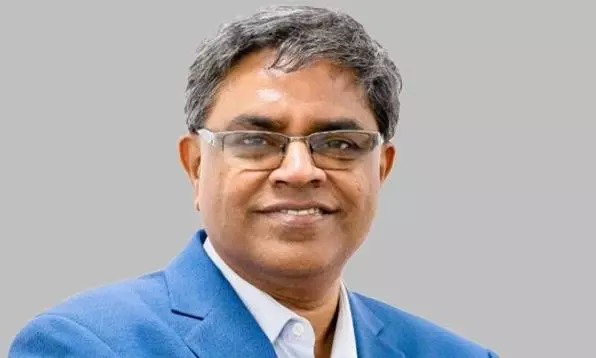 As the first-ever conference on Advanced Air Mobility (AAM) recently got underway in Bangalore, we caught up with one of its delegates Professor Satya Chakravarthy, a faculty at IIT Madras and the founder of The ePlane Company, an electric plane startup that was incubated at IIT Madras and is slated to start flying logistics cargo by 2023-24 and is looking to conduct the first passenger flights via flying taxis by 2025 that can transport both passengers and cargo. Chakravarthy does some real talk about the rise of eVTOLs (electric vertical take-off and landing aircraft) in the AAM landscape, India's new drone policy, and regulations in India, and the opportunities this sector holds for urban air mobility and moving cargo
What are some aircraft you are working on and where do your company's commercialization efforts stand at the moment?
The prototype we have worked on is called the e6, which can carry 6 kg payloads. The e6 is what we are commercializing now, once we find a customer. There are two applications for it including camera-based applications for specifically long-distance inspection, surveillance, and mapping of things like power lines, pipelines, or railways lines and it can fly for 30-40 km at a stretch. The other applications are cargo deliveries. We still have to explore e-commerce at that level, but we are in the process of doing pilots of last-mile logistics and deliveries as well.
We have the capabilities for BVLOS (Beyond Visual Line of Sight) and autonomous flights. We are in fact exploring a third level of communication with SATCOM (Satellite Communication), with a combination of RF (Radio Frequency) and using 4G networks to localize the drone and that is already in place.
We are also in the process of flight testing the E50 that can carry 50 kgs of payload. In India, this variant comes under drone rules. One can call the e50 an eVTOL, especially by international standards, and conceptually even the e6 is also an eVTOL because it has wings and vertical take-off capabilities like a drone and these are typically what we call an eVTOL. So we essentially are working on eVTOLs starting from the e6. The e6 is the size of a drone, whereas the e200 is the size of an airplane and has a payload of 200 kg.
What can you tell us about the cargo plane and the flying taxi that you are working on?
We are making a two-seater eVTOL called e200 and have completed its design and will be doing the engineering part in the next two months. The e200 is a two-seater including the pilot. We will start the fabrication of parts by June and finish the first prototype by November. This prototype requires an elaborate certification and we have already applied for the certification process in December. We have submitted the 'design organization approval application' and got accepted and so we are now eligible to apply for type certification. The e200 will not carry cargo instead we are developing the e100 which can carry 100 kg of payload. So the e100 is essentially a cargo version of the e200 without a pilot, which is what we are working on right now. The e100 will come under drone rules and both the e200 and e100 are expected to be operational by the end of the year.
Do you have any partnerships with any logistics, pharma, or e-commerce players in place? What investments are you looking at for the development of these drones and aircraft?
We have raised about $6 million in capital so far. We are currently in the market trying to look for $20 million. We have had an interest in partnerships primarily in terms of shoring up the supply chain or looking at potential manufacturing partners which include existing leading automotive players.
We are actually exploring logistics and medical deliveries with a few people, besides offering camera-based solutions. We are currently doing a lot of demos for companies and signing MoUs so we can do paid pilots.
We have not yet explored e-commerce because its biggest activity is in the 'yellow zones', which require permissions. Currently, everything above 400 feet is all yellow zone and there are moves to push BVLOS operations there, but yellow zone permissions have not yet been enabled by the government. I think these are things that the civil aviation ministry and the DGCA (Directorate General of Civil Aviation) are working on.
What is the difference between aircraft meant for Advanced Air Mobility (AAM) and drones and what are the regulations surrounding both?
We have drones, eVTOLS, and planes. Advanced Air Mobility is a concept that tries to integrate all three. eVTOLS are meant to be servicing the UAM (urban air mobility) sector and take larger payloads for cargo or people. Flying people will have larger safety standards than cargo, so they will actually come under aircraft and they are generally classified as eVTOLs or miniature planes and not classified as drones.
In the outside world, anything that goes past about 25 kg (payload) is not classified as a drone, whereas in India we still call it a drone. As per the drone rules that came up in 2022, this one (eVTOLs) will still be operating under drone rules.
What is your take on the drone industry's need for having a charging ecosystem in place to boost its growth momentum?
Except for the charging infrastructure, we pretty much have something going in most cities in the form of existing helipads, so we can start from there. Our goal is to actually land on rooftops of buildings or frontages of apartments and complexes, office spaces, and parking lots - those are basically existing spaces. I wouldn't say we are avoiding the concept of vertiports but we don't need a helipad all the way.
Most of the other companies around the world are not thinking about rooftop landings as much as we do and that's because we are the most compact eVTOL in the world at any size that we make. And we have aggressively pursued that in addition to having a very slow speed. This is a combination that is very hard to strive for technically and we have actually persevered with an IP for that purpose. The slow speed is important to do multiple short hops before we have downtime for charging the battery, instead of one long flight.
The way we will probably go is to start with existing helipads and then the next step would be to look at how to set up vertiports in different parts of the city and then get into building properties like the parking lots, top of parking decks, front yards of buildings and then it can go to rooftops progressively but the emphasis will be on existing spaces instead of trying to create new spaces.
We want to remain light on infrastructure. However, one must have obtained permissions from the agencies for no-landing spots and a certain number of landing spots and have developed a standardized flight path. We are in conversation with the Ministry of Civil Aviation so that we can sensitize everybody under them to warm up to the idea that we can land and take off from multiple places.
From which vertical do you foresee getting your first customer? How soon do you see the deployment of these eVTOLs that you have developed that will be flying in the green zones?
Logistics or carrying packages would probably be our first customer because we are talking about cargo first. This will be true for the e6, e50, and e100 and this will lead to the subsequent ones. There are some logistics players who do only large cargo and some do both small and large cargo and we plan to serve both.
Deployment with the e6 can happen anytime now. With the e100 we are expecting the deployment to happen by the end of the year and we believe that the initial use case will come from logistics.
What is your one big ask from the government at this point especially as the yellow zones are yet to be unlocked?
So my attitude is to first earn some credibility in doing green zones and then ask the government to unlock yellow zones. So that's where striking these partnerships and doing some work is important to show the government that there is a credible reason why we want to unlock the yellow zones.
We also have to work on technology for the same. The thing about drones and yellow zones is that currently, it is not possible to track drones (below 25 kg payload) very well. That's one of the things the government is concerned about. Most of the drones whose payloads are 25 kg or less are difficult to track. The tracking equipment's form factor and weight are not conducive for putting them on smaller drones, so somebody has to miniaturize this.
Whereas in the eVTOLs that we are making, including the e50, e100, and the e200 which is a passenger aircraft anyways, we can actually put in equipment that is similar to what exists in planes for tracking by the ATCs (Air Traffic Control). And so that problem will be alleviated. So there is also a technical obstruction that is making the government remain in a waiting mode. The government is saying if we can track your planes, then we will allow it. In fact, our company is also working on developing an ATC system that we can track in a more automated way.