eVTOLs or ASHAs have tremendous capability for transporting both human traffic as well as cargo: Scindia
The Union minister of civil aviation Jyotiraditya Scindia was talking at the first two-day conference and exhibition on 'Advanced and Short Haul Air Mobility (ASHA): Technologies for ease of travel' that was held in Bengaluru recently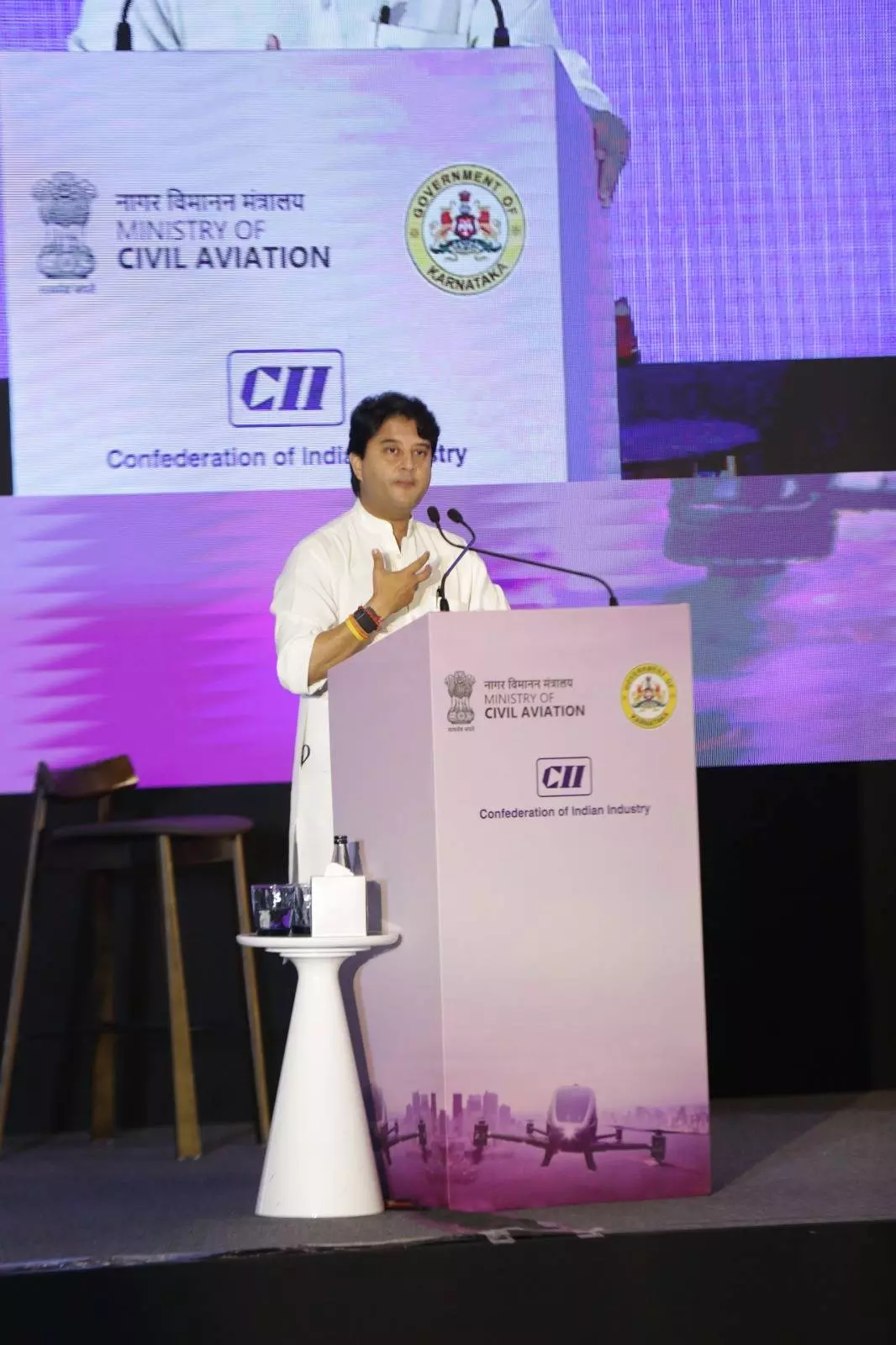 The union minister of civil aviation Jyotiraditya Scindia on Tuesday said that India was keen to be a partner in the harmonization of regulations internationally in the area of advanced air mobility and that it held tremendous cargo potential. The lawmaker was talking at the first two-day conference and exhibition on 'Advanced and Short Haul Air Mobility (ASHA): Technologies for ease of travel' that was held in Bengaluru, on the 27th and 28th of March 2023.
During his address at the event, Scindia urged the industry and global players to use the term ASHA which signifies hope in the Hindi language. Outlining the four building blocks that need to be in place for there to be growth in this sector, the minister while speaking to media persons at the event said, "The cargo capabilities of drones have already been proven and we have seen many companies like Swiggy and Amazon testing the capabilities of delivery via drones. eVTOLs or ASHAs have a tremendous capability for transporting both human traffic as well as cargo. Firstly the harmonization of the standards and rules needs to be in place. Both FAA and EASA are in the process of approving certain standards related to this and we would like to partner in that regulatory harmonization process. The US has passed the air mobility bill in October 2022, so what used to be a dream in our childhoods is becoming a reality. Secondly, international regulations have to be put in place and thirdly the manufacture of ASHAs needs to be done and the machines need to be there. The fourth is that the logistical infrastructure, including the setting up of vertiports and charging infrastructure for the eVTOLs needed to be able to spur the emergence of this technology for short-haul traffic. I believe that India is on the cusp of that revolution. "
While stating that India was proving itself to be a manufacturing hub in the aerospace sector, Scindia invited global companies to be part of India's journey. "India will become the largest civil aviation market in the next decade. India has crossed the pre-COVID number of air travelers by 10 percent to reach 455,000 passenger daily, with airlines now operating at an 80-90 percent load factor. For a country the size of India the penetration level (of airports) in a population of 1.3 billion is, however, still 3-5 percent," he said.
Speaking about opportunities in the advanced air mobility sector, the minister said the drone market will become a Rs 3 lakh crore market by 2030 employing 3-4 lakh persons. He underscored the need to have a good ecosystem and said Advanced Air Mobility(AAM) must have its basis in strong civil aviation infrastructure. AAM comprises drones, helicopters, e-VTOL (electric, vertical take-off, and landing systems), and other air systems used for ferrying people and goods over short distances.
Salil Gupte, president, of Boeing India and chairman of the CII National Committee, who also spoke at the event said, "Technologies have to be evaluated from many perspectives not only from civil but also from a defense angle. We need sustained electrification of these technologies. At a time, when Boeing with its partners like International Air Transport Association (IATA ), International Civil Aviation Organisation (ICAO), and others are committed to achieving Net-Zero by 2050, we cannot do anything with the advanced mobility sector that makes it a bogeyman in (green) space."
Gupte said that while India moves ahead in the AAM sector, other related areas that will need close attention include cyber security to keep this ecosystem safe and integrated airspace management.
"The take-off of AAM will need a robust ecosystem that includes vehicles, training and education, research and development, landing structure, fleet-management, demand management, linkages with other mobility systems," said Kamal Bali, President and MD Volvo Group in India, and chairman, CII Southern Region. For the industry, it will mean a huge new value chain, new economic clusters, and many new jobs, he added.