BLR Airport will handle 1.9 million metric tonnes air cargo by 2038: BCG
March 26, 2021: Mario Gonsalves, managing director & partner, Boston Consulting Group (BCG) estimates that Kempegowda International Airport, Bengaluru (KIAB/ BLR Airport) will be handling 1 million metric tonnes of air cargo by 2030 and 1.7 to 1.9 MMT by 2038 with a consistent cargo growth of 8.5 to 10 percent citing the infrastructural development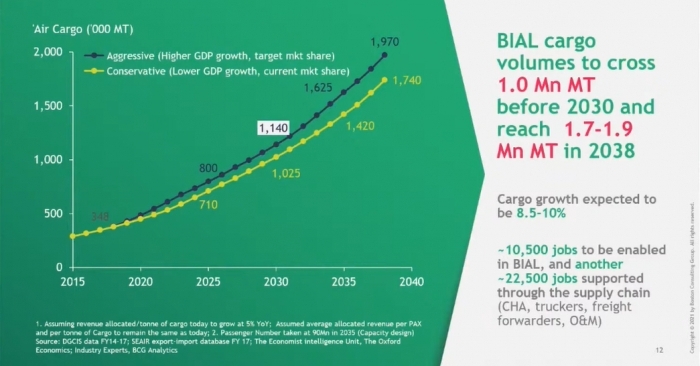 March 26, 2021: Mario Gonsalves, managing director & partner, Boston Consulting Group (BCG) estimates that Kempegowda International Airport, Bengaluru (KIAB/ BLR Airport) will be handling 1 million metric tonnes of air cargo by 2030 and 1.7 to 1.9 MMT by 2038 with a consistent cargo growth of 8.5 to 10 percent citing the infrastructural developments happening in the airport, self-reliant manufacturing push by government and the ever-improving economic conditions in South India.
He was doing a presentation on South India Market Insights during a webinar organised by Indian Transport & Logistics News (itln.in), presented by Kempegowda International Airport, Bengaluru (KIAB/ BLR Airport) and supported by sGATE Tech Solutions under the topic "Above and Beyond Tapping BLR Airport's Potential as South India's Hub For EXIM Cargo" on March 25, 2021.
"The Airport at Bengaluru is optimally located in region with all major manufacturing clusters in South India situated in 7-8 hours reach of the airport. It includes agri-perishables and floriculture coming from Karnataka, Kerala and Tamil Nadu, pharmaceutical cargo coming from Goa, Telangana and Andhra Pradesh, ready-made garments from Tirupur, Tamil Nadu, engineering products from Coimbatore and the north Karnataka which is a major manufacturing catchment," he said.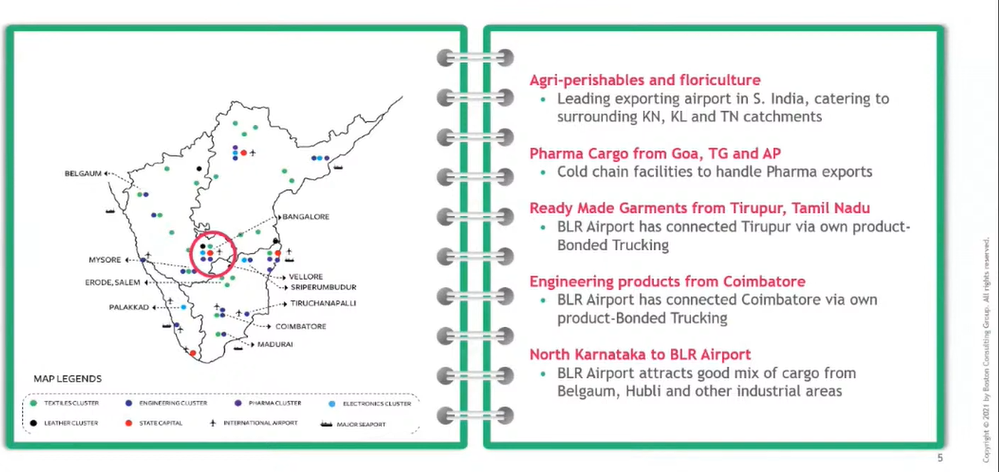 "The three key trends that will shape the future of air cargo movements in South India are 1. The push towards self-reliance or import substitution, 2. India emerging as a global export hub due to the China+1 policy of global manufacturers and 3. the focus on developing sunrise sectors. India has identified 12 key sectors for the Atmanirbhar push. There is a lot of work going on the ground as well, particularly in Karnataka. There are specific clusters identified for many of these sectors. This includes EV cluster in Ramnagara, textile cluster in Bellary, toys cluster in Koppal, pharma in Yadgir, FMCG cluster in Hubali etc," he added.
According to BCG, BLR airport caters to 43 percent (2,92,000 MT) of all air cargo movements in South India, higher than Chennai (37 percent), Hyderabad (15 percent) and Kochi (6 percent). It accounts for 49 percent of all domestic cargo share, largely driven by e-commerce shipments, above Chennai (27 percent), Hyderabad (19 percent) and Kochi (4 percent).
While Bengaluru also leads in the export cargo share, Chennai holds the top position in import share. BLR Airport has 40 percent share in exports and 38 percent in imports while Chennai has 34 and 51 percent respectively.
Bangalore International Airport has a significant advantage in terms of the mix of high yielding EXIM commodities it has access to. Whether it is electronics, textiles, leather, pharmaceuticals, horticulture agri-perishables and auto components, all of them are relatively dense cargo and hence high yielding cargo commodities.
While the export mix includes agri-perishables, textiles, high precision equipment, electronic, heavy machinery and pharma, the import mix is of electronics, heavy machinery, healthcare & life sciences, auto components and aerospace.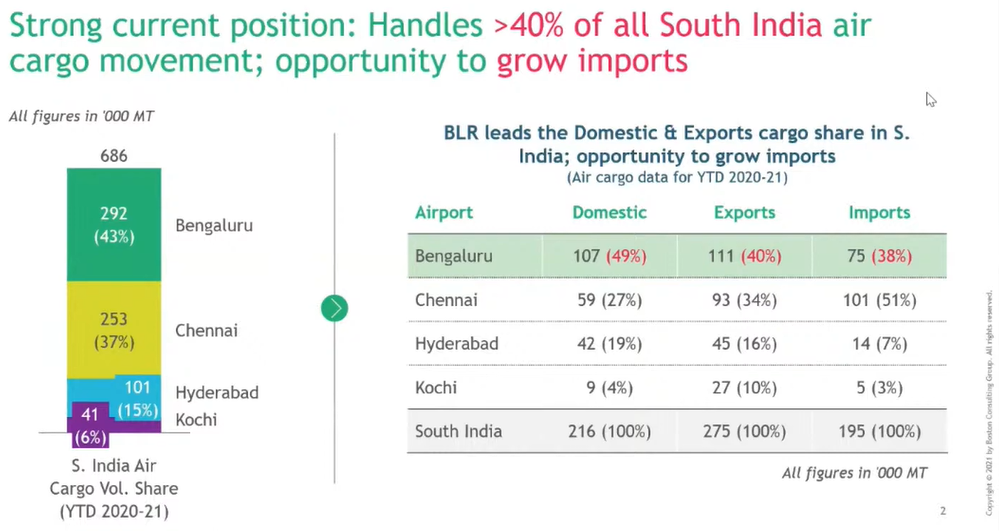 Satyaki Raghunath, chief strategy & development officer, BIAL, said, "Over the course of last 13 years, from India's first greenfield airport to now second largest airport in terms of passenger and third largest in terms of cargo volumes, we've always focused on developing our cargo infrastructure. BLR Airport is perfectly positioned as the natural gateway for the entire southern region of the Indian Peninsula. We've invested a great deal in developing route network and physical infrastructure in order to grow this cargo market."
"During the pandemic also we've put great effort to develop this cargo network by adding new players, we've 14 freighters serving 25 international airports, increased our cargo capacity with the new express cargo terminal and invested into the public bonded warehouse," he added.
Raveen Pinto, vice president, aviation business, BIAL, "BIAL has always outperformed its traffic projections both in passenger and cargo business which require constant infrastructure upgrade. Despite pandemic, we continued investing."