BLR Airport handles 9 mn roses for 41 cities this Valentine's season
February 15, 2021: Kempegowda International Airport, Bengaluru (KIAB/ BLR Airport) transported 9 million rose stems (273,000 kg) to 41 different destinations for the Valentine's Day season of 2021 of which 6.4 million or 170,000 kg was for international destinations including Singapore, London, Dubai, Kuwait, Kuala Lumpur, Auckland, Beirut and Mani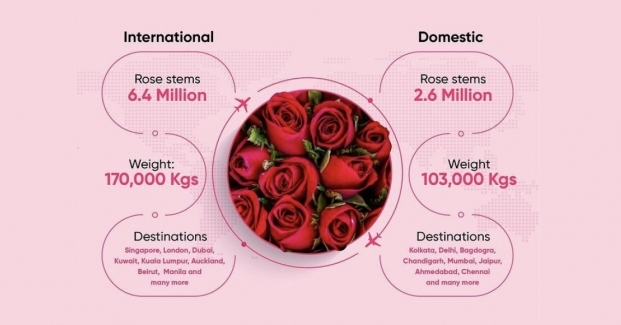 February 15, 2021: Kempegowda International Airport, Bengaluru (KIAB/ BLR Airport) transported 9 million rose stems (273,000 kg) to 41 different destinations for the Valentine's Day season of 2021 of which 6.4 million or 170,000 kg was for international destinations including Singapore, London, Dubai, Kuwait, Kuala Lumpur, Auckland, Beirut and Manila.
2.6 million rose stems (103,000 kg) was flown to domestic destinations including Kolkata, Delhi, Bagdogra, Chandigarh, Mumbai, Jaipur, Ahmedabad and Chennai.
Bengaluru Airport has become an important transportation hub for perishables produced in Karnataka and nearby states. For example, the airport processed 180,745 kg pomegranates from April to August 2020, to emerge as the leading airport for pomegranate exports from India.
With an overall cargo capacity of 5,70,000 metric tonnes per year, the airport also is looking to increase its capacity to a million metric tonnes in few years, as informed by Satyaki Raghunath, chief strategy & development officer, BIAL.
In a recent webinar on perishables organised by Indian Transport & Logistics News, Manoj Rajan, IFS, special secretary, government of Karnataka (Food Processing & Harvest Technology), had said that Karnataka handles 75 percent of India's total flower production.
"Karnataka ranks first, second and third in India for most important agri commodities. It ranks first for coffee, gherkins, rose, silk, capsicum, green chilli, tamarind and sunflower. It ranks second for pomegranate, maize, cut flowers, cloves, tomato, grapes and pepper. It ranks third for mango, onion, dry chillies, cardamom and sugarcane. It has 46 geographical indicators, one of the top producers of cashews and handles 75 percent of India's total flower production. Karnataka is the only producer of rose onion and has the second-largest milk producing cooperative," he said.
Love is in the air at @BLRAirport. This Valentine's season, we exported 273,000 kgs of roses to 41 international and domestic destinations. Happy Valentine's Day! #ValentinesDay #VDay #AirIndiaSATS #MenziesBobba #Aviation #exports #cargo #rose pic.twitter.com/UuheUO0uOW

— BLR Airport (@BLRAirport) February 14, 2021