Qatar Airways Cargo moves 30 million COVID-19 vaccines from India
With the Indian subcontinent (ISC) generating more than a quarter of all pharma shipments in the Qatar Airways Cargo network, India is also home to the airline's largest pool of pharma experts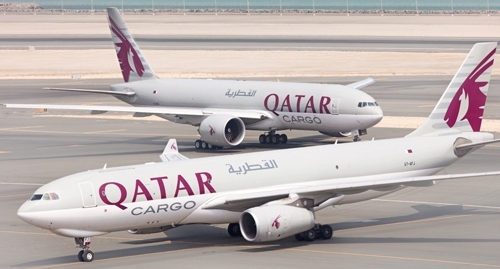 Given that the Indian pharmaceuticals market is the world's third-largest in terms of volume, and the country caters to around 60% of global vaccine demand, it comes as no surprise that the pharmaceuticals industry plays such a central role in Indian air cargo.
When Qatar Airways Cargo launched its pharma product in January 2014, India was one of the first markets to offer it. The airline has since grown to become one of the ISC's leading cargo carriers, and today, with a pharmaceuticals market share of almost 18% in India, practically every fifth pharma shipment leaves the country on board a Qatar Airways Cargo plane.
"The Indian pharma market is very important for Qatar Airways Cargo," Ehab Matta, Senior Manager Regional Cargo Indian subcontinent, Middle East & Pakistan – Qatar Airways, explains. "We work closely with major vaccine manufacturers in India through our global partnerships with international as well as leading local freight forwarders."
It is this close collaboration with customers that led to Hyderabad (HYD) becoming the first station in the Qatar Airways Cargo network, to deploy Envirotainer's new Releye® RLP containers as soon as they had been approved for carriage on Qatar Airways aircraft. Hyderabad also holds the national record for the most active pharma containers on one flight, having once moved 11 ULDs in one flight. The city is home to over 2,500 of the country's 3,000 pharma companies and 10,500 manufacturing units, and is India's main pharma export station, though Mumbai, Ahmedabad, Delhi, Bengaluru, and Chennai also play important roles given the widespread pharma production facilities across India.
"India produces and exports both conventional vaccines as well as COVID-19 vaccines," Matta continues. "Ten COVID-19 vaccines are approved for use in India, whilst Indian manufactured vaccines are approved in over 138 countries globally. We have moved close to 30 million COVID-19 vaccines to date to several destinations across our network including Africa, the Middle East, the Americas, Europe, and Asia. We expect to move more since the COVID-19 vaccine export restriction was lifted by the Indian Government late last year. Our participation in the UNHCR vaccine programme, through Kuehne and Nagel, is a good testimony to our commitment."
The increasing involvement of both India and Qatar Airways Cargo in supporting healthcare by means of charters and transporting not just pharmaceuticals, but all kinds of aid and relief material, and vaccines, has led to the airline sourcing a suitable candidate to act as Regional Cargo Sales Manager – Products. Sunita Sanghvi, who joined the airline in Mumbai on 14 March 2022.
She is responsible for its pharma product development across India and the rest of the ISC region, and will work closely with the regional sales teams, customers, and partners, to provide dedicated focus, enhanced and tailor-made solutions in the face of increasing pharma demand across India and rest of ISC.
"Having said that, most of our teams across all Indian stations are trained in our pharma product and are well versed with commercial and operational requirements as well as specific customer needs. It could be said that our largest pool of pharma experts is based in India," Matta emphasizes, pointing out, too, that the Indian teams are supported by the Central product management team based at the Doha head office.