HYD Airport inaugurates international courier, express cargo facility
GHAC intends an expansion that will also feature a larger, purpose-built express/courier cargo handling facility.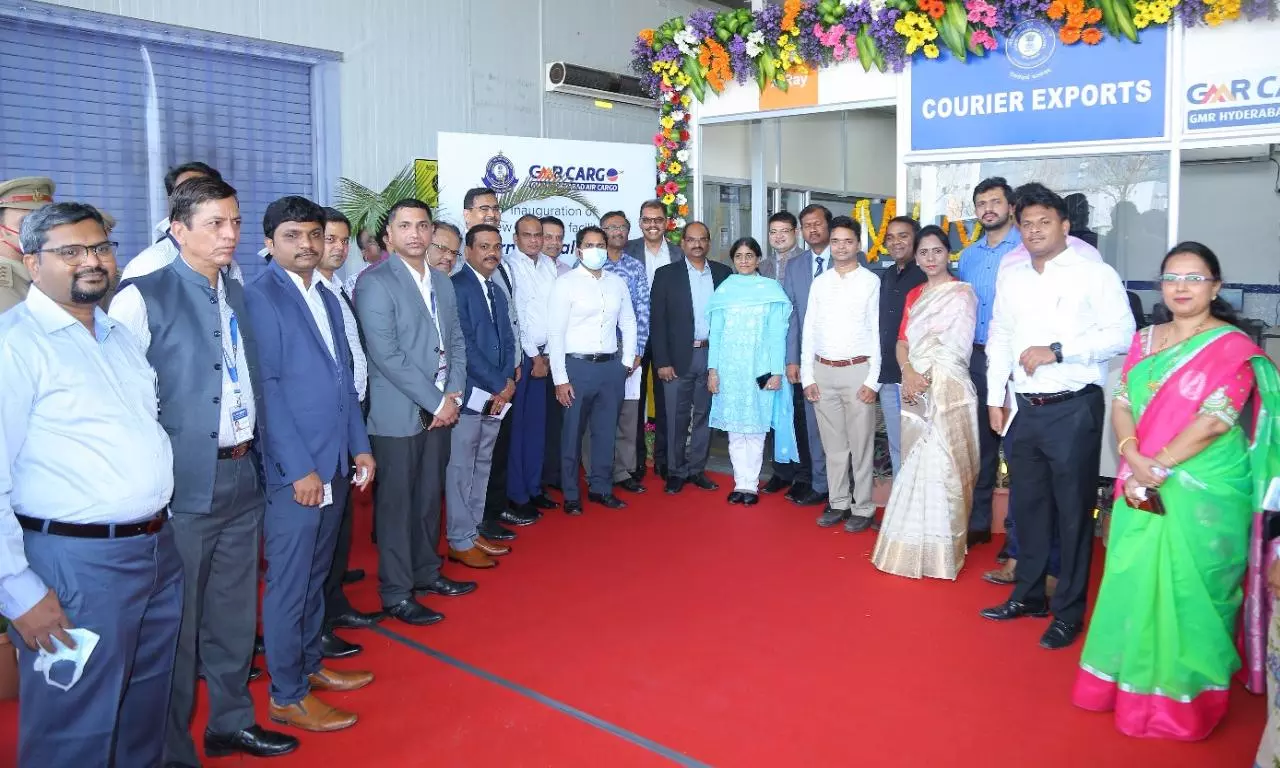 GMR Hyderabad Air Cargo (GHAC), a division of GMR Air Cargo and Aerospace Engineering (GACAEL) has today announced the inauguration of a new facility to handle international courier and express cargo consignments.
"Located within the GHAC Terminal premises, the facility will be the new gateway for import and export of courier cargo shipments from the region. With the emergence of Hyderabad as a major hub for cargo and logistics, a need was identified for a dedicated international courier handling facility which is approved and notified by customs authorities to handle such shipments," reads the release.

The new facility is connected with Express Cargo Clearance System (ECCS) of Indian Customs which will enable courier consignment processing and clearance at the terminal. The facility is also equipped with all supporting infrastructure and equipment including security screening and cargo handling systems.
The inauguration of the new facility by GHAC to handle international courier shipments opens up a whole new segment for Hyderabad's air cargo trade. The facility will enable international courier shipments from/to Hyderabad to be handled locally rather than being processed through designated facilities in other metro cities.
Going forward, GHAC intends to launch a large-scale expansion of the Hyderabad Air Cargo Terminal facilities which will also feature a larger, purpose-built express/courier cargo handling facility.
The note also reads, "GMR Hyderabad Air Cargo (GHAC) is a WHO-GDP (World Health Organisation- Good and Distribution Practices) Certified major Gateway Location in India. It is uniquely positioned to handle Temperature Sensitive Cargo and ensure seamless distribution across the world. GHAC is expanding its facilities and streamlining processes both on landside and airside to meet the unique requirements for perishables, agri-products, and various temp-controlled pharmaceuticals. It has already launched a large, custom-built Cool Dolly, a Mobile Refrigerated Unit for airside transportation till Aircraft maintaining the Cold-Chain, which is scalable. The major Export and Import commodities handled here consist of perishables (agro and marine products), pharmaceuticals, engineering & aerospace, garments, and electronics among others.
The new facility was inaugurated today by B V Siva Naga Kumari, chief commissioner of customs, in the presence of SGK Kishore, executive director & chief innovation officer-GMR Airports, Pradeep Panicker, CEO-GMR Hyderabad International Airport and Saurabh Kumar, CEO-GMR Air Cargo.