FROM MAGAZINE: Air express riding high on e-commerce
The exponential growth in e-commerce has propelled air express industry to shift from an absolute B2B focus to also addressing B2C-related requirements. With now customer expectations raised by several notches, the need of the hour is to fine tune government policies and infrastructure with the business requirements to ensure an integrated supply chain.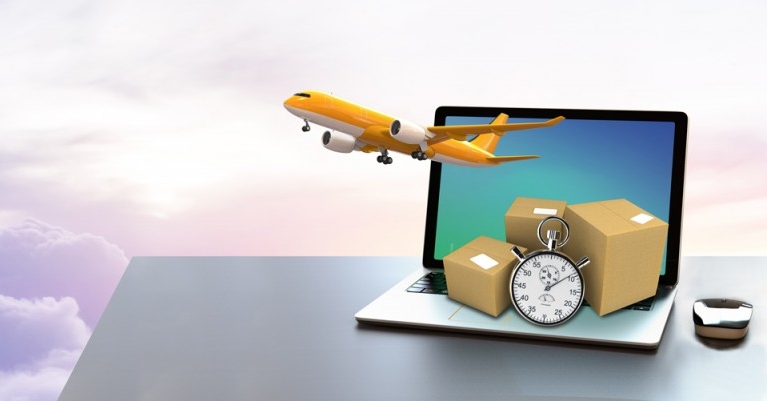 The exponential growth in e-commerce has propelled air express industry to shift from an absolute B2B focus to also addressing B2C-related requirements. With now customer expectations raised by several notches, the need of the hour is to fine tune government policies and infrastructure with the business requirements to ensure an integrated supply chain.
Shreya Bhattacharya

How often do we manage to order something online and not think twice about it before it gets delivered to our doorsteps? The clock starts ticking for an impulsive customer right from the moment he or she clicks on the order button.
Surely, the wave of e-commerce is riding high in India's commercial landscape, while also offering a giant leap to the logistics segment. It's a race not only for the customer but for the manufacturers as well as the express industry for which speed to market is of crucial importance for garnering sales across regions, meeting customer expectations and be competitive. Approximately 10 percent of the shipments carried by some of the express companies are B to C shipments. There are also companies who specialise only in carrying B to C shipments.
By creating an integrated door-to-door linkage across domestic and international regions, the express industry serves the need for time sensitive logistics services. The added advantage is the availability of real time shipment tracking facilities.
According to an ASSOCHAM study, about 69 million consumers purchased online in 2016, which is expected to cross 100 million by 2017 with the rise of digital natives, better infrastructure in terms of logistics, broadband and internet-ready devices to fuel the demand in e-commerce. The e-retail market is likely to jump 65 percent on year in 2018.
"The year 2017 will see large scale growth in the Indian e-commerce sector with increased participation from people across the country. This industry will continue to drive more employment opportunities and contribute towards creating more entrepreneurs through the e-commerce marketplace model," says the ASSOCHAM-Resurgent India study.
The study also highlights the growth of mobile commerce, which is likely to jump to 45-50 percent in 2017 against the current 30-35 percent of e-commerce sales. The study added that 50 percent sales come from mobile with majority being first time users. It also observes a surge in the number of people shopping on mobile across India with tier II and III cities displaying increased dominance. Evidently, the air express industry is gaining momentum with the increased e-commerce business.
"With rapid growth in ecommerce sector and expected jump in manufacturing and service sector, along with various initiatives by the government, the air express industry is set to take long strides. As the ecommerce sector expands and moves to the tier-II and tier-III cities, there will be a growth in demand of air cargo connectivity to smaller towns," says Vineet Kanaujia, vice president – Marketing, Safexpress. "There is a new emerging trend of same-day delivery and next-day delivery among customers, which can only be fulfilled with the help of air express industry." Safexpress has a specialised air service named SafeAir that complements the surface logistics in offering optimal multimodal solutions and faster deliveries.
Expressing similar views, PC Sharma, CEO and whole time director, TCIEXPRESS said, "Faster movement of goods demands air express delivery to reach its destination on time. In such scenarios, we have witnessed that about 80–90 percent of line-haul is by air due to time sensitive nature and service commitments. This shows that for time-bound deliveries the air express delivery is the preferred mode for transit of goods."
However, this fast paced growth also calls for the recognition of the Express Delivery Services (EDS), which needs to be facilitated with adequate infrastructure at the airports with rational lease tenures and rentals to provide efficient services in India. According to industry players, the biggest challenges facing air express today is infrastructure, which constrains their operations even while the loads continue to increase manifold.
The aviation industry is taking note of the growing requirements. For instance, the Airport Authority of India (AAI) is in the process of leveraging its cargo business and has chalked out a road map by identifying 24 airports across the country for creation of Common User Domestic Air Cargo Terminals (CUDCTs). The terminals will be capable of accommodating cargo from all over the country including perishable goods, medicine and other high value and express delivery shipments.
Technology at core for a thriving industry
There is no denying the fact that the presence of a thriving EDS industry offering door-to-door delivery of small packages has been instrumental in the growth of the e-commerce market in such a short timeframe. The industry has significantly expanded not only in size but also in reach and solutions, with making time to time investment in technologies and services to meet the changing consumer dynamics.
"Safexpress is already using Warehouse Management System (WMS) for logistics automation to effectively cut down manual entry time as well as errors associated with it. The web-based WMS gives precise, detailed, real-time information about every aspect of customer operations. This helps the customers in planning and execution of their activities. Barcoding and web-tracking are few of the solutions deployed at the 32 logistics parks of Safexpress. Moreover, the company's logistics parks are equipped with superior quality, customised conveyor belts to aid in handling as well as safety of the merchandise," explains Kanaujia, vice president, Marketing, Safexpress.
Some of the other technologies that have added value to the transportation include tamper proof locking systems, POD/e-POD (Proof of delivery), COD (Cash on Delivery), auto-sorters, parcel lockers, 'On-the-Move' (OTMs) handheld devices, mobile point of sales (MPOS) solution, mobile wallet, retail point of sales (POS), reverse logistics with various value-adds such as 'open' and 'cash return', preferred time of delivery, innovative delivery options, mobile service centre and parcel shops.
Government policies playing fundamental role
While the government's 'Make In India' and 'ease of doing business' have created a favorable and conducive environment for the logistics sector to flourish, the newly introduced Goods and Services Tax (GST) has also been ardently welcomed. The new tax regime is likely to remove inefficiencies in the system and help reduce transaction costs both in terms of expedited deliveries as well as in terms of warehousing decisions etc. However, the transportation sector and especially the EDS sector is concerned with the introduction of electronic airway bill (e-AWB) since that would delay deliveries and increase transaction costs. This electronic bill would be required for the movement of goods in case the value of the goods is above Rs, 50,000.
Chief operating officer of the Express Industry Council of India, Vijay Kumar explains, "The e-way bill proposed entails that the transporter logs into the GST network and generates an e-waybill for providing vehicle number right from the commencement of movement of goods and then continue to generate e-waybills each time a vehicle is changed until the shipments are delivered to your consignee. This would mean that any courier going by bike or vehicle will immediately after picking up the shipment would need to go online and generate an e-waybill showing the vehicle number it is carried in before the same can be placed in the vehicle. A typical express delivery route would have around 15 to 20 customer pickups. So each time shipments are picked up, the same would need to be carried under an e-waybill generated then and there online. This would lead to major delays in carrying these shipments to the hubs for onward movement to destinations across India and the world. These delays would lead to national and international transhipment connections being missed out."
He further says that the concept of generation of multiple e-way bills for a single movement (ie; origin, transportation and destination) is unique to India, which would put its exporters at a disadvantage to their international competitors leading to India being an inefficient provider of goods and services.
Kumar suggests that the carrier should not be tasked with additional documentation since it leads to inefficiencies. However, if the e-way bill is made mandatory then the government should ensure at least in the first mile (from pickup to consolidation points or hubs) the same should not be made mandatory. The time validity also should be removed.
In the present business scenario, speed to market is of crucial importance for the express industry segments. While an e-way bill can help regularise the unorganised sector as well as curb malpractices, the need of the hour is to fine tune it with the business requirements to ensure an integrated supply chain.