AI Logistix sees potential in "delivering delight to deserted rural"
AI Logistix is an Indian logistics startup that aims to solve day-to-day logistics and supply chain issues using intelligent systems and have its presence in every district of India by 2024 by becoming "the most preferred last-mile-delivery partner for digital India."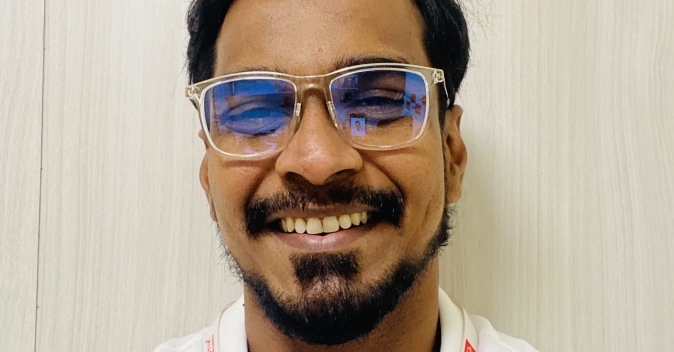 October 11, 2021: AI Logistix is an Indian logistics startup that aims to solve day-to-day logistics and supply chain issues using intelligent systems and have its presence in every district of India by 2024 by becoming "the most preferred last-mile-delivery partner for digital India." Having already achieved more than ₹1.25 crore of revenue and more than 3,000 shipments successfully delivered with a 99 percent on time service performance, the model is based on static & dynamic checkpoints, live updates on maps of delivery/pickup personnel, virtual geographical boundaries (geofences) around pickup/delivery locations nad system-based route planning.
Founder and chief executive officer of AI Logistix, Abdul Khadeer Mohammad talks exclusively to Indian Transport & Logistics News about his career, company, the potential of his idea, intelligence of his systems and the future.
Give me an introduction to your career and your interest in logistics and supply chain.
Have 19 years of experience in logistics and supply chain with hands-on experience in simplifying complex supply chains of global and multinational customers. Logistics and supply chain is fascinating for me as it changes the complete outlook of the organization making it more profitable and maximising reach to their customers. In India especially, there is still a lot more to do with new initiatives and strategies and hence it is the go-to industry for me.
Give me a historical perspective and the current status of Indian logistics and the gaps you are trying to address?
In India, historically logistics is highly neglected and never considered as a segment that needs attention. We have seen people who were handling accounts or administration typically handling logistics where the focus is only on cost reduction rather than considering it as a key component in an organizations growth. Of late, the importance of logistics has grown to a level where organizations need specialised people to handle, adapting new technologies making it more customer-friendly. However, it is still at a stage where the logistics need of metros has been taken care of by neglecting the needs of non-metros especially tier-3,4 and below. This is exactly where "AI Logistix" is going to add value by connecting the real backbone of India i.e., towns/villages.
Why rural India is your focus? What is the potential of Indian rural logistics you see?
90 billion, i.e., 70 percent of the Indian population do not have access to online shopping and every company is looking for someone to create a platform for them to capture this untapped market potential of $23 billion. Thanks to the pandemic, we have seen the importance of these rural segments and with contact focus by the government to increase the buying power of this segment through microfinance companies, which essentially means demand is going to be high and there would be a definite need to have reliable logistics service provider.
What is the philosophy of AI Logistix and what are the solutions you are offering?
Our philosophy is to "Deliver Delight to the Deserted Rural". Our unique network model helps customers store goods at our place free of cost for a week and commitment to deliver the shipment anywhere in that district with a fixed cost and committed transit time with a real-time tracking mechanism.
Give me a case study to demonstrate the solutions.
Microfinance companies have a segment called consumer loans, where they provide unsecured loans for household items to people in rural areas. Currently, their distributors are taking almost a month to deliver these shipments as these are interior areas. We have worked out a model to deliver the same within 7-10 days instead.
Who are your clients? How do you help them? What are their demands?
Our clients are from different industry segments including agrotech, consumer durables, e-commerce, mobile manufacturers. Their demands are simple. Simplified costing mechanism with the improved service performance and reach.
How intelligent is AI Logistix and its operations? Tell me about the technology you avail.
We have an innovative and intelligent ERP called "Jarvis" where we have implemented static & dynamic checkpoints (first of its kind) with live location updates of our delivery champion and many other features like geo-tagging, geo-fencing & OCR technology.
How is your company in terms of operations, financials?
We have started in the month of April 2021 and despite being pandemic we are growing really well with revenues crossing 1 crore and looking forward to much faster growth of becoming a unicorn start-up in coming years.
Tell me about your team? Who they are and how they are contributing to the success?
We are a founding team of 7 people coming from huge experience in respective fields and more importantly from the logistics domain. Adding to that all of us know each other for more than 10 years which makes it much easier to work.
What we could expect from AI Logistix in a near future in terms of expansion, technology, solutions and growth?
A unicorn in next 3-5 years' time, having presence across India and becoming the largest connected logistics company of India.