13 airlines to operate flights to 14 Int'l airports from Bengaluru
August 18, 2020: International repatriation flights, as well as the Government of India's Vande Bharat Mission and Air Bubble programmes, have enabled Kempegowda International Airport, Bengaluru (KIAB/ BLR Airport) to reconnect Bengaluru to 14 international destinations. Under the aegis of these arrangements, 13 airlines will operate on these secto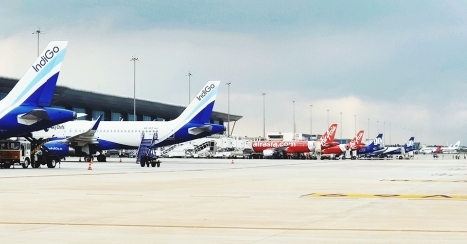 August 18, 2020: International repatriation flights, as well as the Government of India's Vande Bharat Mission and Air Bubble programmes, have enabled Kempegowda International Airport, Bengaluru (KIAB/ BLR Airport) to reconnect Bengaluru to 14 international destinations. Under the aegis of these arrangements, 13 airlines will operate on these sectors from BLR Airport.
The destinations connected directly from BLR Airport include Abu Dhabi (Etihad, GoAir & Air India Express), Amsterdam (KLM Royal Dutch), Dubai (Emirates, Indigo, GoAir, Air India Express & Vistara), Doha (Indigo & Qatar Airways), Frankfurt (Lufthansa), Kuwait (Air India & Indigo), Kuala Lumpur (Air India Express & Malaysian Airlines), London (Air India & British Airways), Muscat (Air India Express), Narita (Air India), Paris (KLM Royal Dutch), Riyadh (Indigo) and Singapore (Air India Express). BLR Airport will connect to San Francisco via Kochi (Air India).
BLR Airport facilitated shipment of 71,406 metric tonnes (MT) of cargo, including 6,194 MT of perishables and 2,300 MT of pharma supplies between April and July 2020. During this period, BLR Airport's cargo market share rose to 15.3 percent from 11.2 percent.