World's largest LNG-powered container vessel JACQUES SAADE joins CMA CGM fleet
September 25, 2020: The CMA CGM JACQUES SAADE has joined CMA CGM Group's fleet thus becoming the largest LNG-powered container ship in the world.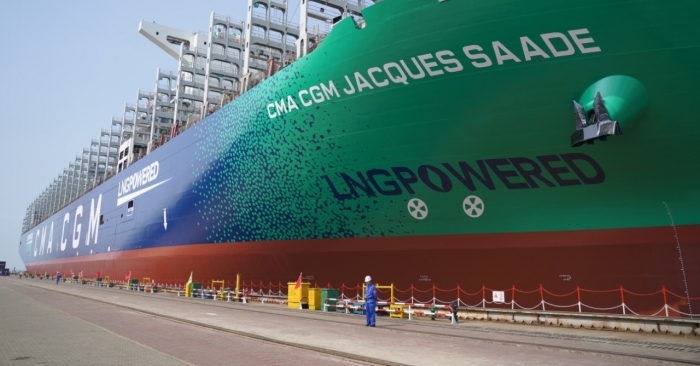 September 25, 2020: The CMA CGM JACQUES SAADE has joined CMA CGM Group's fleet thus becoming the largest LNG-powered container ship in the world.
The global shipping and logistics company has made the symbolic choice of naming its new flagship after its founder, Jacques Saadé. The vessel is the first of a series of nine 23,000 TEU container ships, a homogeneous LNG-powered fleet flying the French flag.
Maiden voyage
The CMA CGM JACQUES SAADE started its maiden voyage on September 23 on the French Asia Line (FAL) between Asia and Northern Europe. Its rotation will lead it to the ports of Pusan in South Korea; Tianjin, Ningbo, Shanghai and Yantian, China; Singapore; Southampton, Dunkirk, Hamburg, Rotterdam, Algeciras in Europe; and Port Kelang in Malaysia. This line provides a weekly service comprising 13 calls over the course of 84 days.
LNG, a pioneering choice
In November of 2017, Rodolphe Saadé, CMA CGM Group's Chairman and Chief Executive Officer, decided to equip this series of container ships with LNG-powered engines – a first in the history of shipping for Ultra Large Container Vessels.
Today, LNG is the most advanced solution when it comes to preserving air quality. It enables a 99 percent reduction in sulfur dioxide and fine particle emissions, and an 85 percent reduction in nitrogen dioxide emissions, going well above and beyond existing regulation. LNG emits up to 20 percent less CO2 compared to fuel motorization. This technology is one of the first steps towards achieving CMA CGM Group's ambitious 2050 objective of carbon neutrality.
Rodolphe Saadé said, "The CMA CGM Jacques Saadé embodies our commitment to the planet. This vessel has been enhanced with the latest technologies and is the result of 7 years of research and development. While guaranteeing the safety of our crew, it preserves air quality and will be part of our fight against global warming. It significantly improves the environmental footprint of carried goods. We have taken a big step forward. We need to go further to build transport that is even more respectful of the environment."
Industrial partners
From its design all the way to its operation, without forgetting its construction, The CMA CGM JACQUES SAADE benefited from the know-how and expertise of the best French, European, and global industry leaders. A number of specialized companies played their parts in this construction project, including:
• BIO-UV Group, a French specialist in ultraviolet-based water disinfection systems who provided the BIO-SEA system, a ballast water treatment technology,
• CSSC, Shanghai's shipyards who developed a globally recognized know-how and expertise in container ship construction,
• Cryostar, a French expert in high technology cryogenic equipment who provided the LNG pumps,
• Bureau Veritas, a French classification company in charge of guaranteeing the certification of the CMA CGM JAQUES SAADE and its sister ships,
• BLM, a French company who provided winches and windlass,
• GTT, a French technology and engineering company expert in membrane containment systems, selected for the design of LNG tanks and related technical services.
• Schneider Electric, a French industrial group who designed the vessel's electrical switchboards,
• Sperry Marine, company based in the United Kingdom and responsible for radio navigation and platform equipment,
• Total and Rotterdam port who provided LNG refuelling services,
• Wartsila, a Finnish gas provider who handled system and auxiliary systems,
• WingGD, the CMA CGM JACQUES SAADE's primary engine designer.
A ship like no other