FROM MAGAZINE : Warehouse Automation Paving a smarter path to growth
Warehouses in India have gradually transitioned from being just godowns for storage to ulta-modern, state-of-the-art facilities. What is now revolutionizing the warehousing experience is the advanced level of automation as robotics, artificial intelligence and Internet of Things propel warehouse communication for quicker deliveries.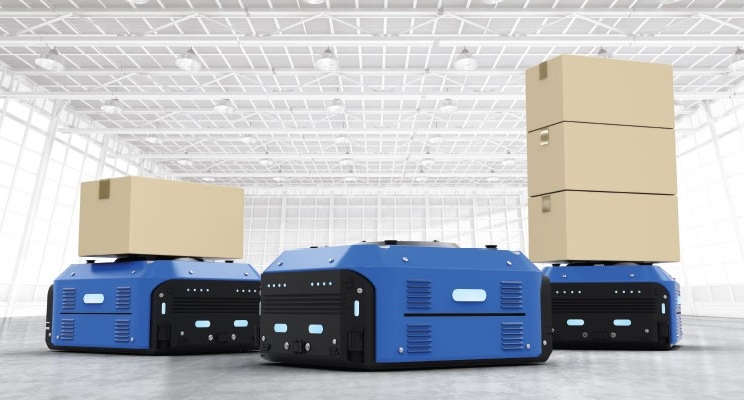 Warehouses in India have gradually transitioned from being just godowns for storage to ulta-modern, state-of-the-art facilities. What is now revolutionizing the warehousing experience is the advanced level of automation as robotics, artificial intelligence and Internet of Things propel warehouse communication for quicker deliveries.
Surya Kannoth

India is emerging as one of the world's leading consumer markets. It expects to sustain strong growth over the coming years and strives to become one of the top three economies in the world, with the logistics sector playing a critical role in supporting this growth.
Warehousing in India has undergone a sea change over the years. Traditional brick godowns" that were simple four walled sheds with no ventilation and lighting, lack of racking systems or inventory management are now replaced by ultra-modern warehouses equipped with robots.
Today, manufacturers, e-commerce giants, retail and logistics players are embracing warehouse automation as it improves efficiency and of course reduces human labour and cut down supply chain wastes. Furthermore, the emergence of industrial hubs and a uniform tax structure, Goods and Services Tax (GST) has also been a push in the right direction.
Independent global property consultancy Knight Frank recently released the third edition of its flagship India Warehousing Market Report 2018. The report revealed that leasing transactions in the warehousing sector across key Indian markets burgeoned to 25.7 million sq. ft in 2017, recording 85 percent spike year-on-year.
Balbirsingh Khalsa, national director – industrial and asset services, Knight Frank India said "Post GST there has been a spike in demand by almost 100 percent as companies who were till now in a wait and watch mode have now got into execution mode. For the first time we are witnessing consolidation and expansion of warehousing space. This increase in demand from sectors like e-commerce, 3PLs, consumer durables, FMCG and manufacturing to name a few coupled with a requirement for larger sized warehouses has opened up the field for more and more organised players which has led to a demand. We expect the trend to continue and get better in the days to come."
Vivek Arya, managing director, Rhenus India shared a similar perspective. In his view, this will not only lead to the creation of hubs and spokes for the end user, but also end up the streamlining of processes. "The focus is now on enhancing the supply chain efficiencies. Investor confidence in the warehousing space has grown significantly. The segment has seen a surge in the private equity activity over the last years. E-commerce is also driving a substantial growth into the warehousing sector."
Under the GST regime, a centre and state GST is levied on a common base of goods and services and an integrated GST will be levied on interstate transactions. This would help do away with the multiplicity of taxes, ease the impact of cascading taxes, ensuring smoother transportation, make for seamless credits and rationalize the warehousing structure in the country, while improving cargo transportation standards.
The GST implementation has led manufacturing companies and logistics players to scout for bigger warehousing space and consolidating their supply chain. Reportedly, the new facilities will cover about 450,000-500,000 square feet of space, almost five times the biggest warehouses in India right now. Logistics majors such as DHL, Allcargo and Mahindra Logistics are leasing bigger logistics spaces, while real estate developers such as Everstone Group's IndoSpace are investing billions in building bigger storage facilities. And to manage such massive warehouses would require advanced automation.
The Indian supply chain arm of the Deutsche Post DHL Group, the world's largest logistics company, is investing EUR150 million in more than doubling its warehousing space in the country to 7 million square feet.
"At DHL Supply Chain, we have ambitious growth plans to expand our warehousing footprint and transportation landscape. We have been successfully running our multi-client warehouse models across the country for the past few years. This helps us to offer our customers world class warehousing and transport facilities with greater degree of technological advancement, automation, IOT, block chain, robotics etc. We use the best operating systems across warehousing and transport," revealed Biju Nair, senior director – IT, DHL Supply Chain India.
India being a strategic country and a growth engine for the Asia Pacific region, DHL aims to follow a transformative business approach and is fully committed to continuing investments in India, Nair stated.
"The growth in smart and automated warehouses is just beginning in India and we see a strong very positive trend in this growth over the next decade," said Ranajoy Punja, senior vice president - warehouse automation division, Hinditron Corporate Systems. Mumbai-based Hinditron offers, through its partnership with Austriaheadquartered KNAPP AG, all-in-one intra-logistics solutions and automated warehouse systems.
KNAPP operates internationally in the field of warehouse automation and warehouse logistics software. The company designs, installs, maintains and upgrades systems that feature state-of-the-art picking, conveying and storage technologies and has core competencies in development, planning, installation, after-sales support and ongoing consulting.
Early stages of automation in India
"Warehouses in India are still in the early stages of automation and at a basic level driven mainly by cheap labour and the ability of companies to meet their requirements with minimal investments in automation," Punja added.
Warehouse automation can be adopted in varying levels. Most of the investments today, Punja observes, have been in mechanization with material handling equipment being deployed and not automation. The next level of investment has been to deploy warehouse management system (WMS) software and RFID technology to help streamline the picking process and order processing. "However, you do have certain sectors, such as retail and e-commerce, being the first movers who have started to deploy more advanced automation solutions to meet changing market demands. The potential is very large as the logistics market is just starting to get take off in India with organized retail growing, favourable tax structures in place and new supply chain models being adopted," he reasoned.
Trending automation solutions
Last year, leading supply chain and logistics company Gati KWE and Indian e-commerce giant Flipkart employed Pitney Bowes TrueSort – an automated parcel sorting system and the Pitney Bowes OneSort automated data capture system. Gati was looking for an efficient automated solution to help manage its large volume of parcels and found TrueSort as the best bet - an automated system that is capable of processing a combination of parcels, polywrap bags, magazines and flats with speed and precision. Meanwhile, Flipkart uses OneSort — all-in-one data capture solution that enables users to instantly process instructions for labeling, routing, postal documentation, client billing, and custom reporting while receiving full access to critical information through a comprehensive data stream.
Meanwhile, the Singapore and Gurgaon-registered firm GreyOrange automates warehouses through two of its flagship products: Sorter and Butler. The company has an Indian subsidiary and has global clients such as Kerry Logistics and Ninja Van in its kitty. The company has its solutions implemented in 55 warehouses in India and abroad and some of its Indian clients are PepperFry, Myntra and DTDC.
Sorter—used by the bulk of its clients—is a conveyor belt system fitted with robotic arms and advanced tools like dimensioning and weighing modules capable of sorting up to 6,000 packages per hour. Butler is a storage and retrieval robot that moves on the warehouse's floor.
Recently, GreyOrange unveiled a range of Butler robots capable of managing a variety of payloads from 100 to 1600 kgs. The goods-to-person Butler system lets warehouses run high-speed operations by automating inventory storage (putaway) and order fulfilment. It has been deployed in distribution centers in Japan, Hong Kong, India, Europe and the Americas for industries such as 3PL, e-commerce and retail. The robotics systems handle a variety of items including apparel, home furnishing and personal care, reducing cost per shipment and enhancing productivity of warehouse operations by more than four times, says the company.
"When we speak about automation in supply chain, it is very different from that used in the manufacturing sector. Unlike the manufacturing industry, traditional automation is very hard to apply in supply chain. We have launched GreyMatter, an end-to-end intelligent order fulfilment software solution last November. FurtherPickPal, a picking robot working with man robot Butler™ was launched - these two robots work in tandem with each other and also work with people. The idea is not to eliminate human labour but to make their work more efficient and the entire operation optimized," explained Nalin Advani, CEO, Asia Pacific & Japan of GreyOrange.
"I feel it is a magical combination of artificial intelligence, robotics control and harmonization of picking robot with an automated mobile robot (AMR) i.e. Butler," Advani adds.
At every step of the order process, from receiving to storage, picking to fulfillment, the orders are managed by the software platform GreyMatter. One of the key advantages claimed for the expanding Butler family is its ability to manage multi-floor operations with the use of an elevator. This is said to offer more flexibility in handling material and inventory across multiple floors, and optimise space utilisation vertically in a warehouse.
Large and heavy pallets or slow moving inventory may be stored on one floor, while fast moving goods may be stored on another level. The software platform, GreyMatter, manages the Butlers across floors. Such autofulfilment improves order-to-dispatch time tremendously, with enhanced inventory traceability, increased fulfilment accuracy and minimising order returns, the company claims.
Speaking about the opportunities that lie ahead in the Indian warehousing market, Advani of Grey Orange says, "India is a fantastic market for us with 90 per cent market share as of today. We started off in India when e-commerce was at a primitive stage. Today, in e-commerce the country has come a long way though. We have faced major challenges like production in one state, delivery in another and consumption in different state. Now with the introduction of GST, we are able to put down hub and spoke model."
Another important player in the warehousing automation space is Falcon Autotech, a Noida-based maker of warehousing automation products, which has set its sight on international shores even as it sees demand for its products growing in India.
Late last year, Falcon introduced 'Batch IT' a spare parts order fulfillment system that caters to automobiles, consumer electronics and heavy machinery industries. Falcon has also developed innovative solutions to increase the productivity of inbound product counting operations, which can be integrated with barcode scanners, online weighing stations and material receipt software systems that can automate the entire process of goods receiving, counting, code verification and weight checking.
Moving a step further, Falcon is now leveraging advanced automation, robotics, and Internet of Things (IoT) concepts. It has helped clients to utilise IoT enabled robotics system to have robotic carts pick, place and deliver products from specific locations to workers.
Warehouses of the future Three to five years from now, warehouses will be more agile, dynamic and smart. With lesser focus on fixed infrastructure and processes, these will work on AI and real-time analytics for management of warehouse operations, some of which have already been implemented but on a smaller scale. They will be intelligent enough to anticipate, understand and adapt to the external ecosystem around them.
IoT will probably propel warehouse communication to devise cost-effective ways for quicker deliveries and minimise operational inefficiencies.
Modernization is slowly and subtly coming to India. The spend versus return on investment (RoI) is the major criteria. "If the automation initiative brings increased productivity and cost reduction, that will help. GST would have paved the way for some major consolidation of warehousing or it would have changed the way few major companies managed their supply chain in India. Small warehouses will give way to advanced and consolidated hubs where you can bring in automation and latest technology," said DHL's Nair.
"The warehousing industry is looking forward to brighter days ahead. Rapid growth in the worldwide market for warehouse automation and control systems is being driven primarily by the global boom in e-commerce, and its profound effects on fulfillment of requirements. The industry is more than willing to adopt automation," said Rahul Jain, CEO, Sumpap Logistics.
The future of managing warehouse processes lies in robotics and automation. The world's market leading companies operate in India now. Almost every sector has all major players present in India. "The size and scale of operation could vary due to the operating strategy and market dynamics. Processing of customer products will warrant very high level of visibility, traceability, efficiency and scalability at a very competitive pricing. The demand for world class warehousing facilities, high in security and safety of people and assets, robotics, IoT, block chain and other automations will be a common aspect five years from now," he predicts.