Virgin Hyperloop unveils passenger experience vision
January 29, 2021: Just months after their first passenger testing – in which Tanay Manjrekar was the first Indian to ride hyperloop – Virgin Hyperloop today unveiled its vision for the future hyperloop experience. The newly-released concept video takes the viewer step-by-step through a hyperloop journey, from arriving at the portal to boarding the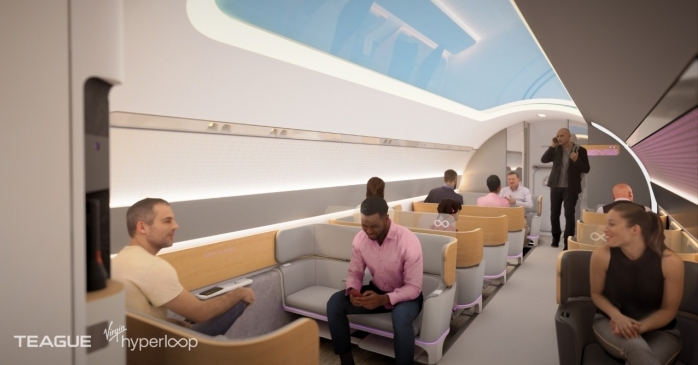 January 29, 2021: Just months after their first passenger testing – in which Tanay Manjrekar was the first Indian to ride hyperloop – Virgin Hyperloop today unveiled its vision for the future hyperloop experience. The newly-released concept video takes the viewer step-by-step through a hyperloop journey, from arriving at the portal to boarding the pod.
The designs showcased in the video are indicative of what global hyperloop systems would look like, including for operations in India.
Rizwan Soomar, CEO & MD, DP World Subcontinent, said, "With hyperloop, India can lead from the front and leapfrog with advanced tech-adoption in the transportation and logistics sector. DP World and Virgin Hyperloop's investment in this transformative technology is aligned with the Indian Government's vision to drive innovation in the country and create high tech opportunities for advanced manufacturing, research & development, as well as generating employment."
Harj Dhaliwal, Virgin Hyperloop's managing director of the Middle East and India, said, "Imagine being able to travel between Mumbai and Pune in under 30 minutes, with a seamless and relaxing end-to-end journey. We are committed to bringing this vision to life – in Maharashtra and beyond – and are working closely with our partners, investors, and governments to do just that."
On-demand and direct to the destination, the hyperloop system would be able to transport thousands of passengers per hour, despite the fact that each vehicle carries only about 28 passengers. This high throughput is achieved by conveying, where vehicles are able to travel behind one another in the tube within milliseconds, controlled by Virgin Hyperloop's machine intelligence software.
Following their successful passenger testing, Virgin Hyperloop is currently paving the way for the regulation and certification of hyperloop systems around the world – including those in India. The company is working on the Mumbai-Pune hyperloop project, which would connect the cities in under 25 minutes with zero direct emissions. Beyond Maharashtra, Virgin Hyperloop recently announced a ground-breaking partnership with Bangalore International Airports (BIAL) to conduct a feasibility study for a proposed hyperloop corridor from BLR Airport.
The company aims to achieve safety certification by 2025, with commercial operations – such as those depicted in this video – beginning in 2030.