va-Q-tec opens subsidiary in India to expand international capacities
va-Q-tec is further expanding its global presence by opening an Indian subsidiary in Mumbai. As a result, the company is supplementing its international offering with additional local sales and service capacities.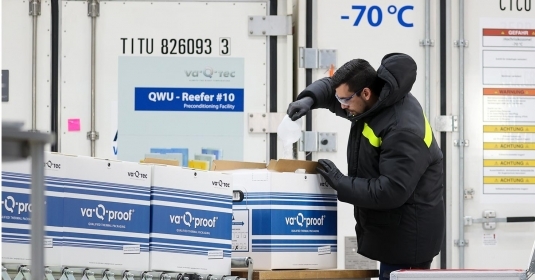 January 17, 2021: va-Q-tec is further expanding its global presence by opening an Indian subsidiary in Mumbai. As a result, the company is supplementing its international offering with additional local sales and service capacities. With the opening of the new subsidiary, va-Q-tec also pays tribute to the fact that the country with the second largest population in the world (2021) is considered as one of the main producers of pharmaceutical products. These drugs and vaccines are often temperature-sensitive and consequently solutions are needed to transport the produced pharmaceuticals safely to their destination.
This presents a particular challenge given India's sometimes poorly developed logistics infrastructure and varying climate zones. Due to their outstanding passive technology, va-Q-tec's advanced thermal boxes and containers have been recognized for many years in the temperature-controlled supply chain market as a safe, reliable solution ideal for these types of challenges.
India's economy has been growing steadily for many years, but the pharmaceutical industry has disproportionately taken off as it is strongly supported by the government. The country is considered as one of the world's largest producer of pharmaceuticals, including drugs and vaccines, supplying up to 60% of the world's supply. The country's pharmaceutical market grew to $55 billion in 2020, with potential for more and expected growth to $65-70 billion by 2024. Through the three TempChain Service Centers in Hyderabad and Mumbai, which have been operating there for several years,
va-Q-tec's solutions have already been in use by several well-known companies. These products have proven many times that the special technology and the sophisticated services form an important building block for domestic road transports, but also on long-distance transports by air freight. The new distribution site will further support the growth of this vital industry. For this purpose, va-Q-tec was able to win Ravi Kumar, a proven expert in the pharmaceutical industry. Together with the Indian team, he will cover the entire country in terms of service and consulting and thus provide intensive support for a large number of projects in the Indian market.
Modern pharmaceuticals, such as Corona mRNA vaccines, in most cases require stable temperatures in various ranges between -70°C and +8°C. This is often a major challenge, especially in a country like India, which spans a range of climates from alpine to the humid and hot outdoor temperatures of the tropics. In addition, many regions of the country have poor infrastructure.
By combining highly efficient insulation in the form of vacuum insulation panels and temperature storage elements, va-Q-tec's thermal boxes and containers are able to maintain the required temperatures inside the container at a constant level for up to 10 days – without the need to supply external energy such as cooling units. The elite temperature maintenance performance of va-Q-tec's products offers decisive advantages proving in countless transports that it ensures safe, constant temperature control of valuable cargo even in extreme outside temperatures and in the event of unforeseen delays. In addition to the rental service, the German company also offers high-performance boxes and containers for sale. The robust boxes and containers are particularly suitable for underdeveloped regions or without the ability to return rental containers. Due to their unique product design and resilience, they can be reused multiple times on site, which additionally saves large amounts of packaging waste.
"The new subsidiary in Mumbai is a strategically important next step in making vaccine and drug shipments safer, more reliable and more environmentally friendly not only locally, but globally. We are very proud to be able to respond faster and more directly to the requirements of the fast-growing market with a dynamic local team and thus tailor our services even better to customer needs in India. I am particularly pleased that with Ravi Kumar as managing director we can offer the concentrated experience of a true industry expert on site!" says Christopher J. Storch, global head of sales of the va-Q-tec Group.