Unicommerce unveils new version of its returns management solution 
June 21, 2021: The e-commerce focused SaaS-based supply chain solution company, Unicommerce, has unveiled a revamped and future-ready returns management solution.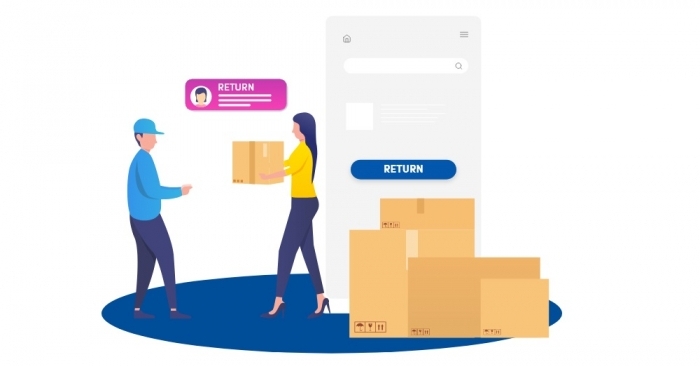 June 21, 2021: The e-commerce focused SaaS-based supply chain solution company, Unicommerce, has unveiled a revamped and future-ready returns management solution.
"Return orders lead to unhappy customers and today e-commerce is all about customer experience and customer retention. Therefore we have designed this unique solution specifically to empower e-tailers with technology to solve the problem of high return volume and reduce the cost associated with returns management, thus directly helping the companies improve their bottom line," reads the release.
The new upgraded version helps businesses across two key dimensions - First to alert e-tailers about orders with high return potential and measures to minimize returns, and the second lever is to ensure a smooth return process, with clearer visibility of stock movement and faster inventory turnaround.
Kapil Makhija, CEO of Unicommerce, said, "We are India's largest e-commerce focused SaaS-based supply chain solution provider, and technological innovation is in the DNA of Unicommerce. We keep introducing new solutions and continuously upgrade our current product basis the changing e-commerce environment of the country. The Unicommerce returns management solution has been smartly designed keeping every aspect of returns management in mind to provide customers with the solution that helps them reduce returns and improve business efficacy. Our solution is easily adaptable to the unique business needs of every customer. We are trusted by our customers to be the pioneers in innovation and the continuous product investment helps us stay at the forefront of the industry."
Over the last year, Unicommerce has established itself as a solution provider for brands planning to go D2C and omnichannel. Unicommerce omnichannel solutions help brands achieve faster business growth, some of the companies have been able to achieve 8X growth in a short span of 18 months. The company is a market leader and is uniquely positioned to provide e-commerce supply chain technology cloud solutions to industry players of all sizes. Established nine years ago, Unicommerce processes over 20 percent of India's e-commerce volume and works with the leading retail brands across segments.
Identify, avoid potential returns
Unicommerce Return management solution empowers e-commerce sellers to identify potential return orders and alert them even before the dispatch. The solution allows e-commerce sellers to set up an elaborate and detailed outbound Quality Check (QC) process during order processing workflow and allow sellers to only ship products that pass the QC. It helps in ensuring better customer satisfaction and reduced returns. The solution also enables companies to customize order verification workflow and alert sellers about unserviceable pin codes and non-deliverable addresses. This helps sellers to avoid processing such orders before complete verification and helps them save the logistics cost.
100% trackable inventory
The solution enables e-commerce sellers to easily track each returned item and segregate them based on the multiple quality check parameter. The solution enables 100 percent traceability of inventory by grading returned items into multiple rejected & saleable buckets. The product that passes the QC process is automatically added back to the inventory pool and the inventory is listed back in real-time across the sales channels. On the other hand, the rejected bucket can be analyzed to avoid warehousing/quality issues and minimize future returns.
Smart shipping provider allocation
Return Shipping is a much more complicated process than forward shipping due to multiple industry-specific reasons such as packing of fragile materials, doorstep QC for apparel and air-packing of mattresses amongst others. The solution enables e-commerce sellers to set their own rules and parameters basis which order delivery and return pickup can be automatically allocated to the desired shipping provider. The solution allow sellers to choose the best-fit return shipping provider, automating the allocation of shipping provider based on various parameters such as channel, serviceability, SKU Category (fragile nature, hazardous goods, etc.), product price range, and various other factors
Multi-warehouse, omnichannel returns
The solution empowers easy return and product movement for large e-tailers with multiple warehouses and stores. Generally, brand stores are not well equipped to handle multi-step Return Processing capabilities like QC, Grading, barcoding, and refurbishing. Unicommerce solutions allow e-tailers to set rules, where the product returns are automatically allocated to the best-fit warehouse based on geography & Sales channel.
Enabling smooth order replacement
There are increasing use cases, where consumers want to exchange the product instead of returning it. This has led to logistic companies set-up a seamless replacement process to reduce the return operating cost and help e-commerce sellers to enhance the customer experience. The Unicommerce system enables the sellers with AI-driven technology that automatically assign shipment to the logistic partner basis the exchange serviceability, allowing the company to execute return pick-up and deliver replacement orders simultaneously. The increasing number of e-commerce sellers are now investing in the "simultaneous exchange" system to ensure that customers can return the original product and receive the exchanged product at the same time.
Bulk return processing for B2B and offline orders
To ensure that the Unicommerce solution also serves B2B enterprises, we have designed our solution to ensure that bulk orders can be processed in a simplified manner with a couple of clicks. This helps companies process large return shipments in time-efficient manners. It's often used by FMCG and personal care brands.