UN agency calls for faster vaccination of seafarers; sees freight rates to remain high
Designating seafarers as "key workers" and vaccinating them as a matter of priority is one of the 10 key suggestions by the United Nations Conference on Trade And Development (UNCTAD) in its latest Review of Maritime Report 2021.
November 19, 2021: Designating seafarers as "key workers" and vaccinating them as a matter of priority is one of the 10 key suggestions by the United Nations Conference on Trade And Development (UNCTAD) in its latest Review of Maritime Report 2021.
The other suggested priorities include:
Facilitate crew changes
Vaccinate the world
Reviatise the multilateral trade system
Ensure reliable and efficient maritime transport
Mainstream supply chain resilience, risk assessment and preparedness –
Control costs
Decarbonise; and
Climate-proof maritime transport.
"While carriers generally managed to mitigate the shock and disruption, port and landside operations found it more difficult to adjust, and seafarers were in a precarious situation as the pandemic triggered an unprecedented global crew-change crisis. The health risks and related travel restrictions meant that hundreds of thousands of seafarers could not return home, while an equivalent number were unable to join their ships and to provide for their families," the report said.
Seafarers are increasingly being recognised as key workers who are keeping shipping and trade moving while also being at the front line of the health crisis. Since seafarers come predominantly from developing regions, industry and government should move quickly to implement vaccine procurement and distribution plans, the report said.
"Governments and industry should continue to work together, including through the Neptune Declaration initiative, and in collaboration with relevant international organizations, to facilitate crew changes, in accordance with international standards and in line with public health considerations. They should also ensure the availability and access to related seafarer data."
The UN agency report, quoting data from the BIMCO/ICS Seafarer Workforce Report 2021, said there were 1,892,720 seafarers around the world of whom 857,540 were officers and 1,035,180 were skilled seafarers who carry out support work for officers.
Five largest Seafarers' Supplying Countries, 2021
| | | |
| --- | --- | --- |
| All Seafarers | Officers | Skilled Seafarers |
| Philippines | Philippines | Philippines |
| Russian Federation | Russian Federation | Russian Federation |
| Indonesia | China | Indonesia |
| China | India | China |
| India | Indonesia | India |
(Source: BIMCO/ICS, Seafarer Workforce Report 2021, London, 2021)
"The largest supplier for both officers and ratings was the Philippines followed by the Russian Federation, Indonesia, China, and India. Together, these countries supplied 44 per cent of the global seafarer workforce."
Among the world's five-largest seafarer providers, every country, except China (117) had delivered less than the global average: Russian Federation, 42; Indonesia, 25; and India, 34.
Despite international support, seafarers still face serious issues as a result of the Coronavirus pandemic. "This requires urgent action in a number of important areas including route deviations (charterers and other industry stakeholders should be flexible in accepting requests from shipping companies for route deviation to facilitate crew changes and should refrain from using 'no crew change' clauses in charterparties), international legal framework, maritime single windows and control outbreaks and emergencies at sea."
Higher demand, higher freight rates, higher inflation likely
While demand for containerised goods has been higher than expected, shipping capacity has been constrained by logistical hurdles and bottlenecks and shortages in container shipping equipment. "Unreliable schedules and port congestion have led to a surge in surcharges and fees, including demurrage and detention fees.
"These soaring costs are a challenge for all traders and supply chain managers, especially for smaller shippers who, compared with the larger players, may be less able to absorb the additional expense and are at a disadvantage when negotiating rates and booking space on ships. Smaller shippers and low-value paying cargo may thus find it difficult to secure service contracts and could see their margins eroded," the report said.
The UN agency is expecting freight rates to remain high because "demand is strong and there is growing uncertainty on the supply side with concerns about the efficiency of transport systems and port operations. In the face of these cost pressures and lasting market disruption, it is increasingly important to monitor market behaviour and ensure transparency when it comes to setting rates, fees, and surcharges. There have been calls for governments to intervene, and for regulators to apply closer oversight and address unfair market practices."
In ocean freight, following their significant, post-peak season fall last week, transpacific rates were stable this week, Freightos, an online international freight marketplace, said in its weekly report.
"The easing prices are not being driven by any significant improvement in the port congestion that is tying up a significant share of the lane's capacity. Continued struggles with disrupted schedules and the resulting port congestion have been enough to keep Asia-Europe rates from experiencing a rate dip similar to the one on the transpacific. But the rise and fall of prices around peak season for Asia-US lanes suggests that normal – though outsized – seasonal trends will take place this year, meaning that the recent lull will likely end as we approach Lunar New Year at the start of February."
Demand is expected to be strong on the Asia - North America route for the remainder of 2021, freight forwarder Flexport said in its weekly update. "The outlook reflects shippers placing bookings for cargo that must depart prior to Chinese New Year in early February. High demand and reduced capacity is keeping rates at elevated levels, which according to some estimates, are not expected to return to pre-Covid levels for at least another year."
Congestion and vessel bunching causing schedule and capacity issues downstream continue to be severe, the report said.
"A few carriers implemented general rate increases (GRIs) for 2H November. Rate levels remain elevated, and the premium demand outlook is strong."
While space continues to be critical, capacity/equipment also continues to be critical/severe under capacity.
"Recommendation - continue to book well in advance (at least 4 weeks) from cargo ready date (CRD) to target estimated time of departure (ETD) for best chance of hitting timelines."
Drewry's composite World Container index declined 0.5 percent to $9,146.41 per 40ft container this week.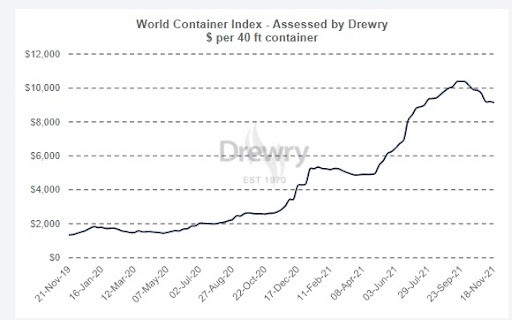 (Source: Drewry)
While the index was down 0.5 percent this week, it remains 238 percent higher than a year ago.
"The average composite index of the WCI, assessed by Drewry for year-to-date, is $7,374 per 40ft container, which is $4,724 higher than the five-year average of $2,650 per 40ft container."
While freight rates from Shanghai–New York increased three percent to $13,139 per 40ft box, rates on Shanghai–Rotterdam dropped three percent to $13,400 per 40ft container.
Higher container freight rates will also have a sizable impact on consumer prices. If rates remain at their current high levels, then global consumer prices are projected to be 1.5 per cent higher in 2023 than they would have been without the freight rate surge, the UN agency said in its report.