Merchandise exports target: $1 trillion by 2030
Value limit for exports via courier increased from ₹5 lakh to ₹10 lakh per consignment in Foreign Trade Policy 2023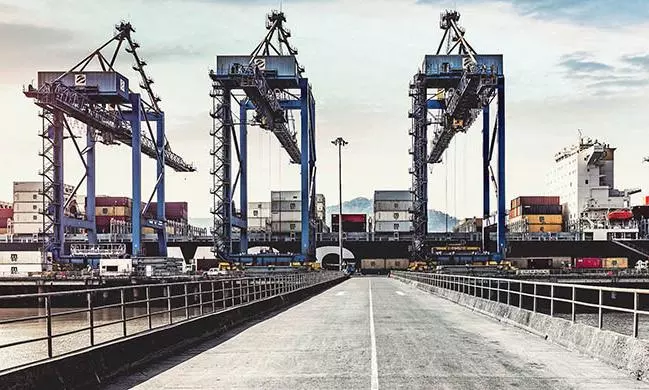 The Indian government has set a target of $1 trillion of merchandise exports by 2030 while doing away with the earlier practise of time-bound foreign trade policy (FTP).
Santosh Sarangi, Director General of Foreign Trade said the new policy "does not have an end date and will be updated periodically as per the needs of the trade."
FTP 2023 is designed to facilitate greater trade, boost manufacturing, promote exports, further enable ease of doing business and also work towards making the rupee a global currency, adding further impetus to India's emergence as the global trading hub, according to A Sakthivel, President, FIEO. "The shift this time has been from incentive-based regime to a remission and entitlement-based regime."
Shaktivel added that FTP 2023 maintains policy continuity with a window for the trade and industry to ensure a responsive and nimble approach in tune with the emerging situation in global trade.

DGFT said exports are likely to close this fiscal year at $760-770 billion compared to $676 billion in 2021-22.

FTP 2023 highlights the identification of four new Towns of Export Excellence (TEE) - Faridabad, Moradabad, Mirzapur, and Varanasi - in addition to the existing 39 TEEs.
One of the key features of FTP 2023 is the extension of benefits to e-commerce exports, which are predicted to reach $200-300 billion by 2030. The value limit for exports through courier service is being increased from ₹5 lakh to ₹10 lakh per consignment. The limit can also be removed totally if needed, Sarangi added.
Industry welcomes FTP 2023
Vinod Aggarwal, President, SIAM welcomed the newly launched Foreign Trade Policy 2023 by Commerce Minister Piyush Goyal.
"We welcome the launch of the new Foreign Trade Policy and its focus on promoting collaboration with exporters, states, districts, and India's Missions to drive export growth," says JB Singh, Director, MOVIN Express. "FTP 2023 is designed to be dynamic and adaptable to emerging trade circumstances. The policy's emphasis on e-commerce and export hubs, as well as the amnesty scheme for one-time settlement of export obligation defaults, are positive steps towards achieving the goal of $2 trillion exports by 2030. We are committed to working closely with our partners and stakeholders to leverage these opportunities and drive economic growth in India."

FTP 2023 encapsulates the progressive and growth-oriented vision of the government for promoting India's exports, says Naren Goenka, Chairman, AEPC. "It is pro- MSME, innovative in approach and in the spirit of cooperative federalism. It will help promote women participation and promote start-up ecosystems for technology infusion into manufacturing and business processes, ensuring efficiency and competitiveness. The focus on cross border e-commerce will help align India with the global digital business value chain. The added thrust on sustainability, compliance and ease of doing business will help India boost exports."
Amid the interim slowdown in the otherwise booming global trade, especially with regards to the Indian Exim landscape, FTP 2023 provides the right impetus to EXIM, e-commerce as well as logistics stakeholders to boost exports, adds Nisschal Jaain, Founder and CEO, Shypmax. "The new policy entails the roadmap to take India's goods and services exports to $2 trillion by 2030. The move to focus on emerging areas like e-commerce and export hubs, while promoting ease of doing business through collaboration with exporters, states, districts, and Indian Missions, is commendable. The decision to increase the value limit for exports through courier services from Rs 5 lakh to Rs 10 lakh per consignment provides the much needed boost to the logistics sector. With this, the e-commerce exports are expected to grow to $200-300 billion by 2030.

"Another factor which strengthens India's footing in the global market is the internationalisation of rupee which comes off as very beneficial for exporters. Their dependency on dollar pricing will start to decline. Additionally, four new towns of excellence along with 39 existing towns will focus on exports of handicrafts, handlooms supporting the small-scale artisans."
FIEO President requested the government that 3-6 months transition period may be provided whenever a major change is notified in FTP so that existing contracts can be executed factoring the prevailing benefits.
"Amid the ongoing global economic slowdown, the new foreign trade policy will boost the Make In India initiative by making our country's trade more competitive," says Sachin Agrawal, Co-Founder and CEO, Bizongo. "The outlined focus on export promotion through collaboration with exporters, states, and districts would further open up global markets for small Indian businesses to scale, thus changing the fate of Made in India products and creating a more substantial base for MSMEs."