The upward growth curve after demonetization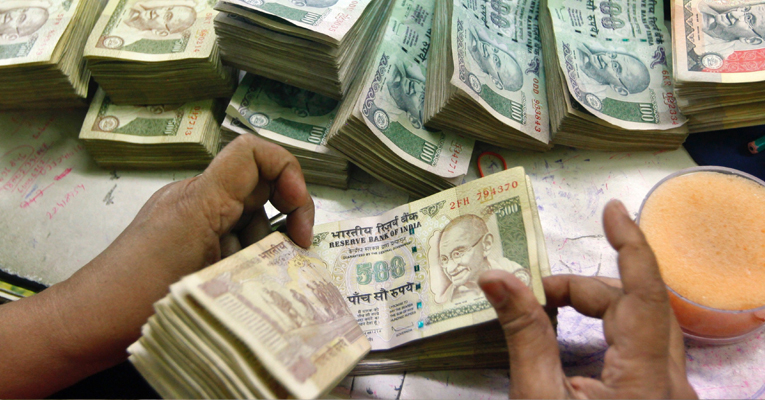 2016 has been an exciting year for the Indian logistics industry — from GST to startups, with each development enhancing the logistics industry to be more efficient and effective. Perhaps, 2017 plans to filter out the ones with sustainable business models.
The instant demonetization policy is speculated to be a boon to the logistics industry as it is highly reliant on e-retail and online ordering. Cashless transactions and a digital India-push will consequently drive growth in hyperlocal logistics, which will necessitate innovation and disruption in the last mile logistics space.
But, a Kargil war veteran says plying trucks on the highways is worse than driving trucks for the Army, "In the Army, life was not assured, but at least your next meal was," he says, with exasperation.
Industry estimates that about 75,000 trucks are still stuck on highways due to the currency shortage. In the first week after demonetization, about 4 lakh trucks were stranded across the country.
For Nawany Corp, a Mumbai-based logistics and trucking firm with 150 vehicles, which primarily serves the cement majors, the business is down by 25-30per cent.
Chairman Ashok Nawany said that the trucking business is driven by cash-in-hand for drivers, but with liquidity under stress, business has suffered.
Some banks that provide working capitals loans and other loans to the transportation sector, have placed facilities such as overdraft on hold. Banks have started negatively rating transporting companies, he said.
A section of bankers has taken a view that demonetization has hit the ability of the transportation companies to pay back loans.
"As the month end is approaching, salary time is coming closer, but banks are hesitant about providing short-term debts," Nawany said.
For Vice-Chairman of Patel Roadways, Areef Patel, who manages 1,500 trucks for his company, business has sunk by 40 per cent since the November 8 announcement. Patel wonders how it would be possible to provide 1,500 credit cards to his drivers overnight for travel expense.
City Link (A subsidiary of Jayem Logistics) at point-blank range Unlike what City Link's next competitor is perceiving about a 25per cent drop in 2017-18 due to demonetization, a 15-20per cent dip in demand or a drop of 50-60per cent for most of the businesses, City Link is certain about 30-40per cent growth in (In – City trucking business) in 2017 -18. Now, the "demonetization" monster has packed home a bunch of doubts for the trucking industry. Either banks are keeping loans to the transportation sector on hold or trucks are stranded on highways due to demonetization. Thus, due to toll booths, they incur losses of more than Rs. 1,45,000 crore a year. Still, why does City Link predict growth in 2017 – 18 despite demonetization in the trucking industry?
"It's just a temporary phase. If banks don't facilitate the loan process, then the financial intuitions will come to the truckers' rescue. Yes, we need to eliminate the toll booths and grow.
City Link isn't affected because of its initial online payment setup. To beat demonetization, one must deal with monthly recharges at toll booths. That'll automatically reduce delays and losses.
In demonetization lies the essence of growth, as today's generation hates cash and not really call a truck to pay a meagre amount for every order placed. Thus, it'll help, inspire and enhance the revenue figure for all tech-savvy as well as online consumer demand aggregation firms.
The vantage point presented by City Link is promotion of digital literacy. Now, isn't that in everyone's interest?" highlight CityLinkers.
Shutting toll booths with money A national association of truckers has offered to pay the central government Rs 20,000 crore every year if the government suspends toll collection across India, in a clearest indication yet of the pain point the toll booths have become in the smooth conduct of commerce in the country. Speaking to Mumbai Mirror, Amritlal Madan, chairman of the coordination committee of All India Motor Transport Congress (AIMTC), who was part of a delegation which put the proposal before Union Finance Minister Arun Jaitley on November 18 in Delhi said that, slowed traffic movement due to toll nakas means only 50 per cent of the country's commercial vehicles are on the roads at any given point of time. "According to our information, the total toll collection in the country in 2015 was around Rs 15,000 crore, we are ready to pay Rs 5,000 crore above that figure," Madan said. He said that the AIMTC had earlier made the same proposal to Minister of Road Transport and Highways Nitin Gadkari, but thought the chaos caused by demonetization of Rs 500 and 1000 notes provided the truckers' association an opportunity to reiterate its case. AIMTC represents over 90 lakh truckers, and more than 50 lakh bus operators, tourist taxis and maxi cabs. According to AIMTC's estimates, the transport industry loses over Rs 1,45,000 crore a year due to fuel burnt by idling commercial vehicles at toll booths and the time lost. "We will happily part with Rs 20,000 crore and the government could revise this figure every year, but the losses we are suffering because of toll booths are crippling," said Madan.
A joint study conducted by the Indian Institute of Management, Calcutta (IIM-C) and Transport Corporation of India (TCI), a leading transport company, had revealed that the average stoppage expenses per tonne-per km increased 133.33 per cent in 2014-15 over 2011-12.
How about recuperation? The centre's November 8, 2016 announcement to scrap the high-value notes has had an undeniable impact on across various segments of logistics industry including freights, customs and clearance industry. Many employees have been laid off because in this unorganized sector most of the transaction is made using hard cash. The demonetization drive has compelled many truck companies to cease operations, citing reasons that they had no hard cash to pay to their drivers. Since then, the traders and exporters have held several meetings with the relevant stakeholders, following which it was decided that henceforth payments will be made either by cheque or electronics transfer; a reason Ashwini Kumar, a truck driver is quite ecstatic about.
Following the announcement, the movement of cargo was either stalled or moving at a snail's pace. The freight industry uses hard cash for undertaking most of its payments-related activities, including making payments for the daily expenses of drivers and workers, diesel, local taxes, and tolls. The scarcity of high-value notes, however, slowed down the movements of goods across the country, leading to an indefinite delay in the delivery of exports consignments. Some industry analysts said the demonetisation decision has resulted in the lack of money flowing into the market, leading to a 75 per cent decline in their transport business. Following the currency blackout, around 60 per cent of freight movement came to a standstill.
The industry, however, has welcomed the government's ideas of promoting a digital economy and curbing the ongoing corruption and is unfazed by its long-term negative impact. It said its businesses and activities at ports, customs and clearance are now coming back to normal. "Overall impact on ports, custom-officials and clearance industry has not been so much as generally felt that the demonetization exercise would de-rail the "Smooth Process" in their regular business operations. The impact will be only to a very limited extent," said P S Atree, President, Delhi Customs Clearing Agent Associations. Atree said the Customs Department also took the initiative to minimise the ill-effects of demonetization by accepting old currency notes for paying old dues or demands raised by several departments of customs.
To deal with the cash crunch and minimise its impact, several logistics companies have already initiated bank transfers for the reimbursement of their staff for their conveyance, incidental expenses, while making transactions through RTGS/cheques for covering day-to-day expenses including monthly rental, utilities, and other service charges. The majority of other trade-related charges i.e. customs duties, airlines/shipping is made by the NEFT/RTGS/cheques.
The Current Impression Two months after the government's sudden decision to scrap Rs. 500 and Rs. 1,000 notes, Finance Minister Arun Jaitley on Sunday said that its impact on the economy would be "transient" but in the medium and long run, the GDP would be "bigger and cleaner" and it will also help lower interest rates.
While conceding that demonetization has been "disruptive", he said, "All reforms are disruptive. They change the retrograde status quo. The demonetization puts a premium on honesty and penalises dishonest conduct."
After demonetization, several aspects of the road transport industry are expected to come into the formal economy. Already, the number of cash transactions has come down and digitization is happening across the physical, financial and information flow. Human inefficiencies in terms of loading times and getting through tolls and check posts have been reduced.
The author Sana Husain is a Corporate Analyst with Jayem Logistics Pvt. Ltd.
Disclaimer: The views and opinions expressed in this article are those of the author and does not necessarily reflect the views of ITLN.