FROM MAGAZINE: Tech race for a seamless last mile delivery
While digital transformation is primarily driven by rapidly changing technologies, its successful adoption depends on having a sound strategy. Enterprises who want to stay competitive need to work on scaling up their solutions along with introducing new innovations from time to time.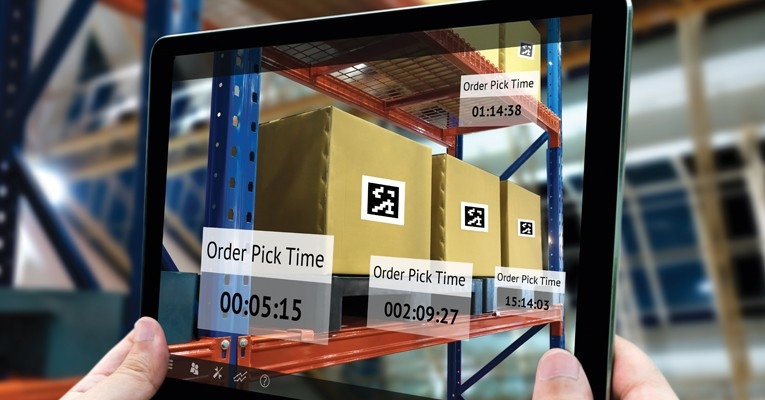 While digital transformation is primarily driven by rapidly changing technologies, its successful adoption depends on having a sound strategy. Enterprises who want to stay competitive need to work on scaling up their solutions along with introducing new innovations from time to time.
Shalini Nair
Logistics sector is the fourth largest employer among all the industries in India. Surprisingly, many logistics players are in the unorganised sector, which doesn't have enough access to technologies due to smaller scale of operation. To counter this scenario, the government of India (GoI) and IITD-AIA Foundation for Smart Manufacturing have introduced notable steps to break this divide for micro, small & medium enterprise (MSME) sector.
In recognition of the significant role played by logistics, GoI is preparing the national integrated logistics plan in consultation with various stakeholders, which would be operational by March 2019. Malini V Shankar, director general of shipping, GoI, comments, "The government is also planning to put a common platform for ease of transportation of goods for logistics e-market place. We have initiated work on National Logistics Portal with all the government agencies such as customs, shipping, railways and port communities."
Once the portal is created, stakeholders like traders, manufacturers, logistics service providers (LSPs), infrastructure providers, financial services, government departments and associations will come under one roof. The portal will have four main components which includes logistics e-market place, logistics certification platform, an integrated regulatory platform, and banking and financial services platform.
Digital transformation is dependent on how these technologies are integrated to bring out the best in each technology and transform entire businesses. Commenting on his expectation on supply chain digitisation in 2019, Nishith Rastogi, CEO & co-founder, Locus, says, "Artificial intelligence (AI) is already helping businesses in cost-effectiveness, operational efficiencies, hassle-free procedures and efficient last mile deliveries for better end-user experience. With business demands rising and companies expanding their horizons, expect supply chain problems to become too humongous and unpredictable to be comprehended by the human mind. Companies that use AI for their decision-making process will lead the logistics sector in 2019."
Meanwhile, Vaahika, an online market place venture focusing on intercity goods transport facilitates shippers with required transparency and visibility on freight trends, fleet availability and shipment tracking by providing required convenience at reduced prices. While on the carrier side, it is creating a one-stop point for all truck types to book onwards and return loads thereby increasing their net uptime. This helps them increasing profitability while enjoying best of their fleet utilisation. Siddharth Jain, co-founder, Vaahika, says, "I guess 2019 should mark the year of investments in creating logistical or warehousing parks across all Tier-1 and Tier-2 cities enabling further streamlining of last mile distribution. We believe the government should become more aggressive towards creation of such parks so as to enable a hassle-free digitised hub and spoke delivery system."
Commenting on the future of supply chain, Ravind Mithe, partner, management consulting, KPMG in India, says, "Supply chain function is at a crossroad, where it has to surpass its traditional focus of transactional processing and driving efficiency to a leadership role that can make organisations ready for the digital world. The journey cannot be a linear journey for the organisations. All the functions and processes must work in a frictionless manner to realise enterprise-wide transformation."
A Capgemini Research Institute, Digital Supply Chain Survey 2018, finds that digital supply chain and logistics automation are the top funding priority for businesses worldwide, with investments in transformation reaching $93 billion in 2018. While digital transformation is primarily driven by rapidly changing technologies, its successful adoption depends on having a sound strategy. "The biggest bottleneck in efficient supply chain management is the intuition-based decision making that we are currently witnessing with enterprises. There is a pressing requirement to shift to data-based AI solutions that can assist supply chain managers in better decision making," states Rastogi.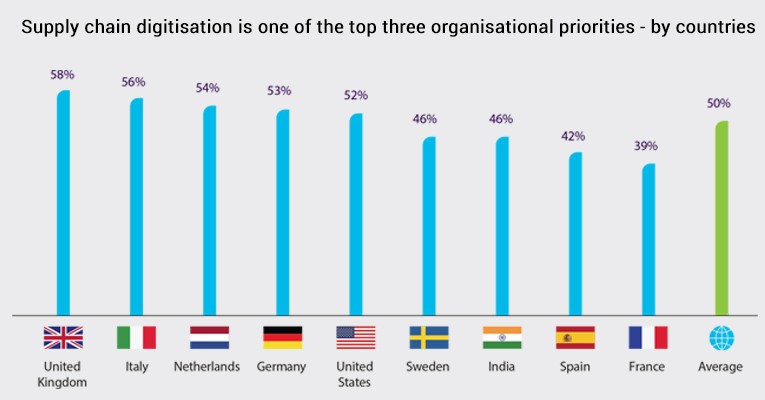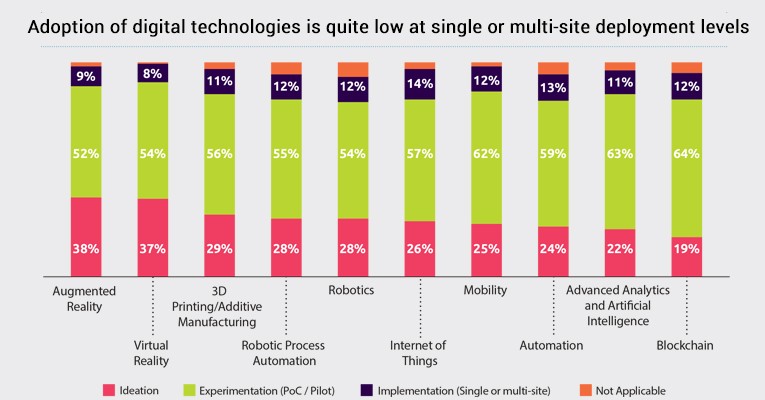 Source: Capgemini Research Institute, Digital Supply Chain Survey 2018
Along similar lines, Anjani Mandal, CEO & co-founder, 4TiGO, states that the barrier to change itself is the major hurdle for technology adoption, and therefore, the transformation is expected to happen within 3-4 years in this sector. At the same time, by the end of 2019, we expect to grow by four to five-fold. Our new initiative is to make working capital available for logistics ecosystem through our platform."
Top hindrances for large scale supply chain transformations cited were legacy mindset or resistance to change (33 percent) and limited bandwidth of management for supply chain transformation (28 percent), says the report 'Supply chains in India: A reality check – Here to where and How' by KPMG India and Association of Supply Chain Professionals (ASCP).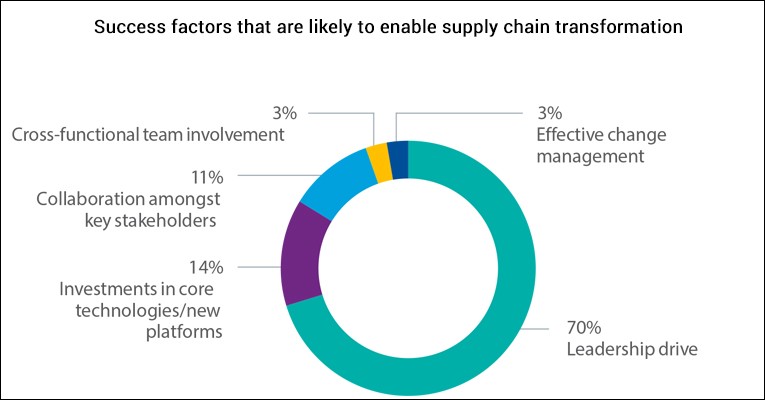 Source: KPMG India & ASCP Report 2018
Accenture's supply chain and network operations MD Shekhar Tiwari agrees, "Even though systems and technologies suggest changes, we tend to ignore. Seventy percent of the force is still very much traditional which is trying to drag down digitisation in the supply chain segment."
To deliberate on various perspectives of smart logistics and develop actionable recommendations by key stakeholders, the Confederation of Indian Industry (CII) has recently organised Smart Logistics 2018 in Mumbai. At the event, R Shankar, group CEO, TVS Logistics Services, remarked, "Smart logistics initiatives will not only help the entire eco-system but also benefit the unorganised sector to develop the industry much better. It involves storage and transportation segments, and enables smart manufacturing segments. New approaches may be experimented in the areas of temperature control, logistics infrastructure management, multimodal transportation, safety & security, documentary and regulatory compliances. The benefit may include optimised logistics processes, assist LSPs, improve cargo and work for safety."
The technology which was once initially developed to handle the shared accounting ledger of cryptocurrency 'Bitcoin', is now a standalone technology - blockchain. JM Baxi Group and IBM have recently rolled out port community system (PCS) for GoI, which will be fully operational by February 2019. Considered to be the fastest roll out within six months of partnership, blockchain-ready, cloud-based PCS links all the major ports with the stakeholders in EXIM logistics chain.
Dhruv Kotak, MD, JM Baxi Group, states, "Bill of lading is the easiest to convert into blockchain. Here, the shipping companies collaborate with the port communities to manage the supply chain. The biggest issue in the supply chain industry is documentation by LSPs; such platforms make document exchange smoother and ensure that the service offerings become more efficient. For blockchain, we need to adopt certain standards. In the shipping industry, all the stakeholders such as large shipping companies, government, customs & port authorities, must selflessly work towards setting standards, which would reduce their cost and time."
As per the survey, nearly 63 percent of the organisations say that their management realises that supply chain digitisation is a process that is continuous and takes a long time. Rob Burnett, the CIO of global supply chain & engineering at GE Transportation, explains, "Our management was a huge proponent of investing in the digital technologies for supply chain and that really drives things. Instead of treating our factories or shop floors as cost centres, we use technology coupled with lean manufacturing to improve productivity and quality. It also enables us to do analytics, which was previously impossible because of missing or inaccurate data."
New entrants to the industry are finding ways to carve out the more lucrative elements of the value chain by exploiting digital technology, and they do not have asset-heavy balance sheets or cumbersome existing systems weighing them down.But there are many logistics technology start-ups which have been unsuccessful over the years too and have pulled down their shutters. Giving his advice on how to sustain in this competitive world, Mandal says, "Startups should make sure that they have adequate access to capital and create adequate margins for them to survive. The mistake that people make is in the fundamentals of business not in the ideation or understanding of technology."
Speaking on logistics being a very competitive space, Jain states, "Its operating expense is heavy and works on wafer thin margins. It is yet to enter a stage where technology alone can drive businesses, it is still operation driven, and thereby technology should play an enabler's role while operation strategies are giving the required scale. Also, it is very important to keep unit economics positive from the very early stage or else logistics can quickly burn the cash; as compared to other sectors."
The technological solutions need to consider real-life constraints and should adapt to the harshest of environments. Enterprises who want to stay competitive need to work on scaling up their solutions along with introducing new innovations from time to time.
On the global front, Alibaba Group's logistics arm Cainiao Network through a joint venture with China National Aviation Corporation Ltd and YTO Express will be investing approximately $1.5 billion to build a world class digital logistics centre at Hong Kong International Airport (HKIA). The centre will be operational by 2023 at the world's busiest cargo airport to meet the surging cross-border e-commerce needs of global small and medium-sized enterprises (SMEs), bringing an incremental cargo volume of nearly 1.7 million tonnes per annum to HKIA. This move is the part of Alibaba's commitment to invest more than 100 billion yuan in an efficient smart logistics network that drives 24-hour delivery in China and 72-hour delivery to the rest of the world.
Enthusiasm for digital technologies is resulting in organisations embarking on multiple initiatives simultaneously. Majority of organisations are implementing technologies in silos across various stages of the supply chain, which makes thorough integration difficult. This approach is not ideal.
The organisations that are successful start with a large number of ideas and eventually choose a handful that best address their strategic requirements and funnel out the rest. In addition to cost gains, supply chains can help deliver a better customer experience. However, less than two out of five organisations make supply chain investments with the aim of becoming customer centric. This means that many organisations are failing to grab the opportunity to make their supply chains consumer driven and agile.
To drive supply chain digitisation aggressively, a major gap needs to be bridged. This includes deployment of business applications onto a mobile computing platform, the willingness of users to change the way they work and move from a 'business secret' and 'beating the tax' dominated functioning to a transparent way of operating where profitability through efficiency and productivity become the norm.