FROM MAGAZINE: Staying afloat amid global uncertainties
Year 2016 won't be marked as an impressive year for international trade as the global shipping industry hit turbulent times, especially in the first three quarters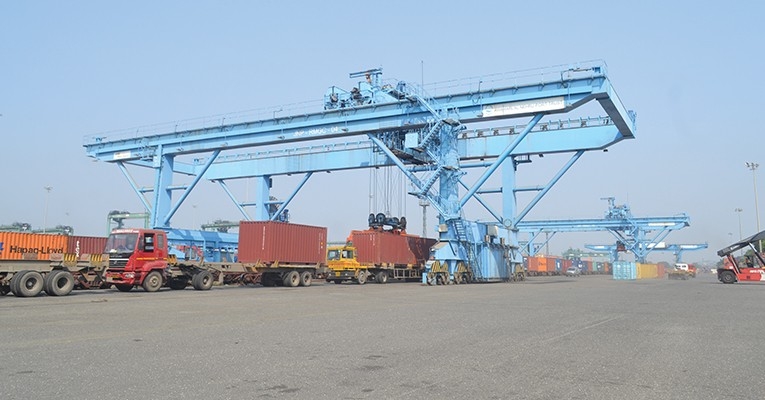 Amidst global uncertainties in the international trade and unprecedented structural changes in India's shipping sector, India's container market has reasonably fared well. However, to continue the growth momentum, the Indian shipping industry will need to be extra cautious of the global trends and policies.
Shreya Bhattacharya

Year 2016 won't be marked as an impressive year for international trade as the global shipping industry hit turbulent times, especially in the first three quarters, in wake of the highest plunge in the freight rates since 2009, Hanjin bankruptcy and all the mergers and acquisitions done for survivals.
In fact, the international trade has not yet been able to catch up to the same rate of growth, which it had exhibited before the global economic downturn of 2008-09. According to the statistics from United Nations Conference on Trade and Development (UNCTAD), global exports increased from $6.2 trillion in 2001 to $16 trillion in 2008, but after 2009, growth was abysmally low with exports increasing to just $16.6 trillion in 2015, although they had peaked at $19 trillion in 2014.
Noticeably, the container trade also shaped up in similar fashion. According to Drewry estimates, global container handling at the ports almost doubled from 248 million TEUs (twenty-foot equivalent units) in 2001 to 524 million TEUs in 2008 whereas it reached only 682 million TEUs by the end of 2015, an increase of just 158 million TEUs in seven years. In 2015, the global container throughput increased by a mere 1.1 percent, which is the lowest growth registered after 2009. Amid such gloomy environment, South Asian ports have emerged as bright spots, where container handling has increased by 5.3 percent. The global share of container handling at South Asian ports has increased from 2.9 percent in 2013 to 3.4 percent in 2016. India's container port throughput that grew by merely 2 percent annually in 2015, registered an 11 percent growth in 2016.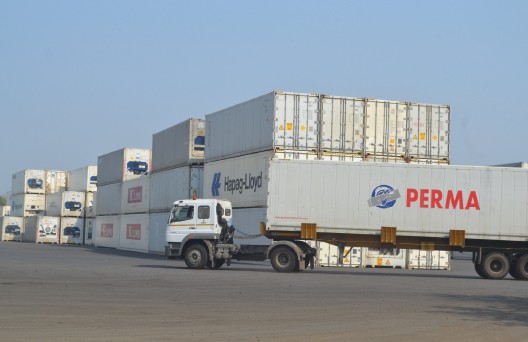 India's west coast ports have traditionally dominated the container market in India with European countries being primary trading partners. West coast ports handle around 70-75 percent of the country's total container handling, while the east coast ports cover in the range of 25-30 percent.
For a primary trading partner like Germany, trading with India via sea-route is of great priority. Emphasising on the same, Axel Mattern, CEO, Port of Hamburg shares, "Last year seaborne container traffic between Hamburg and India grew by two percent. With volume handled at 245,000 TEU, the South Asian country is among Hamburg's top ten trading partners. In comparison to the year 2012 this is an increase of 15.3 percent. Import of containerised cargo from India was 145,000 TEUs last year and export reached 100,000 TEUs. The main goods imported from India are chemical products, metals and metal products, along with textiles, clothing, leather and leather goods. As the main export goods, machinery, equipment and household appliances, metals and metal products, as well as chemical products, are shipped to India via the Port of Hamburg. Hamburg is served by three weekly full container liner services in the India trade."
The container liner services currently sailing directly between Hamburg and India include CMA CGM, Hapag-Lloyd, Hamburg Sud, COSCO, Alianca etc.
According to Drewry's 'Indian Container Market Report 2017', the traffic at both coasts of India grew at a CAGR of 6 percent during 2011-2016. However, the capacity growth on the east coast at a CAGR of 15 percent from 2011 to 2016 is much higher than the 7 percent growth on the west coast of India. Despite higher capacity expansion at east coast ports, their share in the total container movement was pegged at 28 percent, the report further says.
On the west coast, the major contenders are in Gujarat and in Maharashtra's Greater Mumbai. For instance, Jawaharlal Nehru Port Trust (JNPT), which handled a record 4.5 million TEUs in the previous financial year, sustained its momentum in the first six months of the current financial year as well.
"The JNPT, the country's largest container port, further improved its performance in the first six months of the current financial year by recording a 6.19 percent growth in container cargo in terms of TEUs by handling 2.4 million TEUs as compared to 2.26 million TEUs in the corresponding period of the previous year," informed the Ministry of Shipping. The major port is constantly implementing various ease of doing business initiatives for reduction in transaction cost and time for trade.
Among the four terminals under JNPT, APM Terminal handled 9.90 lakh TEUs, up 11.6 percent, while DP World too handled higher cargo at 6.25 lakh TEUs as compared to 5.94 lakh TEUs in the same period of the last year.
Top Indian Container Terminals (FY 2016-17)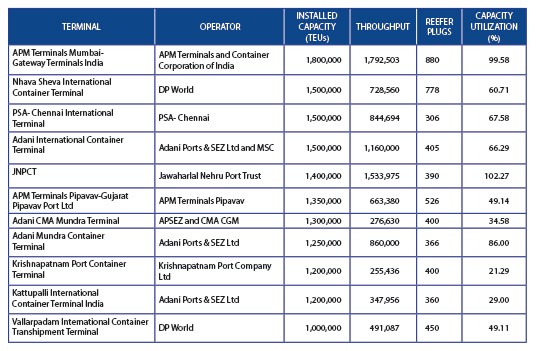 "JNCPT (Jawaharlal Nehru Port Container Terminal) increased its share modestly at 7.87 lakh TEUs from the last year's level of 7.80 lakh TEUs," the ministry further informed.
Also, the emergence of non-major ports in the west coast has particularly given rise to a healthy competition, but is also splitting business for major ports like JNPT. The JNPT that had a share of 66 percent in the west coast traffic back in 2010 slipped to 48 percent by 2016. On the other hand, Mundra expanded its share from 18 percent to 35 percent during the same period.
A study conducted by Ernst & Young (EY) in collaboration with Andhra Pradesh Chambers of Commerce and Industry Federation has confirmed that going by the trend, the non-major ports will account for a majority share of cargo being handled by the port sector in a few years.
Recently, France-based shipping group, CMA CGM signed a joint venture agreement with port infrastructure developer Adani Ports and Special Economic Zone (APSEZ), to operate a new container terminal at Mundra Port. The company will be operating the port's new container terminal for next 15 years with an option to extend it twice for 10 more years. APSEZ also plans to invest Rs 6,000 crore for the development of Mundra Port.
"This is a notable milestone for us, as with the commissioning of this terminal, Mundra Port will become India's largest container-handling port. This strategic partnership with CMA CGM in the Container Terminals business brings significant value to Mundra Port. With this new development, Mundra Port is perfectly primed to set the bar even higher on the crucial parameters of efficiency, productivity and faster turnaround times for larger vessels, which will directly translate into competitive advantages for our customers," said Karan Adani, CEO, APSEZ. Earlier in the year, Adani Group Chairman Gautam Adani also announced an investment of Rs 16,700 crore in the next five years to expand capacity of its ports in Gujarat including Mundra, Dahej, Hazira and Tuna.
On the east coast, the tussle is between Chennai and ports few miles north of Chennai. Krishnapatnam and Katupalli that started operations from 2013, currently hold a market share of 5 percent and 8 percent respectively in the east coast traffic, while Chennai's share plummeted from 52 percent to 41 percent.
In its bid to attract bigger ships, Krishnapatnam Port recently increased its draft for container terminal to 16 meters. With the new milestone, Krishnapatnam Port Container Terminal (KPCT) has now become one of the deepest draft container ports on the east coast of India. It already enjoys the status of having 18.5 meter draft, deepest in India for its bulk terminal.
The port has also started offering transshipment services, with coastal operator Shreyas Shipping running feeder services between Krishnapatnam Port and Kolkata/Haldia Port. There is a special coastal berthing facility at Krishnapatnam that has been made available for transshipment cargo and coastal transshipment vessels. With the new achievement, the port will now be able to accommodate Ultra Large Container Vessels, leading to a spurt in the cargo volumes handled.
"The deep draft availability is the latest facility we are making available for the shipping lines in keeping with our customer centric approach to provide infrastructure ahead of demand. This will enable liner companies to increase vessel size and gain higher market share at KPCT," said Vinita Venkatesh, Director, KPCT.
"With the new deepened draft and availability of coastal berth facility for transshipment cargo, we are now offering a 360 degree holistic wharf side of products for our customers. The large vessels can now make calls to Krishnapatnam Port to load or discharge hinterland as well as transshipment speedily," she further added.
Opportunities and challenges
In an interesting report, McKinsey&Company has tried to give shape to its imagination of how containerization would look in fifty years, as digitisation disrupts the industry with big data and the Internet of Things.
According to the company, in next fifty years the world would probably see autonomous 50,000 TEU ships plowing the seas — perhaps alongside modular, drone like floating containers — and the volume of container trade will be two to five times what it is today.
The report adds further, "After multiple value-destroying overcapacity and consolidation cycles, three or four major container-shipping companies might emerge: digitally enabled independents with a strong customer orientation and innovative commercial practices, or small subsidiaries of tech giants blending the digital and the physical. Freight forwarding as a stand-alone business will be virtually extinct, since digital interactions will reduce the need for intermediaries."
The McKinsey report envisages that a fully autonomous transport chain will extend from loading, stowage, and sailing to unloading directly onto autonomous trains and trucks, with last-mile deliveries by drones. "Some customers prepared to pay a premium will want container-logistics providers fully integrated into their supply chains. Others will continue to demand the cheapest sea freight. Both will expect transparency and reliability to be the norm, not the exception."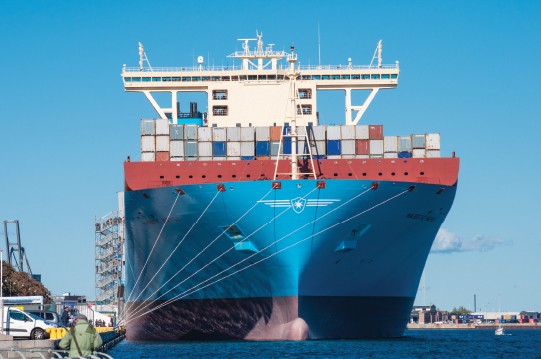 While these imaginations will take few years to turn into reality, the shipping industry has already started taking baby steps towards these targets. A good example would be Flexport, a licensed customs brokerage and freight forwarder built around an online dashboard. Similar to Uber, Flexport connects shippers with carriers and uses a specialised software that deals with customs, tariffs, and a lot of the other hassles of oceanic logistics. Flexport offers a customer to use a web-based dashboard to compare a number of different variables such as locomotion (train or tractor-trailer) different port locations, and different times. The dashboard then displays various price quotes from transport companies who are able to take on the extra freight. As a tech-enabled freight forwarder, Flexport has increased the volume of goods shipped by 16X year over year, and the company just crossed $1 billion in merchandise moved this year.
However, with digitisation taking a central role, the shipping industry will also have to take care of the challenges that come along. Earlier during the year, operations at one of the three terminals of JNPT came to a standstill following the global ransomware attack. The cyber attack affected all software operations of Gateway Terminal India (GTI), operated by Danish shipping giant AP Moller-Maersk. Also, Maersk operations in 75 other port terminals around the world came to a halt due to the cyber attack causing massive losses to the company.
Meanwhile, on the other hand, stakeholders will also have to take care of the market uncertainties. Before the full impact of the 2008-09 global slowdown was felt, the rapid growth of containerisation had prompted major container shipping lines to keep on increasing the ship size and container-carrying capacity to exploit the economies of scale and reduce unit costs. Maersk Lines, for instance ordered Ultra Large Container Ships — 20 of them at a stretch, extracting the maximum concessions from shipyards. Mediterranean Shipping (MSC), CMA/CGM, Cosco followed the suit and ordered ultra large container ships ranging from 10,000 to 20,000 TEUs in the expectation of the global container trade growing in double digits. However, the impact of it was soon realised as freight rates started falling steeply due to overcapacity. The problem of overcapacity is likely to continue as data shows that at least 465 ships with a total box capacity of 3.4 million TEUs are on order and are due to be delivered by the end of 2018 reportedly.
However, on the positive side, initiatives taken by the Indian government are likely to give a boost to the shipping industry. The government's increased impetus and investment on Sagarmala initiative along with an emphasis on 'Make in India' and inland waterways development is likely to increase the sector's contribution to GDP and trade volumes. Also the need is to encourage container shipping that allows major ports to connect with minor ports which, in turn, will connect the inland waterways.