Spoton Logistics innovating to reverse the pecking order
Abhik Mitra, managing director and CEO of Spoton Logistics, speaks about the company's key focus areas to spur further growth, its infrastructural and technological investments and more.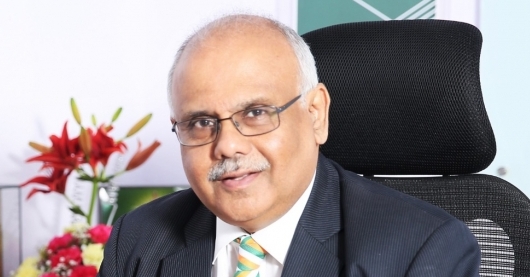 Bengaluru-based B2B express logistics company Spoton Logistics is a major player that offers a gamut of logistics services e-commerce giants like Amazon and Flipkart and retail players like Reliance and Big Basket. Apart from e-commerce, Spoton Logistics services clients in sectors such as high tech, automotive, engineering, pharmaceuticals, electronics, electrical lifestyle and retail. In 2018, Spoton partnered with a consortium of investors led by Samara Capital to invest in and drive the next stage of its growth cycle.
Abhik Mitra, managing director and CEO of Spoton Logistics, speaks about the company's key focus areas to spur further growth, its infrastructural and technological investments and more.
Can you run us through your journey - what potential did you see in the road express sector?
When I was working with TNT in India between 2004 and 2011, we had constructed the business which is now known as Spoton. It became very clear to me that the road express sector in India would grow faster than any other sector purely because road transportation is cheaper than air, and people would look at the price differential. The road qualities were getting better, and therefore, speed on the road was increasing; transit times were reducing between origin and destination. There was a certain consistency coming into the service levels that road service providers were providing.
The other thing that became very clear to me was that in the Indian landscape, there were two types of players - the multinationals like TNT, FedEx, Blue Dart, which is now owned by DHL and the Indian companies like Gati and SafeExpress. So the broad thinking was - how do you build a company that combines the best of both worlds – with the best practices of MNCs and the Indian entrepreneurial world? So, corporate governance, integrity, respect for people, coupled with fast decision making was the founding idea for Spoton. Apart from that, the idea was to build a company in express logistics, which is built very strongly on operations supported by data, engineering and technology.
Last year, you also ventured into the air express sector. How has that business shaped up, especially in the current situation where capacity has shrunk?
Our intention of going into the air express sector was to give our customers an opportunity to use us for both air and road express. And therefore, the focus was never that air would become bigger than road for us. So we launched it in April of 2019 and in March of the subsequent year, the pandemic-induced lockdown happened. By that time, I think we had grown by leaps and bounds, but suffice to say that we are profitable in running that business. It is not a very large part of our business at the moment; again, driven by the fact that capacity is a constraint at the moment and airlines are charging extra for it. So, the shippers are choosing to ship more by road than by air than in the past.
One of the major trends that we've observed during the lockdown has been the growth of the e-commerce segment. How are you reevaluating your strategies to cater to this segment?
We move a lot of material from the sellers to the warehouses of Amazon, Flipkart and all the other e-commerce players. Now that part of the business is obviously growing very well. It was growing even before the pandemic and it is growing faster after the pandemic. To a seller on Amazon, there's something called 'appointment delivery' because delivery to an Amazon warehouse needs to be on a certain day at a certain time. And in order to do that, you have to manage appointment deliveries exceptionally well. And that's what we started doing. We used our process, technology and data to manage appointment deliveries well so that when a shipper ships with Spoton as opposed to shipping with somebody else will know that 9.9 times out of 10 on the day of appointment, his materials will be with Amazon. So our strategy has been that we serve both Amazon and Flipkart quite seriously in a significant way. We have also increased our presence with them. Apart from that, like any good management team does, we continue to evaluate different options. Unlike many of the other B2C players who are loss making, we are very clear that do not want to be in a loss making business. So, e-commerce is an important part of our business. It's a business where we have invested a lot in process and technology and we will continue to do so.
Is that the rationale for starting the new logistics hubs in Chennai, Bangalore and Nagpur? And are you looking at any more locations and any new infrastructure developments that you have in mind?
The reasons for developing logistics hubs in Bangalore, Chennai and Kolkata are not just to serve e-commerce but for other sectors as well. It's just that we are witnessing significant growth - just to give you a context, we've grown 25 per cent YoY in September 2020. In YoY terms in October, we will end up growing about 30 per cent. When you are getting that level of growth, from e-commerce as well as other sectors, we have got to prepare our hubs to be able to deal with such volumes.
What kind of innovation shifts have you been looking at to assess and adapt to the current supply chains?
We were the first to invest in an artificial intelligence-based reinforced network design module. We've recently invested in video analytics to view whether people in our locations are wearing masks, whether they are social distancing or not, because you are running over 360 locations across the country 24/7, it is impossible for any supervisor to check on whether his subordinates are following the rules or not. So, we have used technology to get more sharper eyes and ears on the ground to be able to run our operations better.
What has been the biggest learning for you from the Covid-19 crisis?
It has been a very interesting learning, as an individual, as a human being, and as a CEO. As a CEO, it gives you the opportunity to redefine the industry because everybody went to ground zero in one way. So if you do a very good job as a company, you could change the pecking order. You take a very different view to resilience than you did in the past. Also with people working from home, we need to trust people. Everybody's homes are not the same. Everybody is not well connected. But everybody is trying to put in their best. So I think it gives you a lens into a leadership, which is different from what you were used to. And to that extent, you've got to be willing to relearn and reshape your thinking. One needs to be more giving because people are looking up to leadership at difficult times. It has not always been easy, but it has been a fabulous learning experience.
This interview was originally published in Indian Transport & Logistics News' November - December 2020 issue.