Six things you need to know about how Bengaluru airport transports perishables
February 24, 2020: Time always plays a critical part in perishable logistics - to ensure that products reach their destination while still offering the same freshness, quality and appeal for consumers.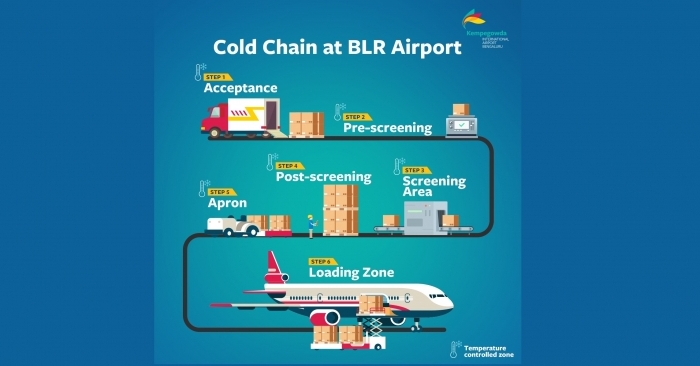 February 24, 2020: Time always plays a critical part in perishable logistics - to ensure that products reach their destination while still offering the same freshness, quality and appeal for consumers.
Read six facts on how the Kempegowda International Airport, Bengaluru (KIAB or BLR Airport) is making a difference by committing itself to enable faster and seamless processing of cargo shipment.

1. 2 Terminal operators and 15 freighters
Powered by superior logistics and backed by two reputed cargo terminal operators – Air India SATS and Menzies Aviation Bobba Bangalore- BLR Airport and supported by 15 freighters connecting global destinations.
2. Handling facilities are enabled by cutting-edge technology
Enabling a seamless processing is the cutting-edge tech assets that includes Automated Storage & Retrieval Systems (ASRS), Elevated Transfer Vehicles (ETVs), Very Narrow Aisle Trucks (VNAs) and High Rise Racking Systems, Lift and Run Systems (for ULD movement), Reach Stackers with Bar Code Readers, and handheld devices.
3. 24-hour delivery promise
All farm-fresh commodities such as Mango, Capsicum, Baby Corn, Papaya, Sweet Corn, Pomegranate, Chilly, Gourds, Cabbage, Cauliflower, exotic vegetables such as Zucchini and Celery reach their destinations within 24 hours of harvest.

4. Dedicated cold zone to ensure zero temperature excursion
The cargo infrastructure has been built to provide a solution for the rapid distribution of perishable cargo. BLR Airport has a dedicated cold zone- AISATS Coolport- with the capacity to handle 40,000 MT per annum and temperature zones ranging from -25 to +25 degrees centigrade under the same roof. Menzies Aviation Bobba Bangalore, too, has cold zone, measuring 8,500 square feet with the capacity to handle 20 ULD pallets from 15 to 25 degrees centigrade and 2 ULD for 2 to 8 degrees centigrade.

The timely delivery of perishable items with a limited shelf life to consumers presents complicated challenges in terms of maintaining quality and freshness. To retain the freshness, all perishables at both terminals are received, stored, cleared and moved to the aircraft within the required temperature on priority, reducing dwell time at terminals.

The biggest value-add for the customers is that there is no temperature excursion at the cold chain facilities. This essentially means that the required temperature is maintained not only in storage, but also in the pre-loading area, right up to the time the cargo is loaded onto an aircraft.

5. Supporting South Indian perishable exports
South India exports 51,428,000 MT of both fruits and vegetables (excluding onions) of which 35% accounts for farm-fresh produce. We account for 27% of total South India's near- 90,000 MT agricultural air exports, and these exports are largely to Asian and European countries. Of the 27%, 70% of the exports are produced within Karnataka. With facilities to process temperature-controlled products, BLR Airport also plays a role in augmenting the agricultural economy in the region.
6. First Indian cargo terminal to become IATA e-freight complaint
BLR Airport Cargo Terminal is the first in India to become IATA e-freight complaint and also the only airport in India to have both terminals compliant with the IATA Safety Audit for Ground Operations (ISAGO). The cargo facilities are also TAPA and ACC3 certified.

What we can expect from BLR AIRPORT in the near future?
BIAL has invested substantially to develop cargo infrastructure with advanced cargo terminals to enable faster processing of consignments. The current capacity of the BLR Airport's combined cargo terminals is 570,000 MT with scope to further expand capacity up to 850,000 MT.
During the financial year 2018-19, BLR Airport processed 386,780 MT of cargo, more than tripling its throughput from the initial year of operation.
The dedicated on-airport perishable handing centers - AISATS Coolport and the Cold Zone at Menzies Aviation Bobba Bangalore - gives the capability to handle 60,000 MT per annum. The master plan of the Airport has incorporated additional space for the development and building of an integrated air cargo and logistics hub in the future.

In addition, BIAL is in the process of setting up a truck parking facility over five acres within the campus. The facility, along with truck parking, would offer amenities like fuel stations food & beverage outlets, service stations and resting spaces for drivers. On an average, the Airport receives shipments from over 1,000 trucks each day, from cities like Hyderabad, Tirupur and Visakhapatnam.

BLR Airport aims to be the gateway of choice for trade connectivity and bolster the regional economy through infrastructure development and innovation.