Siemens and Dubai Airports join hands to enhance passenger experience, cargo operations
April 18, 2018: Siemens Postal, Parcel and Airport Logistics (SPPAL) and Dubai Airports have signed an MoU to explore potential areas of collaboration that will enhance passenger experience and throughput, cost optimisation and energy efficiency at Dubai International (DXB) and Dubai World Central (DWC)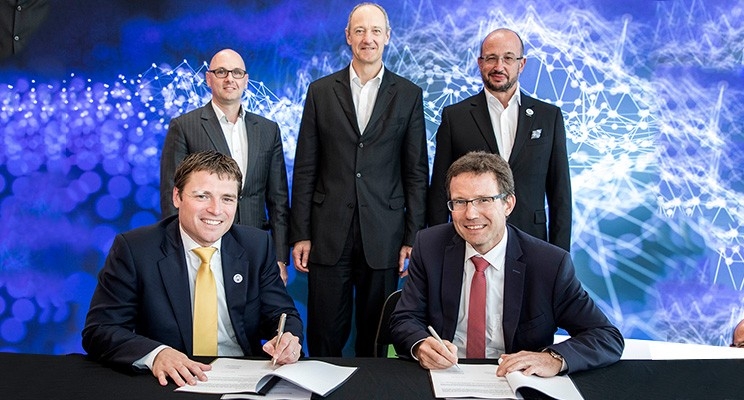 April 18, 2018: Siemens Postal, Parcel & Airport Logistics (SPPAL) and Dubai Airports have signed an MoU to explore potential areas of collaboration that will enhance passenger experience and throughput, cost optimisation and energy efficiency at Dubai International (DXB) and Dubai World Central (DWC). The MoU identifies the intent to explore potential areas of collaboration in the fields of data management and digitalisation. As part of this agreement the companies aim at utilising IoT technology and infrastructure as well as analytics capabilities, establishing a standardised and secure way to exchange quality-assured data across different stakeholders at the airports in real-time. For the digital technologies, Siemens is using MindSphere, its open, cloud-based operating system for the Internet of Things.

"By employing advanced data analytics and machine learning, a great deal of added value can be derived from data. Through this agreement, we would seek to help Dubai Airports improve ultimately the overall customer experience by analysing various elements of airports processes, including passenger flows and interactions with airport facilities and existing bag and cargo flows," said Michael Reichle, CEO of Siemens Postal, Parcel & Airport Logistics.

"Our ongoing focus is to use data, analytics and technology to boost service, throughput and efficiency across the board simultaneously," said Michael Ibbitson, executive vice president of technology and infrastructure at Dubai Airports. "Siemens has extensive expertise in this area and a long and successful track record working with Dubai Airports. We are excited about unleashing the potential of closer collaboration for the benefit of our customers and our bottom line."

Under the MoU, activities of collaboration cover among other things joint opportunities for pilot studies as well as research and development. The companies will examine opportunities ranging from intelligent passenger flow management, maintenance cost reductions, power supply efficiencies and predictive asset management. In its push towards strengthening its digital presence, Siemens also plans to set up two MindSphere Application Centers in the United Arab Emirates.

In the United Arab Emirates, the two new centers will be located in Dubai and Abu Dhabi. The MindSphere Application Center in Dubai will handle airports, logistics and cargo to co-develop innovative approaches that improve the movement of people and goods. The center will optimise the efficiency of logistics by leveraging advanced analytics and IoT solutions provided by Siemens. The other center in Abu Dhabi will cater to process industries, mainly focusing on oil and gas as well as water and waste water.