Maersk, Shanghai Port Group sign deal for green methanol bunkering
SIPG will carry out vessel-to-vessel bunkering and fuel tank storage at Shanghai Port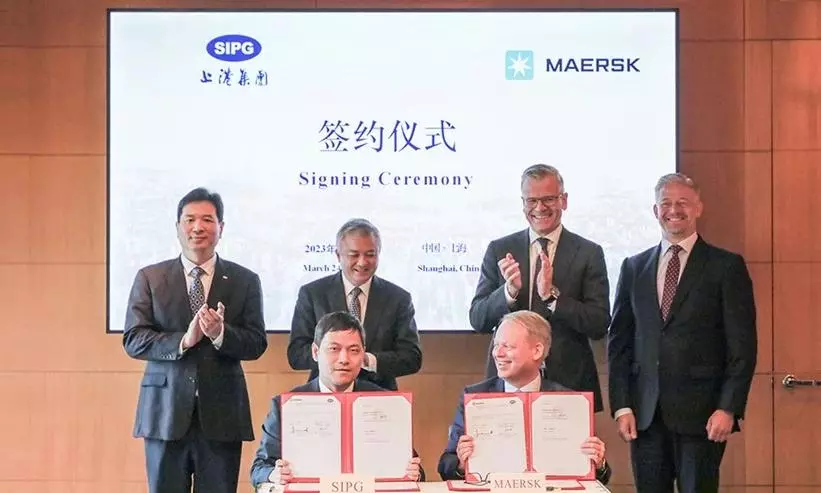 Danish carrier Maersk has signed a memorandum of understanding (MoU) with Shanghai International Port Group (SIPG) for the Shanghai Port methanol marine fuel project.
"The two parties will join hands to explore green methanol fuel vessel-to-vessel bunkering operation after Maersk's green methanol container vessels are delivered in 2024," says a release from Maersk.
Maersk has set a net-zero emissions target for 2040 across the entire business, and the delivery and operation of its 19 vessels with dual-fuel engines able to operate on green methanol will accelerate the evolution of climate neutral shipping, the release added.
"Collaborating with ports globally to build green fuel bunkering infrastructures is necessary to service methanol vessels," says Vincent Clerc, CEO, Maersk. "It is an important step as Maersk strives to lead the decarbonisation of end-to-end supply chains and make a meaningful environmental impact in this decade. We are very pleased to form the partnership with SIPG, leveraging its strong capabilities in bunkering service and port operation. Through joint efforts, we can provide low-carbon logistics service for our customers, also contributing to China's pledge to be carbon neutral by 2060. Meanwhile, we also endeavour to cultivate synergies with SIPG and fuel manufacturers to optimise fuel infrastructure efficiencies."
As SIPG, the main operator of the world's busiest container port, commits to becoming a leader in developing green and ecological ports, the agreement will also support the aspiration of Shanghai Port to become one of the world's first commercial green methanol refuelling points, and as a regional green methanol fuel bunkering centre, the release said.

"We are happy to collaborate with Maersk in support of its mission to decarbonise the shipping industry," says Gu Jinshan, Chairman, SIPG. "As the demand for sustainable fuels increases, establishing the green fuel bunkering service will be another milestone for SIPG, improving port services and enhancing the competitiveness of Shanghai port in a bid to transform the company into a low-carbon and eco-friendly energy hub in Asia Pacific. SIPG will continue to work with shipping companies to foster the Shanghai shipping hub gateway and the green, low-carbon transformation of the shipping industry in Shanghai."
Maersk and SIPG will deepen cooperation in stages. In the first phase, SIPG, as Maersk's potential energy bunkering service provider, will carry out services of vessel-to-vessel bunkering and fuel tank storage at port. In the potential second stage, the parties will explore how to form an all-round energy strategic partnership to promote the extension from bunkering services to the upstream of the green methanol industry chain, the release added.