Los Angeles port has 3rd best overall month
LA port has processed more than 4.5mn TEUs in the first five months of 2022, equal to last year's record-setting pace.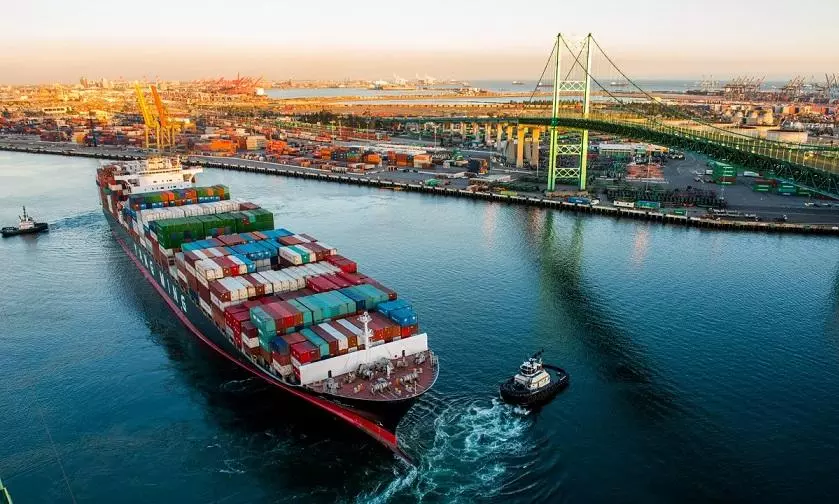 The Port of Los Angeles processed 967,900 TEUs in May, the third best overall month in its 115-year history.
The port has processed more than 4.5 million TEUs, equal to last year's record-setting pace, in the first five months of 2022.
"Retailers replenished inventory throughout the spring and now we'll see a transition to back-to-school goods, fall fashion and some early year-end holiday products," says Gene Seroka, Executive Director, Port of Los Angeles. "While American consumers have become more cost conscious, overall demand remains strong.
"Meanwhile, we've reached a new productivity milestone on our docks. On average, 12,000 TEUs were discharged and loaded back on to every container vessel in May. That eclipsed our own previous best-in-the-business record of 11,300 TEUs recorded last summer."
May's 967,900 TEUs rank only behind May 2021 and October 2020 at the port.
May 2022 loaded imports reached 499,960 TEUs compared to the previous year, a decrease of 6.8 percent but 21% higher than the previous five-year May average.
Loaded exports came in at 125,656 TEUs, a 14.4 percent increase compared to the same period last year. "May marked the highest level of exports processed at the Port of Los Angeles since November 2020."
Empty containers reached 342,285 TEUs, down 6.6 percent compared to last year.
28 ships waiting across LA/LB ports
A total of 28 container ships were backed up across LA/LB ports on Tuesday June 14, according to data from Captain J. Kipling (Kip) Louttit, Executive Director, Marine Exchange of Southern California & Vessel Traffic Service Los Angeles and Long Beach San Pedro, CA.
"The 28 container ships backed up include 1 container ship anchored awaiting a berth off the ports of LA/LB/Huntington + 0 loitering within 25 miles of the ports + 27 slow speed steaming or loitering outside the Safety and Air Quality Area (SAQA)."
The 28 container ships in the backup are 81 fewer than the record of 109 on January 9, 2022.
Record Q1 earnings for carriers
The shipping lines have carried over from 2021, recording very strong operating profit in Q12022, according to the latest update from Sea-Intelligence.
The combined operating profit of the global carriers (those that provide financial information) was $43.9 billion in Q12022. Putting it into perspective, this Earnings Before Interest and Tax (EBIT) is not only higher than the combined Q1EBIT of the last 12 years but it is also higher than the Q32021 EBIT, which in itself was a bumper peak season, the report said.
"The unprecedented nature of the current supply/demand situation and the freight rate environment is clearly evident with the 2022-Q1 EBIT/TEU figure of each of these shipping lines dwarfing each of the previous years. This level of profitability is not driven by volume growth, as apart from ZIM (+5.0%), all other carriers that report global volumes either recorded sharp Y/Y declines, or in the case of Hapag-Lloyd, a marginal 0.4% increase."
Profitability is thus a reflection of the current freight rate environment, the report said.
Prospects strong
Container shipping is poised for another very strong year in 2022 but Fitch Ratings expects challenges in 2023, which could test the industry's discipline or whether companies are better placed than in the last downturn, given the high cash balances, more consolidated market positions and diversifying bolt-on acquisitions.
"We envisage the contracts signed to secure capacity for 2022, which were likely at higher freight rates than in 2021, will support container-shipping performance. New vessel deliveries will not be large enough to reduce freight rates until 2023 at the earliest."
While 2022 is expected to be another strong year for the industry, Covid-19-induced consumption of goods over services and other inefficiencies in the supply chain is expected to fall significantly. An increase in vessel supply from 2023 could suppress freight rates, and higher vessel capacity in 2023 is likely to lead to overall vessel supply exceeding demand by close to 4pp, Fitch Ratings said in its report.