Global nature of trade will prevail, MSC CEO tells TPM23
"MSC will keep on injecting billions of dollars to ensure it can continue to be a long-term partner for customers"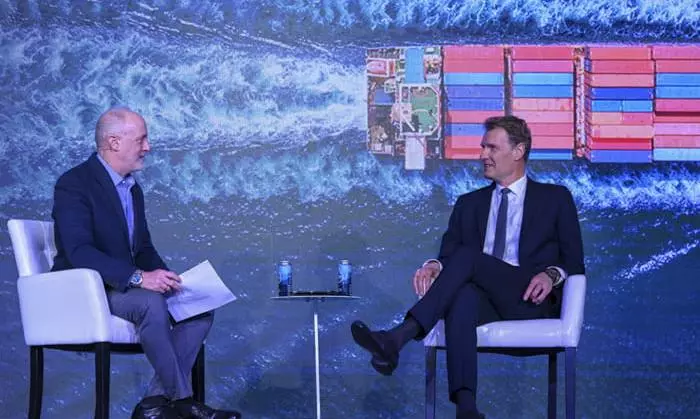 Container shipping will serve as the bedrock for the growth of international trade and commerce, and "global trade will prevail" despite the disruptions of Covid and geopolitical factors, according to MSC CEO Soren Toft.
Speaking for the first time at this year's Transpacific Maritime Conference known as TPM23, Toft said: "The world will continue to be globalised, but with a more distributed supply chain," Toft said while giving a detailed overview of the company's continued growth, expectations for economic recovery, and efforts to realise sustainable shipping.
Taking place in Long Beach, California, the annual TPM conference is one of the largest and most consequential events for the supply chain and logistics industry. It was the first full-scale physical-only gathering for TPM since the Covid outbreak.
"The world has seen through the supply chain crunch just how important the logistics and shipping industry really is – we keep global trade moving," Toft said in an interview with Journal of Commerce's Peter Tirschwell. "It has really displayed the fundamental role that we have, and customers are now thinking about how to make their supply chain resilient for the future."
On the back of the pandemic – which Tirschwell declared to be "over" as he opened this year's event to a record 3,500 participants – supply chains and the freight market have normalised and the global economy should see some improvements in the second half of the year, according to Toft.
MSC has invested significantly in renewing its fleet in recent years and will keep on injecting billions of dollars to ensure it can continue to be a long-term partner for customers, Toft added. As "first and foremost" a shipping company, MSC prefers to operate its own ships and will likely see the proportion of chartered tonnage in its fleet decline in the coming months as well as sending some older ships to be recycled.
"We define ourselves on what the customer wants, not on what we want to offer," Toft said. The company remains committed to long-term partnerships, and investments that look far into the future, he added, declining to disclose specific details of the company's strategy.
"We are a family company, so we think really long term," Soren added. "For us, it is about how we can build the next 53 years of history and not just the next quarter."
As the world's largest ocean carrier, MSC has invested substantially in cutting-edge technologies and digital applications to improve energy efficiency, Toft said. It has also pioneered the use of responsibly sourced blended biofuels and will soon start using liquefied natural gas (LNG) as part of the transition towards net decarbonisation by 2050.
Soren lamented the lack of a global carbon price or global research and development (R&D) fund that would have incentivised companies to develop green solutions. "Decarbonisation is something that we must solve," Toft said. "This is not something that we maybe should fix, this is something that we absolutely must fix, and I'm sure we will."