Deendayal Port Authority to invest Rs 4,000cr for container terminal
Target is to get large ships with capacity of 21,000 TEUs to call at the proposed container terminal at Tuna-Tekra.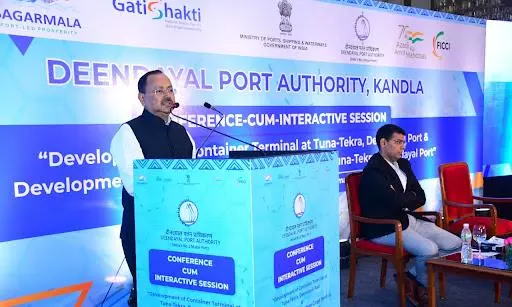 Deendayal Port Authority (DPT) is planning to invest over Rs 4,000 crore (over $500 million) to build a new container terminal with capacity to handle 2.19 million TEUs.
The port is currently operating at a capacity of 95 percent handling bulk cargo like foodgrains, coal and timber, said Nandeesh Shukla, deputy chairman, DPT while outlining the port activities and the future plans today.
The public sector port handled 127 million metric tonnes (MMT) in 2021-22 as against a target of 118 MMT. "DPT will cross 130 MMT in 2022-23 as we have already exceeded 6 MMT till now compared to the same period last year," Shukla said.

Container handling recorded a compounded annual growth rate of nearly 47 percent at 8.625 MMT during 2021-22 compared to 1.838 MMT in 2017-18.
The target is to get large ships with a capacity of 21,000 TEUs to call at the proposed container terminal at Tuna-Tekra, about 15 kms from the existing port.
DPT is also developing a multipurpose cargo berth to handle vessels up to 210,000 DWT with draught of 15-18m, according to an official statement. "The proposed facility shall be used for handling multipurpose cargo, viz., food grains, fertilisers, coal, ores and minerals and steel. The estimated cost & optimal handling capacity of the Terminal is Rs. 1,719 crore (around $215 million) and 18.33 MMTPA, respectively."
Once fully operational, the port is planning to shift the existing handling of coal from Kandla to Tuna-Tekra and cater to the future growth in multipurpose cargo (other than container/liquid) traffic, the statement added.
"At Deendayal Port, we are focusing on six major strategic areas which include cargo and productivity improvement; landlord port development; port-led industrialisation; coastal shipping and Ro-Ro, Ro-pax expansion; improvement in ease of doing business and cost of doing business and green, sustainable and safe port development," says S. K. Mehta, Chairperson, DPT. "To further aid the handling capacity, these two mega cargo handling projects will decongest the port and reduce waiting time for handling containers and cargo."

Mehta, replying to a question from Indian Transport Logistics News, said the "targets are ambitious because we have been identified as a major port. All investments are in that direction. We want all the biggest and the latest ships to be calling at Kandla."
DPA will develop these projects on a public private partnership (PPP) model with a concession period of 30 years that can be renewed/extended for another 20 years. The concessionaire can fix tariffs based on market conditions, and the licence fee will be Re. 1/ payable from the date of award of concession, the statement said.