APM Terminals Mumbai resumes operations on second berth
Commissioning new cranes will enable the terminal to accommodate and turn around larger vessels safely and quickly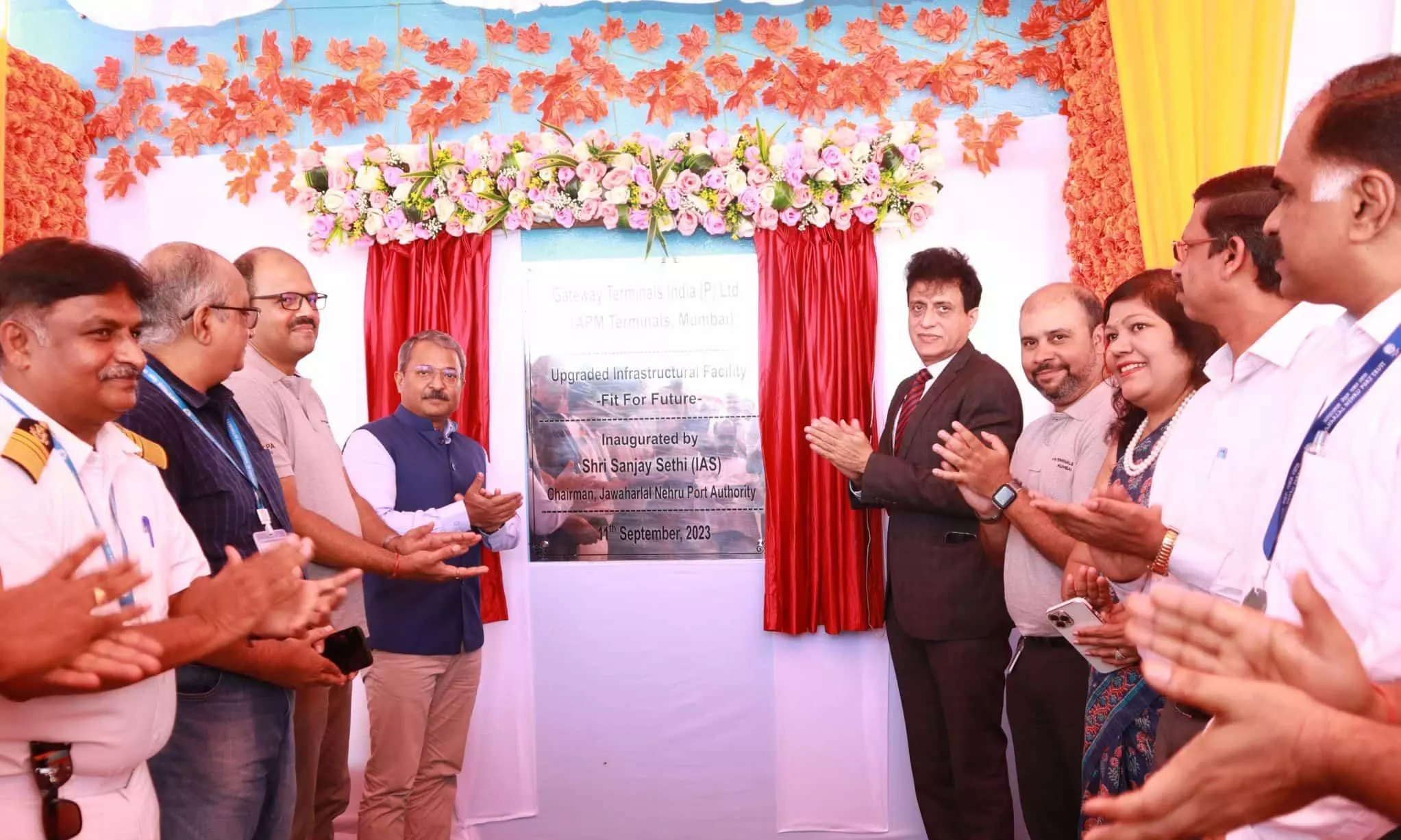 Gateway Terminals India [GTI - APM Terminals Mumbai] has re-commenced operations on its refurbished berth, which is now equipped with new advanced ship-to-shore cranes. With this, the terminal has resumed operations on both berths, says an official release.
The terminal is implementing its future proofing project, Fit for Future, which includes a significant investment in infrastructure. "Commissioning these new cranes will enable the terminal to accommodate and turn around larger vessels safely and quickly. Civil work is currently ongoing to extend the terminal's south bridge and install dolphin moors which will be completed early next year. This will increase container handling capacity by 10 percent to 2.18 million TEUs."
The inauguration was attended by Sanjay Sethi, Chairman, Jawaharlal Nehru Port Authority (JNPA), Unmesh Wagh, Deputy Chairman, JNPA, Rajib Bhowal, CEO, GTI, Sunay Mukerjee, COO, GTI and other officials from JNPA, CISF and GTI.

Mukerjee says: "In our endeavour to provide the best service to our customers, it was inevitable that we upgrade our infrastructure to safely and efficiently cater for larger vessels at our terminal."
One million hours without safety incident
"I congratulate and thank team GTI for working relentlessly within limited resources to serve our customers during the project," Mukerjee said. "Safety is our licence to operate, and I am proud that we completed more than one million safe man hours on this project. My heartfelt gratitude to our customers and stakeholders for their trust, support, and cooperation during the future proofing project. We are keen to welcome larger vessels and handle them safely and efficiently to support Indian trade."
Sethi adds: "We are pleased to witness the successful resumption of operations at Gateway Terminals India, a testament to our commitment to enhancing the efficiency and capacity of the whole port. GTI's Fit for Future project completion, with the investment in advanced quay cranes, is a significant milestone for the port and the entire maritime industry. This expansion not only strengthens our position as a major trade gateway but also underscores our dedication to serving the needs of our valued customers and supporting India's trade growth. I commend the hard work and dedication of the entire team GTI that made this achievement possible and look forward to the continued success and growth of the port."