Adani Ports reports revenue spike of 27%
Revenue from logistics business stood at Rs 1,208 crore, recording a growth of 26%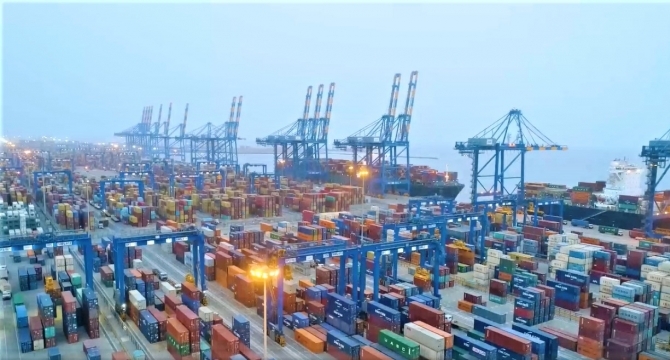 Adani Ports and Special Economic Zone Ltd (APSEZ), the largest transport utility in India recently announced its results for the fourth quarter and year ended March 31, 2022.

APSEZ's consolidated revenue (excluding Gangavaram) grew by 27% to Rs 15,934 crore on the back of well-rounded growth registered by three key business segments - Port, Logistics and SEZ.
Karan Adani, Chief Executive Officer and director of APSEZ, said, "FY22 has been a stellar year for APSEZ, with the achievement of various milestones for itself and new benchmarks for India's maritime industry."
The company did a record cargo volume of 312 million tonnes (MT) with Mundra port alone handling 150MT, a first for any commercial port in the country. Cargo volume growth, improved realisation, and the addition of Sarguja Rail (SRCPL) enabled port revenue increase of 21% to Rs.12,964 crore.
Revenue from the logistics business stood at Rs 1,208 crore, recording a growth of 26% on account of improving container and terminal traffic with an increase in available rolling stock, both for container and bulk cargo.
On its port business front, APSEZ says in FY22, it handled 312MT of cargo (including Gangavaram Port, which handled cargo volume of 30.03MT) versus 247MT in FY21 thus registering a growth of 26% compared to 5% growth in all India cargo volume. The growth in cargo volume was led by dry cargo, which registered a 42% increase, followed by containers (+14%), and liquids (+19%).
In the container segment, APSEZ continued its growth journey and handled 8.2 million Twenty-Foot Equivalent (TEUs), implying a growth of 14% as compared to the 11% growth achieved at all India container volume.
The year saw a number of acquisitions and some large project wins by APSEZ, in line with its ambition of becoming the largest port globally by 2030. These developments include the purchase of the balance 25% stake in KPCL; acquisition of Sarguja Rail Company for its 70-km railway line asset having an annuity-like business model; the purchase of 41.9% stake in the Gangavaram port and the signing of an agreement with the promoters for the acquisition of balance 58.1% stake after the NCLT approval among other accomplishments.
The acquisitions in FY22 implied an investment of around Rs 11,400 crore for APSEZ and was successfully managed alongside an organic capex of around Rs 3,750 crore while ensuring that the net debt to EBITDA ratio remained unchanged at ~3.4xAdani said APSEZ had achieved many milestones on the logistics front. "We cruised on our journey of becoming India's largest transport utility with the achievement of various milestones by our logistics business. These include investment in around 100 trains, eight operational MMLPs and a total grain silo capacity of around 1.2MT, all by FY23. With 5mn sqft of warehousing capacity under construction/ operation, we are on track to achieve our guided capacity of 60mn sqft."
He added that they were confident of the growth trajectory continuing well into the next year. "We are confident of APSEZ's growth prospects in FY23, given India's expected GDP growth and boost to India's iron and steel industry from China's decision to cap its steel production and absence of exports from Russia. APSEZ is fully geared to ride this wave. We remain committed to our ambition of making our ports carbon neutral by 2025, and thereafter progress on the net zero journey, for which we will release our plan later this year."