See you at Global Pharma Logistics Summit 2021 in Mumbai on Nov 18
Indian Transport and Logistics News (ITLN), a STAT Media Group publication, is pleased to announce the fourth edition of our Global Pharma Logistics Summit – 2021, presented by Cargo Service Center and supported by Frankfurt Airport. We also have Turkish Cargo, Etihad Cargo, Skyways Group and Indian Drug Manufacturers' Association (IDMA) as partner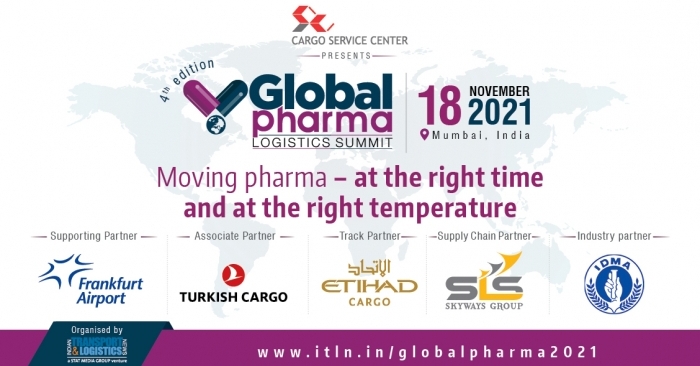 November 2, 2021: Indian Transport and Logistics News (ITLN), a STAT Media Group publication, is pleased to announce the fourth edition of our Global Pharma Logistics Summit – 2021, presented by Cargo Service Center and supported by Frankfurt Airport. We also have Turkish Cargo, Etihad Cargo, Skyways Group and Indian Drug Manufacturers' Association (IDMA) as partners.
With "Moving Pharma – at the right time and at the right temperature" as the theme, the one-day GPLS conference will be held on Thursday, November 18, 2021, at J W Marriott, Mumbai.
Tushar Jani, chairman, Cargo Service Center (CSC), said, "This conference, which is the first physical event of its kind, will bring new energy, new ideas, and lots of opportunities for India's pharma and healthcare sector. We are eagerly looking forward to welcoming all of you on November 18, 2021."
Register here: Global Pharma Logistics Summit 2021
"The healthcare industry has been at the forefront of serving humanity at large during the Coronavirus pandemic. This sector has proven beyond doubt that timely delivery of medicines, vaccines, masks, PPE kits, oxygen concentrators, and ventilators have saved millions of lives across all continents. Post pandemic the definition of Air Freight (AIR) has been redefined as A for Agility, I for Innovation and R for resilience. The pharma sector has demonstrated this in its truest sense and served humankind," Jani added.
GPLS is not only bringing together the industry's finest experts as speakers but in our very first-panel discussion we will witness them sharing the learnings and best practices of the last 20 months of how the sector rode through the deadly pandemic, with a clear focus and an intention to help make the pharma supply chain more resilient for the future.
Ravikumar Tummalapalli, head logistics - APAC, Japan, China – Teva Pharmaceuticals, said, "GPLS has really matured over the years with top-notch speakers, participants and the quality of discussions. Every year the event brings such compelling industry issues to the forefront and tries to find solutions through in-depth analysis and by sharing case studies to benefit everyone in the community."
GPLS 2021 organisers envision that we as an industry bring back the safety and comfort of meeting physically in safe environs and brainstorming on how best we can 'future-proof' and manage the current supply chain bottlenecks.
This specifically curated event will have stakeholders from across the spectrum of the pharma supply chain including manufacturers, retail distributors, logistics companies, freight forwarders, airlines, airports, ground handlers, industry associations and market consultants.
"Personally, I feel the physical interactions and events need to come back. We had a long exile and all of us have started to live with the situation. An event like GPLS gives an opportunity for the industry partners to showcase their products/services, and also add a face to discussions. Physical interactions help in building long-term business relationships," said Tummalapalli.
In the second panel, GPLS hopes to initiate and spark a discussion meant to attract more investments into the cold chain capabilities that enable it to safely deliver temperature-controlled drugs and therapies.
The third and fourth panel discussions at the event will look into the technology that supports packaging and the digitalisation of the pharma supply chain. We seek to end the day with a deliberation on current freight capacity challenges and the current rate surge that we are witnessing globally.
Tummalapalli continued, "The agenda and the topics identified for GPLS 2021 are very carefully selected by way of consultations and discussions with several industry experts. I am confident that these are the most sought after challenges which will be discussed and I am sure that these deliberations will be fruitful for everyone who is participating."
"With the world needing vaccine distribution, cold chain challenges and ways to mitigate them have taken the center stage globally. Industry colleagues and industry partners have really stepped up efforts and are working on different ways to work with the remaining capacity and cost constraints. While there are new solutions being innovated, some are trying to workarounds and optimize the costs. Sustainability is a new theme, which I feel we should also embark upon while we are taking an overall view of the problem and move towards a long-term perspective," he added.
We would request our readers to follow our social media handles to stay updated about the esteemed panel of speakers we are onboarding and who may bring myriad opportunities for your business.