RSA Global acquires majority stake in India's Meesan Logistics
April 11, 2018: UAE-based RSA Global has announced a strategic investment into Meesan Logistics at a signing ceremony held in Mumbai recently. RSA Glo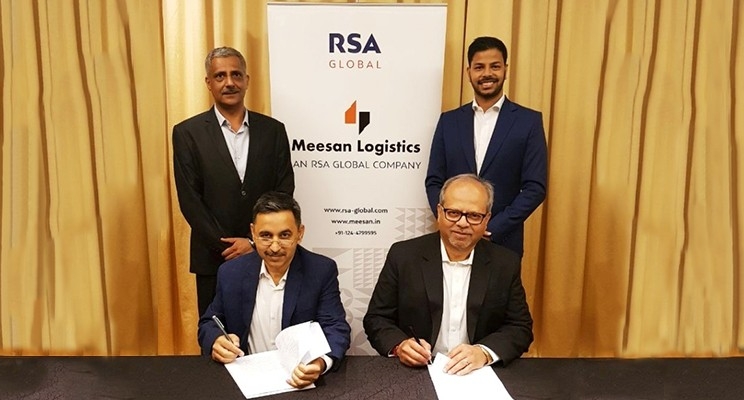 April 11, 2018: UAE-based RSA Global has announced a strategic investment into Meesan Logistics at a signing ceremony held in Mumbai recently. RSA Global has acquired a majority stake in the Indian company, whereby both companies will develop their joint expansion plans in the Indian market. The two entities look forward to enhancing the entire range of logistics solutions currently offered in India, including contract logistics, freight, road transportation, and on-site logistics. In addition, RSA Global's clients stand to gain greater access to key markets across India.
This marks the third-party logistics provider's first major step in global expansion by collaborating with an established Indian third-party logistics company, with whom RSA Global will offer services across India.
India has recently introduced the Unified Tax Regime (GST), which is expected to simplify the distribution network by creating a business environment that allows for smaller warehouses to merge into centralised regional hubs. Furthermore, the new regulations will create a favourable climate for high-scale results from process optimisation, to support the Indian market's moves towards advanced third-party logistics services.
Abhishek Ajay Shah, co-founder and Group CEO of RSA Global said, "This new partnership is a milestone development for RSA Global, as we merge our experience, valuable human capital and technology with Meesan Logistics' reputable position in the Indian market. Meesan Logistics shares our vision when it comes to technology, quality, health and safety, agile decision-making, and our hunger for growth. As of today, this strategic partnership now provides services in eight Indian cities and will offer global reach to our Indian customers. In addition, our Middle East and African customers will have greater, more seamless exposure to the Indian market. India is a key location for RSA Global, as it serves as a hub between Asia and the Middle East, and it plays a vital role in global logistics. Given that the regulatory framework in India is rapidly changing, supply chain infrastructure is undergoing a transformation, and we are proud that our technological innovation and skilled workforce can support this important evolution."
Gaurav Saluja, CEO, Meesan Logistics India said, "We are excited to be partnering with RSA Global to take our company to the next level in offering the most efficient and innovative logistics solutions to our clients. RSA Global embodies our core values focused on maintaining the highest standards of customer service and loyalty, performance development and environmental sustainability, as well as aligning with our vision for global expansion."
The strategic partnership between RSA Global and Meesan Logistics India takes effect immediately. The first steps of implementation will see an upgrade in technology and health, safety, security and quality (HSSEQ) standards.