Volvo delivers 325th tractor-trailer to Delhivery; signs for 200 more
Volvo Trucks and Delhivery joined hands together in 2019 when the first FM 4x2 tractor-trailer solution was introduced for express cargo logistics.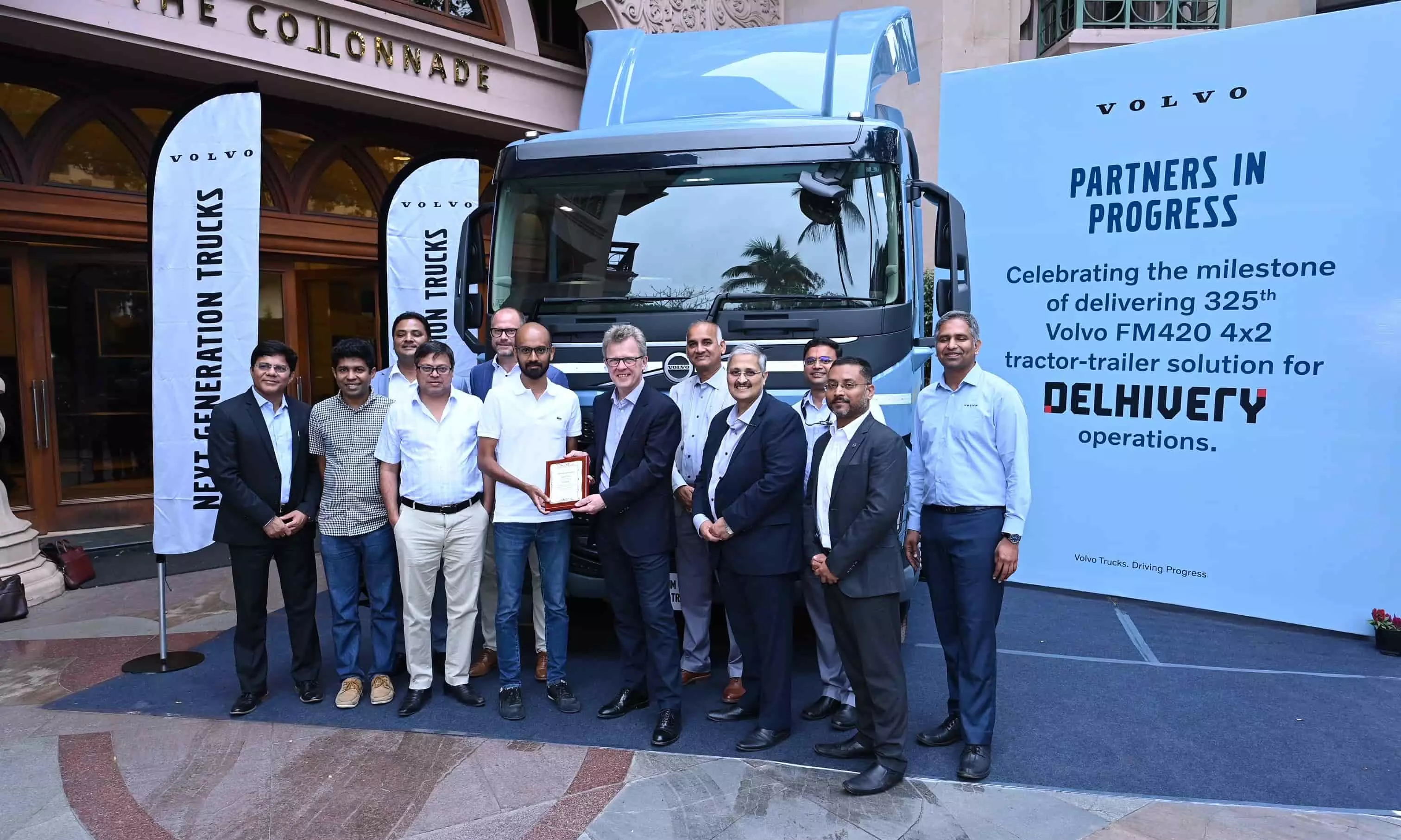 Volvo Trucks India, a division of VE Commercial Vehicle, delivered the 325th tractor-trailer solution to Delhivery, for express and B2B logistics operations and signed Letter of Intent (LoI) for additional 200 units Volvo FM 4x2 Tractors.

Volvo Trucks and Delhivery joined hands together in 2019 when the first FM 4x2 tractor-trailer solution was introduced for express cargo logistics setting new standards on delivery schedule as well as improving the cost efficiency of services. Since then, the Volvo- Delhivery partnership has clearly highlighted the Volvo FM 420 4x2 tractor-trailer solution as the ideal industry benchmark for express logistics clocking up to 25,000 kms a month with exceptional Uptime. Commercial trials for Liquified Natural Gas Tractor Trailer solutions have also been ongoing since Sep'22 on select routes, and the results so far look very promising, with improved fuel efficiency as well as reduced emissions.
"Proud to see the progress so far, and congratulations to Delhivery on this important milestone. Look forward to jointly driving more sustainable transport solutions in India, bringing the best of global expertise where Volvo Trucks is leading the transformation," said Roger Alm, president- Volvo Trucks Corporation.
Vinod Aggarwal, MD & CEO, VE Commercial Vehicles, said, "We started the partnership journey four years ago, and I am proud to see Delhivery and Volvo Trucks drive the change in the industry by introducing the most innovative solutions. This is in line with the vision of the Government of India as laid out in the National Logistics Policy and is a significant milestone in Volvo Trucks' journey in the long-haul segment in India."
Sahil Barua, managing director, and chief executive officer, Delhivery, added, "We are extremely proud of our partnership with Volvo and are delighted to strengthen it further. These tractor-trailers are critical to our mid-mile strategy and go a long way in making our network highly efficient and more sustainable. Since the start of our partnership with Volvo, we have scaled up the salience of these tractor-trailers within our network. We are excited about the future of this partnership and the rollout of newer platforms such as LNG and Electric trucks."
Boddapati Dinakar, EVP Volvo Trucks India, said, "We are happy to have partnered with Delhivery to drive efficiency and productivity in the express logistics segment. Turn-around time, Efficiency, and Driver productivity are the key to being successful in this segment. Our FM 4x2 tractor-trailer solution, backed by world-class support services including customized driver training programs, enabled to improve overall operational efficiencies and grow the business together."
"We are pleased to receive a Letter of Intent for 200 more units for upcoming requirements at Delhivery, and this would take the overall Volvo Trucks fleet in Delhivery operations to 500+ units," concluded Jonas Nilsson, Vice President India & Indonesia, Volvo Trucks International.