Rhenus moves 55MT steam turbine rotor from Ghana to Ahmedabad on Antonov AN-124
July 25, 2020: Rehnus Logistics recently moved a 55 metric tonnes steam turbine rotor from Accra, Ghana to Ahmedabad on a chartered Antonov AN-124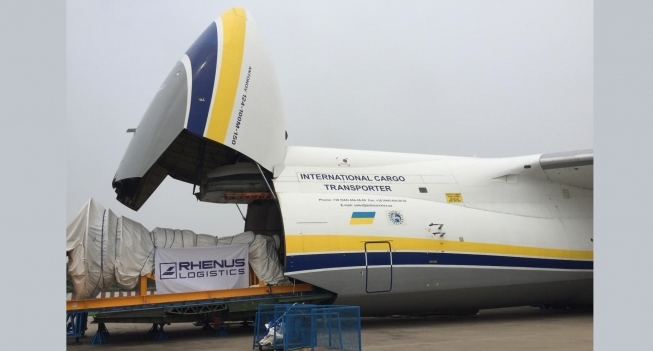 July 25, 2020: Rehnus Logistics recently moved a 55 metric tonnes steam turbine rotor from Accra, Ghana to Ahmedabad on a chartered Antonov AN-124.
"Rhenus Projects USA was awarded the air charter of an Antonov AN-124 (among one of the world's largest commercial cargo aircraft) to transport a steam turbine rotor from Accra, Ghana to Ahmedabad, India. RPL USA assisted in redesigning the frame to make a tight 4cm clearance with a special loading ramp, which helped the clients save a lot of time which otherwise would have been lost in disassembly and reassembly," said a LinkedIn post.
"Rhenus Logistics India provided their expertise to navigate and expedite the complex customs clearance process in India for temporary import, crane handling on the tarmac and heavy lift transportation from Ahmedabad airport to the receiver's door. Rhenus Project's in-house engineering team developed engineering drawings and lifting calculations to ensure that operations were technically sound and safe," continued the post.
Cargo too heavy, No problem.
At @AAICLAS_in
we break our own records!!
One single 55 MT shipment (Turbine Rotor) received from Ghana by AN 124 handled with ease at AMD airport. @AAI_Official @aaisvpiairport @MoCA_GoI @CimGOI @cbic_india @RhenusOffshore pic.twitter.com/iF12hDtqMm

— AAI Cargo Logistics and Allied Services (@AAICLAS_in) July 19, 2020