Railways to use drones to monitor projects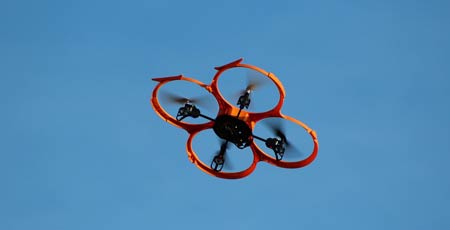 Indian Railways has started using drones — small unmanned aircraft — to monitor mega rail-laying projects in the country. It has officially commissioned drone service from a private operator to monitor ongoing Dedicated Freight Corridor (DFC) projects in two states — Rajasthan and Bihar — for Rs. 3,000 per kilometre.
This is in line with union railways minister Suresh Prabhu's announcement in his budget presentation in February 2016 that the state-owned train transport service, as a part of the Digital India initiative, would utilise drones to track rail-laying works. "We used a drone to ascertain the progress on the 42-km-long track between Baghega to Srimadhopur in Rajasthan in the Western DFC and also the 56-km-long line between Durgawati and Sasaram in Bihar," PTI quoted DFC managing director Adesh Sharma as saying.
As of now, the Railways is carrying out 170 such projects, which involve laying of new lines as well as doubling of tracks, and it is expected to soon hire more drone contractors to monitor them.
In addition to monitoring rail-laying works, the Railways will also utilise the drone aerial survey service during train accidents to assist in rescue missions, Sharma told PTI. In a related development, Indian Railway's telecom arm RailTel, in association with Google, launched high-speed Wi-Fi internet service in Bhubaneswar, the capital of Odisha on April 18. The railway minister, who presided over the launch event, also announced that free internet service would be made available at the train station of the holy city of Puri, ahead of Lord Jagannath's annual Rath Yatra (chariot festival) in July.
For the uninitiated, Google has offered to provide high-speed internet service in 90 railway stations across India by this year-end, and eventually expand the facility to 400 train stations later.
Other cities which got Wi-Fi internet service this month include Bhopal (Madhya Pradesh), Ernakulam (Kerala), Kacheguda (Telangana), Pune (Maharashtra), Raipur (Chhattisgarh) , Ranchi (Jharkhand), Vijayawada (Andhra Pradesh) and Visakhapatnam (Andhra Pradesh). The Mumbai Central station was the first to get this facility in India in January 2016. Google has released an infographic detailing the locations of train stations in India with its free internet service