Qatar Airways Cargo receives IATA's CEIV Pharma certification
December 22, 2020: Qatar Airways Cargo has been awarded IATA's Centre of Excellence for Independent Validators (CEIV) certification in pharmaceutical logistics.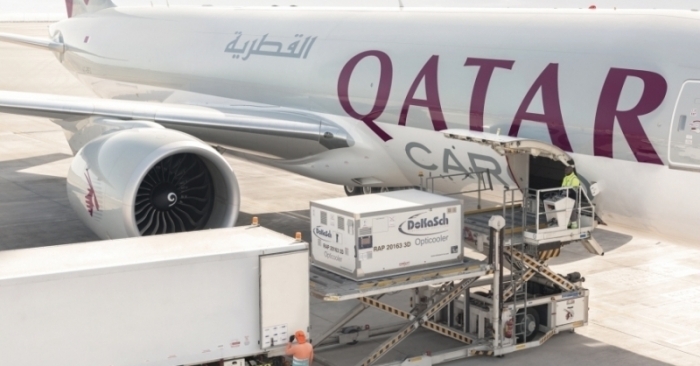 December 22, 2020: Qatar Airways Cargo has been awarded IATA's Centre of Excellence for Independent Validators (CEIV) certification in pharmaceutical logistics.
The certification covers Qatar Airways Cargo's operations, its quality management system and supplier management processes in Doha. Qatar Aviation Services Cargo, the airline's ground handling partner also received the IATA CEIV Pharma certification for its pharma handling and warehouse at Hamad International Airport in the State of Qatar.
CEIV Pharma is an industry-wide standard, addressing the industry's need for more safety, security, compliance and efficiency, by the creation of a globally consistent and recognised pharmaceutical product handling certification.
Guillaume Halleux, chief officer cargo at Qatar Airways said, "We are glad to be awarded IATA's CEIV Pharma certification for our capability in handling pharmaceutical and life science shipments with reliability and efficiency, compliant with international standards. The validation by IATA is a milestone achievement and an award for all the hard work done over the past years since the QR Pharma product launch."
Also read: Qatar Airways Cargo signs up with SkyCell for hybrid pharma containers

Nick Careen, IATA senior vice president, airport, passenger, cargo and security said, "The pharmaceutical industry relies heavily on air cargo for its speed and efficiency. As an industry, we have a duty to ensure that global standards and best practices are in place so that life science and pharmaceutical products are handled and transported accordingly and in cooperation between business partners to provide the high-quality services that customers demand, to ultimately safeguard patient safety. We are delighted to recognise Qatar Airways Cargo and Qatar Aviation Services as CEIV Pharma certified in Doha, raising the bar in the industry with a commitment to quality and continuous improvements. I congratulate both on this achievement."
Along with the cargo warehouse and temperature-controlled sections at Hamad International Airport, its Climate Control Centre was also certified. The state-of-the-art Climate Control Centre is an airside transit facility for pharmaceuticals. It has two temperature-controlled zones operating at both 2 to 8 degrees and 15 to 25 degrees Celsius, with a capacity to hold a total of 156 ULDs (unit load devices) at a time.
Qatar Airways Cargo has invested in handling, infrastructure, facilities, people and procedures at each of its pharma stations, adhering to operating standards for transporting temperature-controlled products. Expertly-trained staff at every pharma destination ensures the cool chain is unbroken. Plans are underway to add Internet of Things devices on board the aircraft that will provide real-time temperature updates, enhancing and completing the end-to-end track and trace service.
The significant investments in the cool chain and expansion of its pharma network is part of the cargo carrier's strategy and commitment to improve and enhance its product offering for the benefit of the pharmaceutical industry globally. The cargo carrier's QR Pharma volumes have grown by 14.5 percent in 2019 over 2018.