FROM MAGAZINE : Akshaya Patra- Putting a smile on a plate
The history of The Akshaya Patra Foundation began when Bhaktivedanta Swami Prabhupada, the founder of the ISKCON, looked out of a window at Mayapur near Kolkata, and saw a group of children fighting with dogs over scraps of food.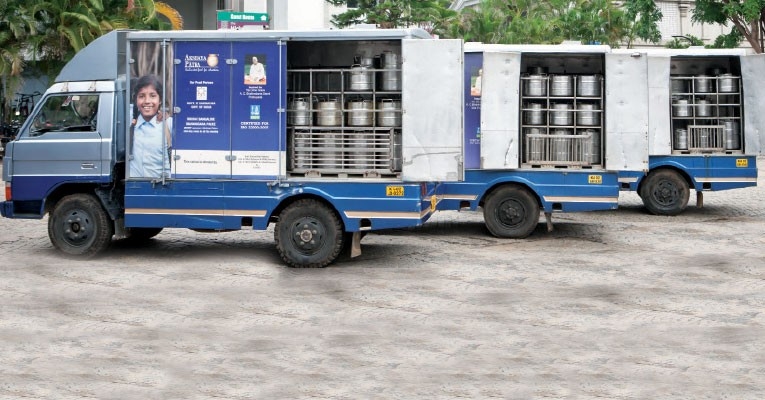 Text by Surya Kannoth & photos by Meghana Sastry
The history of The Akshaya Patra Foundation began when Bhaktivedanta Swami Prabhupada, the founder of the ISKCON, looked out of a window at Mayapur near Kolkata, and saw a group of children fighting with dogs over scraps of food. Deeply disturbed by the incident, he resolved to do something to ensure that no one within the ten-mile radius of the centre would go hungry. This direction to his followers inspired the birth of The Akshaya Patra Foundation. It is also the driving force behind all the milestones the foundation has achieved.
The Akshaya Patra Foundation, along with the government of India has been implementing the Mid-Day Meal Scheme, in a continuous effort to being an end to classroom hunger. Akshaya Patra, with the help of an efficient Food Safety Management System (FSMS), ensures that the quality of food delivered from their kitchens is of the high standards. The entire supply chain management adheres to the norms set by the FSMS to maintain the quality of food. FSMS is implemented in each facet of the supply chain management - right from selection of vendors to the cooking process to the delivery of meals.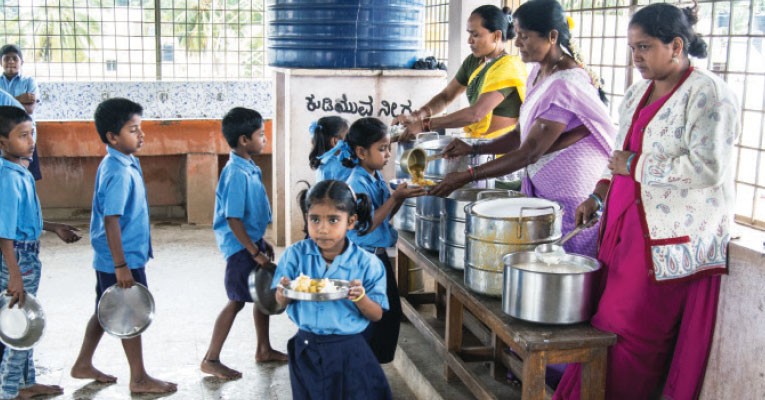 Supplier Quality Management System (SQMS) is implemented to ensure the quality of the suppliers is on par with the set standards, and only those suppliers are partnered with. These standards set by Akshaya Patra have been the backbone for a strong quality base for the kitchen operations, initiating the society into setting predetermined standards for food quality and nutrition therewith.
The foundation currently operates 26 centralised kitchens and 2 decentralised kitchens. The decentralised kitchens are managed by women's self-help groups (SHGs) and are overseen by Akshaya Patra employees. This also creates more opportunities for womenfolk while promoting gender parity. The cooked food is delivered by custom built delivery vehicles, to ensure the food is hot and fresh at the point of delivery. The vehicles used are heat insulated, dust free and can deliver up to 1,50,000 meals in just a few hours.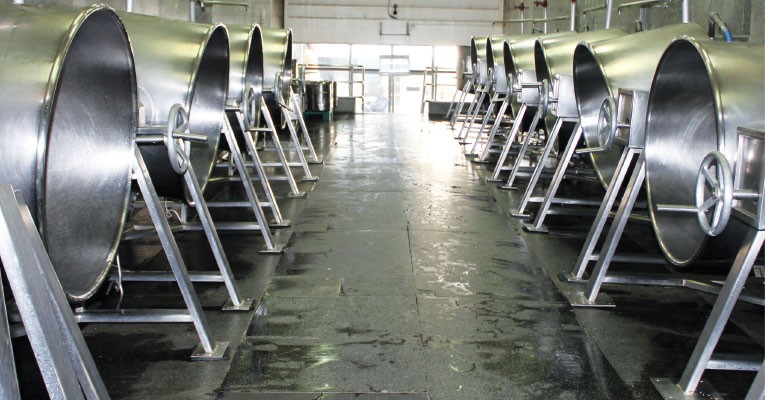 Route optimisation tools have also been developed to improve efficiency. Besides enabling GPS tracking technology, the foundation has also initiated several innovations in logistics operations. Akshaya Patra also ensures optimum utilisation of resources by undertaking improvement strategies like Kaizen and Continual Improvement Process (CIP). Six Sigma methodologies have been adopted in the kitchen processes which has led to improved quality and optimised costs. These have also directed a reduction in the cooking time by 20 percent. Thirteen Akshaya Patra kitchens are ISO certified; with millions of children to feed every day, the foundation is conscious of the need to provide safe, nutritious and hygienic meals to children.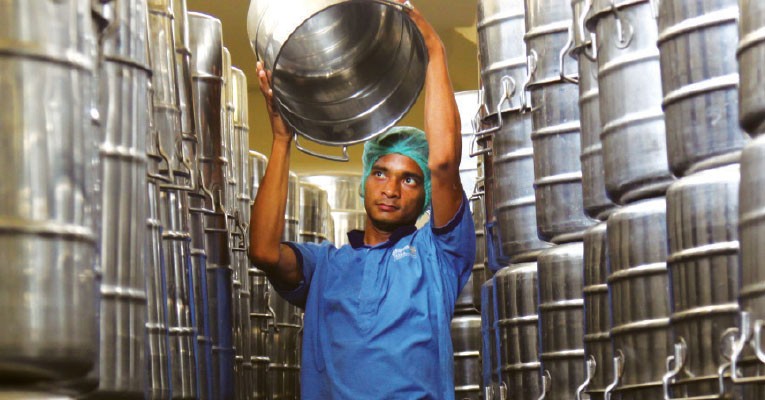 Cooking in the centralised units begins as early as 2 am. All kitchens follow a scheduled menu. All the centralised kitchens are equipped with cauldrons, trolleys, rice chutes, dal/sambar (lentil soup) tanks, cutting boards, knives and other similar equipment that are sanitised before usage. No food handler or visitor to the kitchen is allowed to enter without foot covers, masks and headcovers. In fact, no form of jewellery or loose metallic objects like hair-clips are allowed to maintain hygiene.
Akshaya Patra has been leveraging technology to improve scalability and increase productivity. It has implemented Enterprise Resource Planning (ERP) systems to connect all locations on a single platform on a real-time basis on procurement to production, supply chain, school enrolments, complete financial transactions, and costing modules – to streamline processes across the value chain.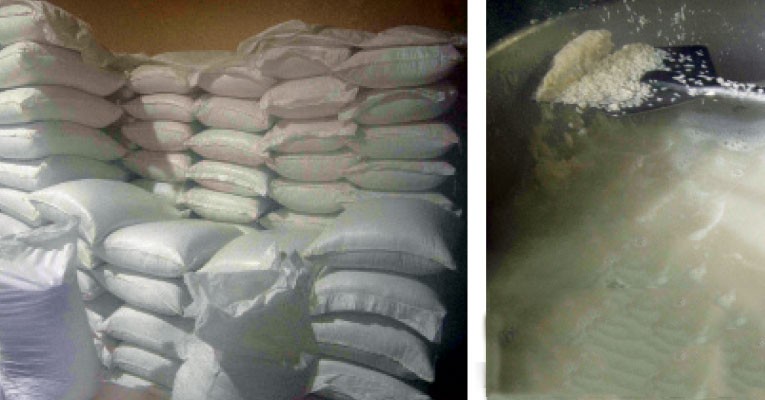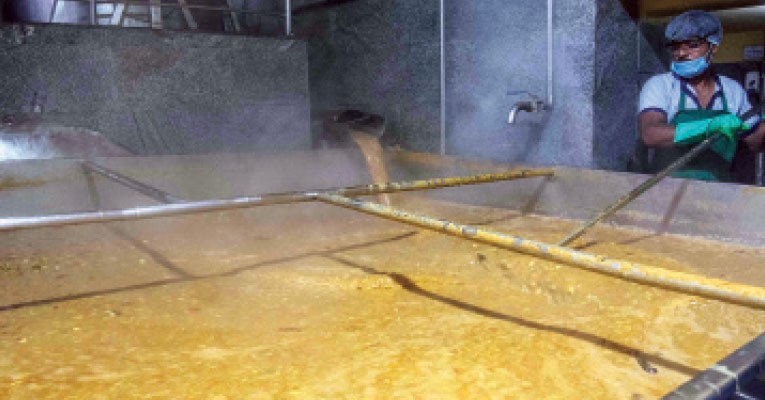 Seven to eight tonnes of rice, six to seven tonnes of vegetables and two tonnes of pulses are cooked every day in just one kitchen. Each centralized kitchen is capable of cooking between 50,000 and 150,000 meals per day, with the largest situated at Hubli-Dharwad, which is capable of cooking 185,000 meals daily.
Indian Transport & Logistics News visited The Akshaya Patra Foundation's first centralised kitchen at HK Hill, just outside Bengaluru, which was set up in June 2000, to understand the complexities of the inbound and outbound logistics and meeting the supply chain demands of these mammoth kitchens.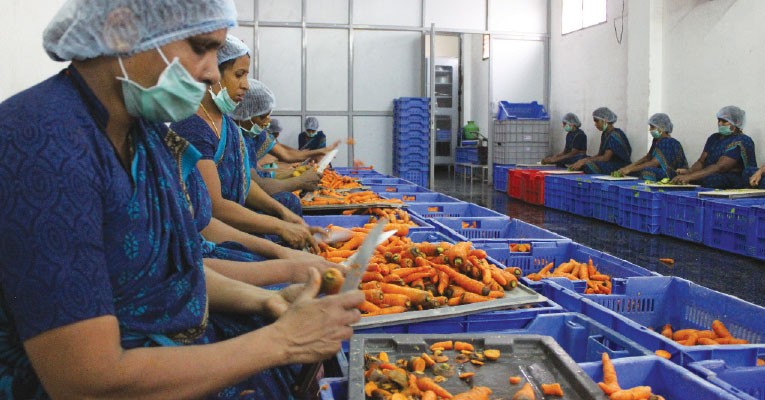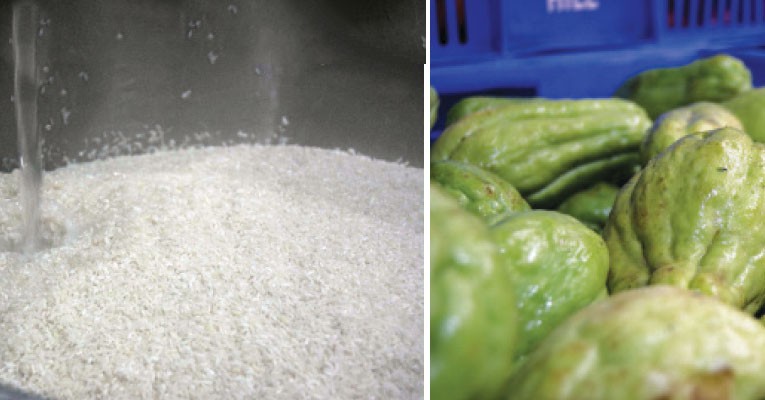 Pre-processing - This is where vegetables are chopped, rice and dal (lentils) are washed, and all other preparations are done before the actual cooking begins. Women are employed to chop the vegetables according to the recipe. The chopped vegetables are then stored in cold storages to maintain freshness. A new vegetable cutting machine has been tailored in HK Hill kitchen to save on time and retain freshness of cut vegetables.
Rice is supplied by the Food Corporation of India (FCI). Before the cooking process, the rice is machine-cleaned and washed thoroughly. In order to ensure all the raw materials are fresh, all the kitchens follow the FIFO (First In First Out) and FEFO (First Expiry First Out) methods while issuing the raw material for production. Akshaya Patra's kitchens now use fortified rice in its rice-based meals. This fortfied rice contains iron, one of the most essential micronutrients required for a growing child.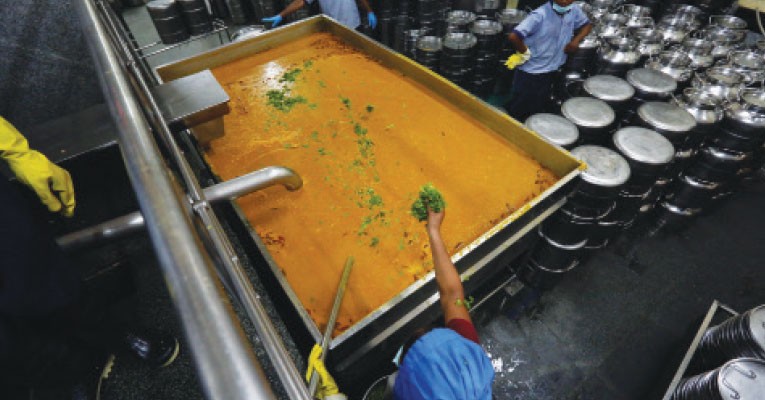 Each rice cauldron has a capacity of at least 500 litres while each sambar cauldron has the capacity to cook 1200 litres to 3000 litres of sambar (lentil soup). All the vessels are of stainless steel 304 food grade material.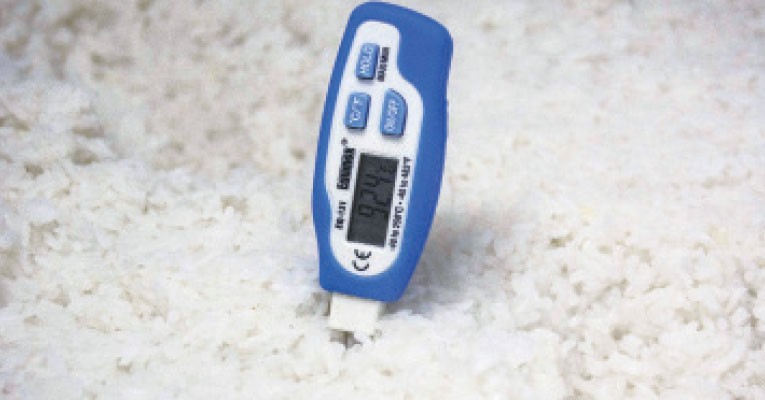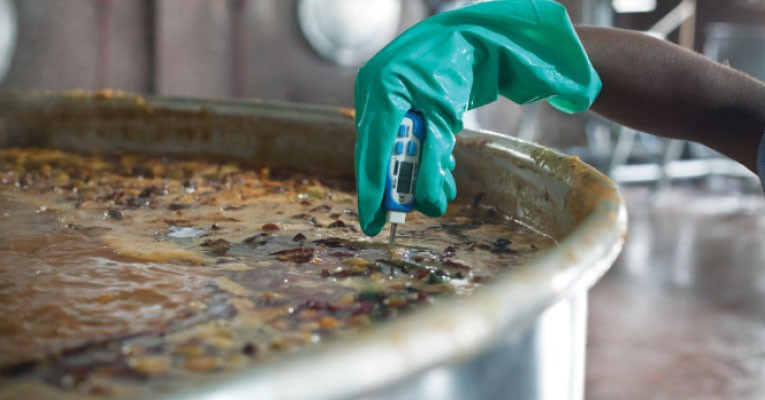 Critical Control Points (CCPs) like cooking temperature are checked and recorded at periodic intervals to ensure the right quality of the meal. To ensure food quality is maintained, quality check is done by the quality officers in each kitchen.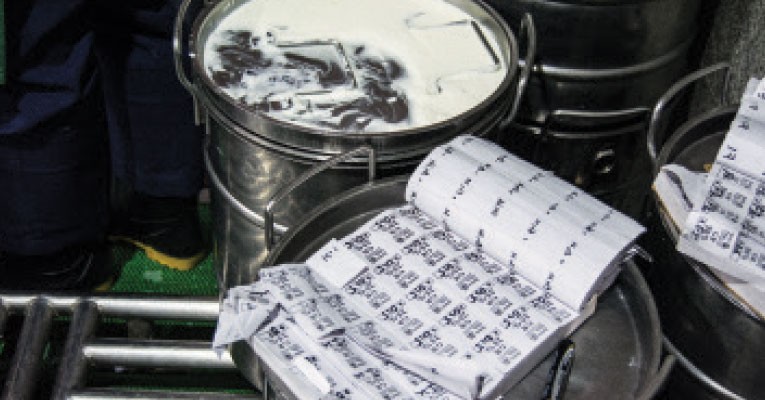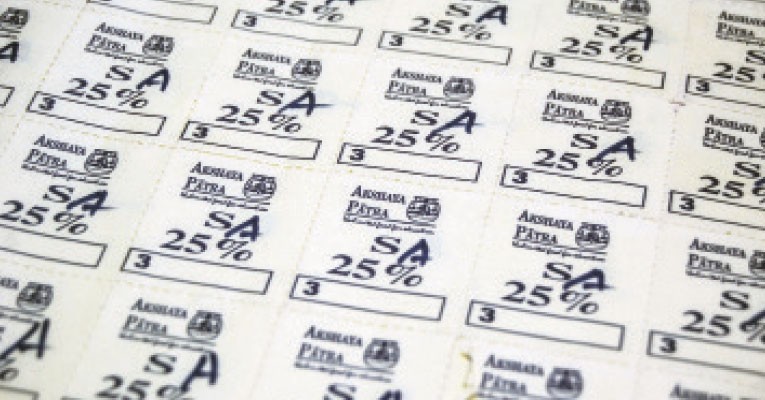 The cooked food is packed in steam sterilised vessels and labelled appropriately. They are then loaded onto specially designed and customised transport vehicles are used to deliver food to the schools. These vehicles are steam sterilised before the loading process. These vehicles use a puffed body to reduce the temperature loss and a honeycomb structure to hold the vessels upright and keep the freshness of the cooked meal intact till it is served to the children.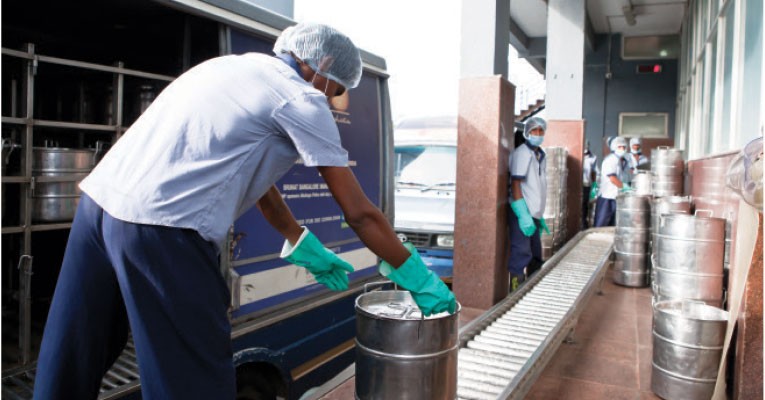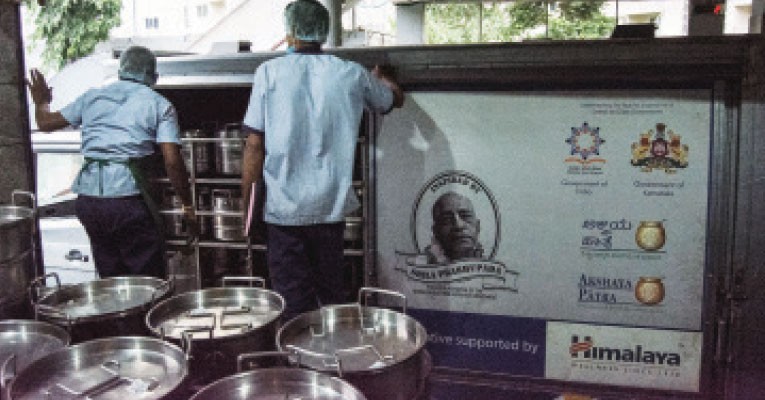 In order to consistently maintain the quality of the meal, feedbacks from schools are taken on a daily basis while delivering the meal. The Quality Officers in the kitchens review the feedback and initiate or trigger appropriate corrective or improvement actions to improve the quality and delivery of food. 'Do's and Don'ts' pamphlets are circulated to all schools on a regular basis for creating awareness on food safety and hygiene while serving the mid-day meals.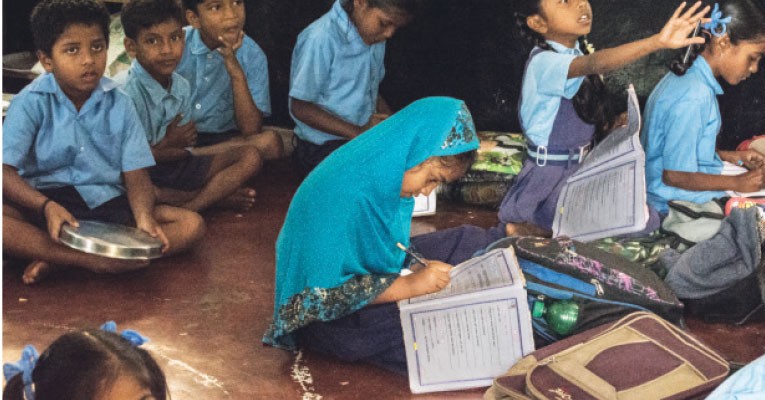 Kids head back to class after a sumptuous and healthy meal. The smiles on their faces are enough proof that if these meals work as an incentive to bring children to school (i.e., improve enrolment) and keep them in school(i.e., improve attendance), then there is no scope to err when it comes to this aspect.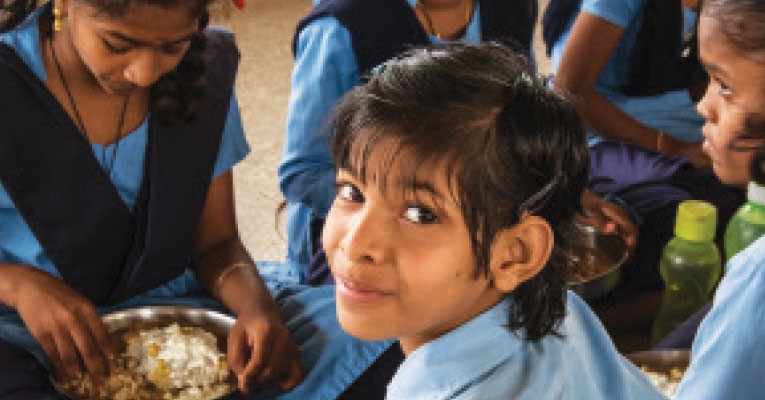 The students happily eat to their heart's content and they are allowed to go for any number of helpings. As a not-for-profit organisation, Akshaya Patra has to rely on donations from individuals and corporates to run a mammoth initiative that the Mid-day Meal Programme is. While donations from both groups have been flowing in since the inception of the programme, corporates have become all the more proactive of late.