PSA BMCT starts second regular service with Hapag-Lloyd vessel call
February 12, 2018: PSA's Bharat Mumbai Container Terminals (BMCT) continued on its growth path with the arrival of Hapag-Lloyd's 'Express Rome' at the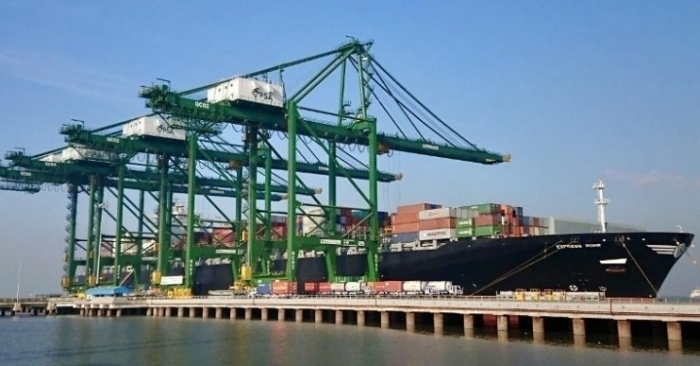 February 12, 2018: PSA's Bharat Mumbai Container Terminals (BMCT) continued on its growth path with the arrival of Hapag-Lloyd's 'Express Rome' at the terminal, marking BMCT's second weekly service call and its first direct Europe service.
The 10,114-TEU, 122,961 dwt Express Rome is 350 metres long and operates the Indian Ocean Service (IOS) linking India and the Middle East directly with the North European ports of Antwerp, Hamburg and London. Its inaugural call at BMCT will be followed by three sister ships from Hapag Lloyd plus three and one vessels respectively from service partners Hamburg-Sud and CMA-CGM.
Approximately 3,700 TEUs will be handled during the call at BMCT. Rail containers for export were earlier received at BMCT via inter-terminal transfer from other terminals at JNPT, whilst the first direct trains from BMCT will depart this week with containers for North India and many other destinations.
During a ceremony at BMCT to welcome the vessel, BMCT's CEO Suresh Amirapu said, "We are honoured to receive this early vote of confidence from Hapag Lloyd and its IOS service partners. With one kilometre of contiguous quay, 16.5 metres of alongside draft and six super post- panamax cranes, BMCT can handle some of the largest container vessels afloat. Three more cranes will be in operation by July, increasing our capacity and enhancing our service offering."
Also present at the inaugural call was Dheeraj Bhatia, managing director of Hapag-Lloyd India. Bhatia commented, "The start of BMCT is a great milestone in the Indian port infrastructure space. The addition of this new capacity will help in increasing efficiency and offer improved turn- around times. We expect this capacity to further help the cause of Direct Port Delivery from the terminal. PSA is a trusted partner of Hapag-Lloyd and with this confidence, we have entrusted them to handle one of our premier services from India to Europe."