FROM MAGAZINE: Powering the supply chain of future
The first chapter of the Supply Chain Meetup in India, organised by Locus, brought together best minds of supply chain from various industries to discuss and deliberate on modern logistics issues and solutions from their respective sectors.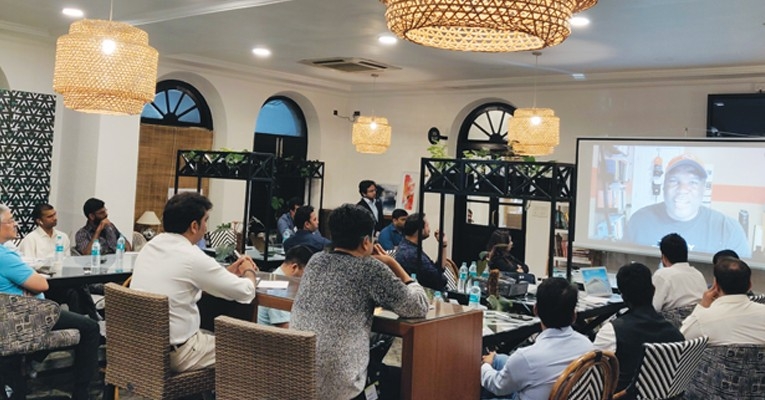 The first chapter of the Supply Chain Meetup in India, organised by Locus, brought together best minds of supply chain from various industries to discuss and deliberate on modern logistics issues and solutions from their respective sectors.
Surya Kannoth
Bangalore-based logistics management startup Locus recently organised the first chapter of the Supply Chain Meetup in India in collaboration with The Worldwide Supply Chain Federation. The event, hosted in Bangalore, brought under one roof supply chain professionals from various industries to discuss the painpoints in logistics from their respective sectors and derive solutions.
Setting the tone for the session, Nishith Rastogi, founder and CEO, Locus spoke of how the entire gamut of logistics and supply chain has gone far beyond its original definition. "Every industry has a decade or two of rapid innovation, right now, that period is for logistics," he said.
Speaking of the logistical nightmares that countries like India and those in South East Asia pose, he said, "Nowhere in the world are the customer needs so high and the infrastructure so low as in it is in India and South East Asia. Concepts like omni-channel, which is a norm here is just being discovered in the developed world."
Brian Aoaeh, founder, The Worldwide Supply Chain Federation briefed the crowd about the importance of supply chain communities to create value and use of innovation and technology in the logistics sector.
With dynamic markets and erratic global trends demand, supply chain decision makers have to face novel challenges every day. With this in context, the first track for the day presented a platform to dispense the unique experiences and challenges faced by logistics professionals in their respective sectors.
GowriShankar Paramasivam, startup accelerator, sourcing lead, Maersk explained how he sees traditional big players 'shaking hands' with tech startups for using their expertise in technology. He also discussed geocoding not only in the 'x' and 'y' but also in the 'z' coordinate to ensure better accuracy as cities become denser.
Having worked across varied industries, Krishna Khandelwal, chief business officer, Locus shared, "Brands are now realising that the job of a supply chain executive is not just to deliver goods from a manufacturing plant to a customer location. Logistics has now shifted from being the cost centre to one of the biggest differentiating factors for companies to grow their business."
Abhishek Nandy, director, Flipkart discussed the challenges of the e-commerce sector and shared his views on how last mile deliveries can make or break a company's reputation. According to him, "Even one customer not getting his order impacts the brand image of a company, every single order has become a supply chain problem now."
Building on the experiences shared by logistics professionals in the first session, the second track opened the floor for sharing the best practices in the supply chain management, to discuss the most innovative solutions in various sectors to optimise operations and to analyse the trends that are shaping individual segments.
Anantharam S, head-commercial and logistics, TATA Coffee discussed the challenges of the exporters. The main problems include the availability of the shipments on time and optimum management of inventory.
Ramesh Venkat, head-industry partnerships, Logistics Skill Sector Council apprised the group of how different factors have different priorities in various parts of the world. He gave the example of labour charges, which are much higher in the western world and thus, the amount of time a human resource is used becomes a key component in supply chain planning. He also talked about the importance of having a 'symbiotic partnership' of stakeholders and demanded supply chain functions to not work in silos.
Chiranjeevi K, team leader - supply chain, national key accounts, Coca-Cola said that capturing every mom and pop store is a challenge for even the biggest of the players. It is difficult to deliver low volume products to far-flung areas, as lower volume of shipments means higher logistics costs.
Vandana R, senior accelerator program manager, Target and Nayani Nasa, senior manager, global strategy and innovation and lead, Target talked about using every 'node' of the supply chain for last-mile delivery and how the customer is at the core of every business decision in today's world.
She said that the 'legacy companies' are open to working with startups and even have their acceleration programmes. However, to work with any legacy brand, the integration has to be top management driven. The duo also demanded that startups too should incorporate the requirements of the traditional corporate companies in order to work in collaboration.
Stressing on the need of companies to go 'direct to the consumers', Chengappa IS, Customer Logistics Head, HMD Global discussed how companies are now trying to understand the 'customer journey' and are looking to involve more CRM in their online stores.
Deepak R, co-founder at Shoptree and Mithun Manjunath, product and business, Shoptree raised their concerns about tech companies deploying modern logistics solutions without clearly understanding them.
The Bangalore Supply Chain Meetup, which witnessed over 50 logistics professionals in attendance, was a true amalgamation of logistics ideas from across various sectors. The next meetup may potentially be organised in Mumbai or Delhi.