PM renames ministry of shipping as ministry of ports, shipping & waterways
November 9, 2020: Prime Minister Narendra Modi on Sunday renamed the country's ministry of shipping as the ministry of ports, shipping and waterways to bring clarity in the name.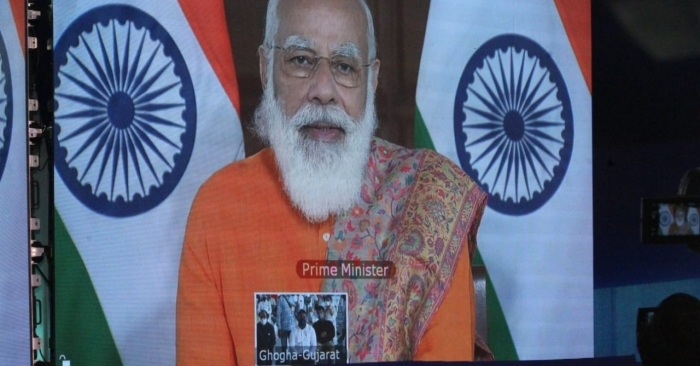 November 9, 2020: Prime Minister Narendra Modi on Sunday renamed the country's ministry of shipping as the ministry of ports, shipping and waterways to bring clarity into the name.
He was virtually inaugurating the Ro-Pax terminal at Hazira and flagging off the Ro-Pax ferry service between Hazira and Ghogha in Gujarat.
"Everyone will benefit from this better connectivity. Businesses will be boosted and connectivity will become faster. Better connectivity between Saurashtra and Surat is going to change the life of the people in these regions. Fruits, vegetables and milk can now easily be transported and pollution will also be reduced due to this service," he said.
The Ro-Pax service will shorten the journey time from 10-12 hours to 3-4 hours. Prime minister said, "80000 passenger trains and 30000 trucks will be able to take advantage of this new service in a year."
Alok Sharma, CEO & co-founder, NebulARC, said, "We appreciate the government of India's move to rename the ministry of shipping to the ministry of ports, shipping, and waterways to make it more inclusive. The GOI's focus on this sector backed by the consistent efforts with the view to make India more self-reliant will definitely bear fruit in the forthcoming years. As rightly highlighted by Narendra Modi, the government's focus is to reduce the cost of logistics and to create such an ecosystem where the seamless movement of cargo is ensured. We are certain that companies like us that are developing agile technology solutions to bring more visibility and predictability in logistics will further bolster this vision and make it a reality in time to come."
Next generation transport and infrastructure for Gujarat. #ConnectingIndia https://t.co/LHMx0IwOdK

— Narendra Modi (@narendramodi) November 8, 2020
Ports in Gujarat
Prime Minister listed the initiatives of the state government of Gujarat in developing the maritime potential of the state like drafting a shipbuilding policy, construction of shipbuilding park and specialized terminals, promotion of vessel traffic management system and connectivity project.
"The result of these efforts is that last year ports in Gujarat accounted for more than 40 percent of the country's total maritime trade. Many facilities are getting ready in Gujarat like Gujarat Maritime Cluster, Gujarat Maritime University and country's first CNG Terminal at Bhavnagar. Gujarat Maritime cluster ports to be built in GIFT city would be a dedicated system to address ports to sea-based logistics," he added.
Prime minister said that in recent past India's first chemical terminal was established in Dahej, India's first LNG terminal was established, now India's first CNG terminal is going to be installed at Bhavnagar port. In addition facilities like Ro-Ro terminal at Bhavnagar port, liquid cargo terminal and a new container terminal are being prepared.
Cost of Logistics
He was concerned that the cost of carrying goods from one part of the country to another is more than other countries. He suggested that the cost of logistics can be reduced by water transport. Therefore, he said our focus should be to create an ecosystem where there can be a seamless movement of cargo. He added the country is now making rapid strides in the direction of multimodal connectivity to reduce logistics costs and efforts have been made to improve connectivity between road, rail, air and shipping infrastructure and also to overcome the silos. He said Multimodal Logistics Parks are being constructed in the country.
He added that multimodal connectivity is being developed with our neighbouring countries also. He wished that with these efforts the cost of logistics in the country should come down and give impetus to our economy.