Penta Freight becomes newest member to join Pharma.Aero
February 23, 2018: Mumbai based Penta Freight, a specialist service provider in Pharma and Chemicals logistics, has become one of the newest member to join the Pharma.Aero. The agreement was signed during the inaugural day of the Air Cargo India 2018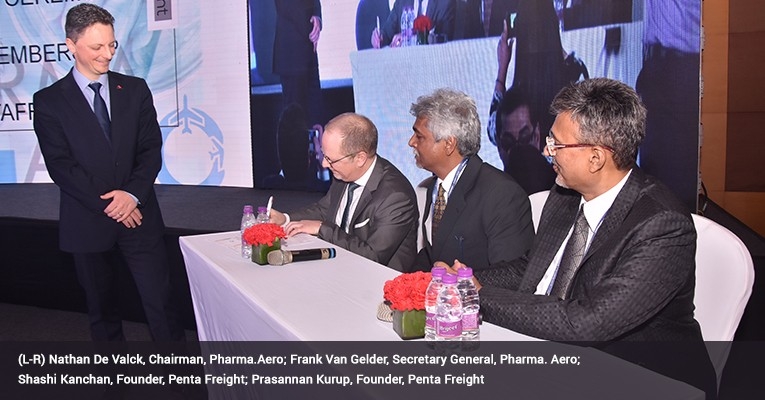 February 23, 2018: Mumbai based Penta Freight, a specialist service provider in Pharma and Chemicals logistics, has become one of the newest member to join the Pharma.Aero. The agreement was signed during the inaugural day of the Air Cargo India 2018.
Speaking on the occasion, Shashi Kanchan, founder of Penta Freight said, "It is a good platform for the advantage and benefit of the shippers. It will also be very beneficial as a freight forwarder for us because it will make us more compliant in whatever procedures that are required right from the origin of the shipment reaching up to the destination. Today airports are getting certified with good practices. Transit hubs are getting the regulatory compliance in place. We are very happy to have become the member of this."
The leading freight forwarder expects a rise in its business, post the agreement as exporters are getting increasingly open to companies that are more compliance oriented.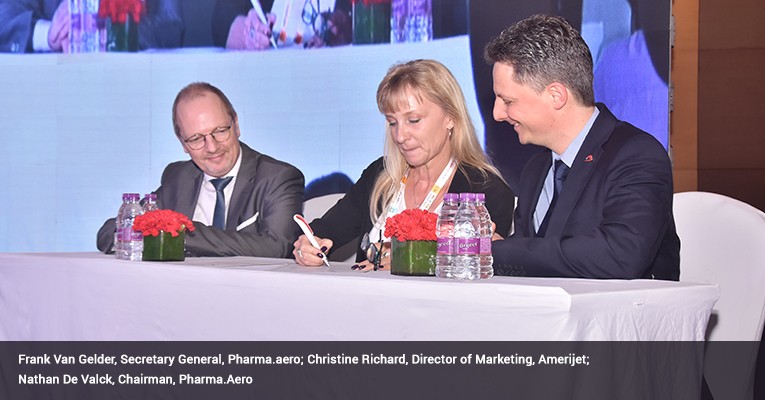 Pharma.Aero also welcomed Fort Lauderdale-based Amerijet International that had become the first all-cargo US airline to receive an IATA CEIV-Pharma certification last year, into its community. The airline is hoping for an open collaboration between all stakeholders in the supply chain to ensure safe transportation of the pharmaceuticals. On the occasion, Christine Richard, director of marketing, Amerijet said, "The Pharma.aero really goes hand in hand in our opinion with our self certification. Amerijet was the first US all cargo carrier to become self certified last year and we've been working very closely with Brussels and Miami airport. Miami is Amerijet's primary hub. Amerijet is planning on operating a flight between Miami and Brussels starting in September and we wanted to get the trade lane Miami-Brussels certified and that really got us engaged with the Pharma.Aero Group. The Pharma. Aero Group is very active in transparency which is one of our visions."
Pharma.Aero is an initiative formed in 2016 between Brussels Airport and Miami International Airport to advocate for shipping standards based on IATA's CEIV-Pharma certification.
It is a cross-industry collaboration for Pharma Shippers, CEIV certified cargo communities, airport operators and other air cargo industry stakeholders.