"Our vision is to make Bangalore Airport a cargo hub"
In an exclusive chat with Lakshmi Ajay from ITLN, Satyaki Raghunath, the chief strategy and development officer at BIAL unpacks how these vital milestones were achieved and future plans.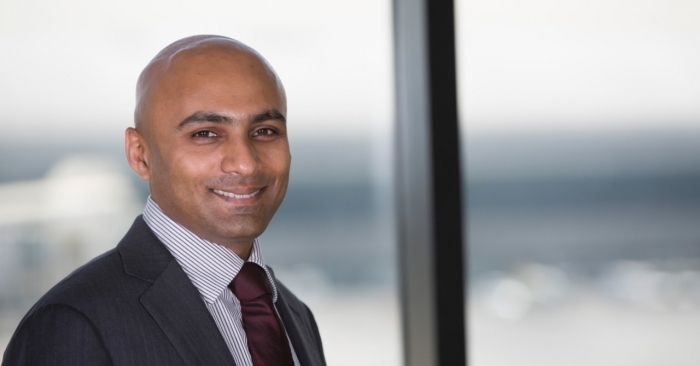 With a goal to become a smart airport, airport operator Bangalore International Airport Limited (BIAL) has recently been making strides towards adopting digitalisation, automation, creating future-ready infrastructure, touching record monthly cargo throughput numbers in August, and has most recently rolled out the innovative Airport Cargo Community System (ACS). In an exclusive chat with Lakshmi Ajay from ITLN, Satyaki Raghunath, the chief strategy and development officer at BIAL unpacks how these vital milestones were achieved and future plans.
What is the overall market share of BIAL in terms of Cargo throughput at a country level and in South India? What are some of the air cargo figures achieved in 2019, 2020, and 2021, especially pre and post-pandemic?
Our cargo market share on a country level is 14 percent and 42 percent in South India. A couple of years ago, Chennai used to be sort of the big cargo player and over the course of the last two years, Bangalore Airport has overtaken Chennai and I think we are significantly higher. And we are by far the third busiest cargo airport in India. In 2018-19, we handled 386,780 MT of cargo, while in 2019-20, the numbers were 374,062 and in 2020- 2021 they were 326,643 MT - all of which is including both domestic and international. Interestingly, at one point 60 percent of our cargo used to come in the belly of passenger aircraft, and only 40 percent used to be in dedicated freighters. Today it's the other way around, you know, almost 65-70 percent comes on freighters, and only 35 percent comes on belly cargo.
As part of the digital transformation, BIAL had partnered with Kale Logistics to launch the Airport Cargo Community System (ACCS). What was the need for this system in terms of the long-term strategy for the airport, what are some of its features?
At BIAL, our vision is to make Bangalore Airport a cargo hub, equipped with state-of-the-art infrastructure and cutting-edge technology to deliver efficient operations. As part of our digital transformation efforts, together with our cargo community, we have implemented the Airport Cargo Community System (ACS) called www.cargobyblr.in to streamline air logistics. ACS is a digital platform that brings together all cargo stakeholders including customs, customs brokers, shippers, airlines, trucking companies, ground and cargo handlers, and freight forwarders under one roof, facilitating the seamless movement of goods and data across the logistics ecosystem. Owing to multiple stakeholders involved in cargo operations, each shipment, on average, requires over 30 types of documents in multiple copies, resulting in significant duplication of documentation. It also leads to increased dwell time and supply chain disruption. The implementation of ACS will eliminate paperwork at BLR Airport, enable faster processing of transactions, reduce duplication of information and streamline processes, making information available prior to cargo reaching the Airport. BIAL has signed an e-agreement with Kale Logistics Solutions, a leading IT solution provider focused on the logistics and airports industry, to develop the ACS platform – an effective business continuity tool that BIAL can provide for its cargo stakeholders.
What are some of the other developments taking place at BIAL?
We have taken a conscious call to do three or four things. One is how do we invest in infrastructure both from the airside part including the dedicated freighters, the stands for the freighters, the aprons and the new runway that we opened in December of 2019, new taxiways, apron infrastructure, etc. The second piece was investing in cargo terminal capacity, which we have done consistently since the airport has been opened, and then over the course of the last two years, we opened the cargo warehousing area plus the Express cargo terminal, which was opened in March this year. We have also significantly enhanced capacity on the land side by widening of the North cargo Road, which is now gone to two lanes on each side in order to meet that traffic and the demand. And the second thing is a truck parking facility that's managed by Shell, which is also something that we did where all landside movements first go there, they get a token, and then they go at the right time to the cargo terminals. So that's also meant that we've been able to control our volumes and manage capacity and demand in a sensible way. And I think that's very critical in terms of the hard infrastructure, the technology part was the ACS, and a few other things that we've done. From our perspective, we want to run an operation that's very, very easy from a customer perspective to the extent that customers not just in Karnataka, but our neighbouring states also make a beeline towards Bangalore airport and say this is the best airport to take cargo through.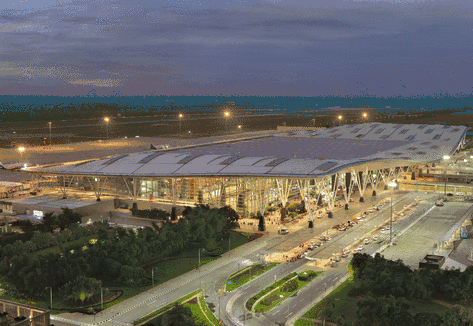 Are you looking to build any more build-to-suit facilities like the one you created for the Express courier services? And if so, for what categories?
From our perspective, we handled about 400,000 metric tonnes of cargo, the year before Covid. Last year, despite the fact that we did not have two months of operation, we handled about 326,000(approx) metric tons of cargo. This year, I suspect that we will, again, be back in that 400-420,000 range, depending on the third wave and so many other things that we have no control over. But if you look at the two cargo terminals that we have, including our AISATS CoolPort and others, it has a capacity of about 570,000 metric tonnes. And we thought that we would hit that number in terms of demand in the next 18 months, because of the way cargo was growing. So when the express cargo terminal opened, it increased our capacity from 570 to about 715,000 metric tons and that was focused particularly on the express cargo segment. And that has a lot to do with the fact also that e-commerce has become so much more important over the course of the last few years. And we needed something that we could have as a dedicated facility for express cargo shipments. And that included space for Express Industry Council of India (EICI), for FedEx, for DHL for UPS, and players like them who actually deal with this market, so we had to do it. In addition, we have opened the cargo warehousing area. So all in all, I would say that today we have a stated capacity of somewhere between three-quarters of a million metric tons or 750,000 metric tons, but I would say that we can go a little more than that. The challenge is that it will not be good enough from a long-term perspective, or even from a medium-term perspective. So as a part of a wider master planning initiative, and then with something specifically called Project Titan, which will focus on our cargo development story.
What can you tell us about Project Titan?
Project Titan is a project that we carried out internally as part of our cargo master plan and that's something that we developed two, three years ago. And the recommendations that came out of that meant that eventually, we need to be positioned to handle about one and a half million metric tons of cargo every year, which is roughly four times today's volume. And we have got to figure out a way of doing that, which means that we have got to do three things- one is to invest in that capacity from an airside terminal, landside, utilities, infrastructure perspective which is the physical infrastructure. The second part is putting the right technology in to make sure that we have the ability to deal with those volumes in the easiest way possible with visibility to all of our customers, and making sure that they're able to transact effortlessly across that sort of platform. And the third part is working with all of our stakeholders to make sure that they continue to work with us in helping us drive that growth. So while we have the capacity today, for 750,000, I think in the longer term, our view is that we will have to make sure that we can deliver capacity towards one and a half million metric tonnes. So we have reserved space on the east side for a wider expansion eventually.
Could you throw some light on the 'LOGI Connect by BLR' system which is a bonded trucking route that basically connects six South Indian cities to Bangalore airport?
We developed 'LOGI Connect' with the key manufacturing centres across South Asia because a lot of those goods were destined for export. We worked with the local manufacturers, the local industries in each of those places, and the customs authorities there. So what happens is they do the customs clearance wherever they are and they come in bonded trucks, so they don't have to go through the whole process here, and essentially there's no processing time here. So I think this was a program that we developed specifically for certain manufacturing clusters. We started this about three and a half years ago, and it's been supremely successful. And I think, given what we've seen, it's only likely to grow.
What is the breakup of the exports that go through BIAL? Do perishables make up the chunk of the exports?
In exports, the big thing is (agricultural) perishables today. Today, if you look at exports and its commodity mix then, it's much more agriculture perishables (26 percent) focused with some manufacturing, textiles (13 percent), high precision items (5 percent), electronics (4 percent), heavy machinery (6 percent), meat, and dairy products (5 percent), raw-hide and leather products (5 percent) and pharma and chemical (16 percent) and others (19 percent) that are headed to the Middle East (28 percent), Europe (27 percent), North America (15 percent), ASEAN nations (10 percent), to the Far East (7 percent), Africa (7 percent) and others. We have a lot of inbound e-commerce coming in from places like China and from the far east where a lot of it is manufactured. The commodity mix for imports includes electronics (27 percent), heavy machinery (11 percent), healthcare and life science products (3 percent), auto components (11 percent), aerospace components (7 percent), high precision equipment (4 percent), textiles (3 percent), leather, and related products (2 percent), power (2 percent) among others (30 percent) from the same regions including the Far East (46 percent), Europe (33 percent), North America (11 percent), ASEAN (6 percent) and Middle East (28 percent) and others.
You had announced a wide body(aircraft) from Bangalore to JFK and Seattle last year. So is there any update on that?
So fundamentally, those are passenger services. Six months before Covid, we actually launched South India's first connectivity to Africa, because we have a direct service on Ethiopian Airlines to Addis Ababa in October 2019. In the same month, we also launched a direct connection to Amsterdam on KLM three times a week, and then just before COVID hit, American Airlines had announced non-stop service from Seattle to Bangalore, which was scheduled to begin in October 2020 and then, of course, Covid happened. And then on March 20, we were supposed to launch nonstop services on JAL(Japan Airlines) to Tokyo Narita, and on Lufthansa to Munich and then Covid happened and everything got pushed back because international travel was only operating under strict bubble arrangements. So there are no commercial operations today to any place in the world and various things have been recalibrated. And last year, United Airlines announced a nonstop service between Bangalore and San Francisco. Our Seattle service on American Airlines which was a nonstop service is likely to start in 2022. And then the United Airlines service was scheduled to start in December, but I think they will look at it, and right now they're telling us that it might be delayed until early next year. And that's also because they will wait for this market to open up and the US and the Indian governments to remove restrictions. These sorts of ultra long haul services only function when anybody who wants to fly can fly and it is advantageous to those people who want to fly at short notice, otherwise, they can go to any hub. And those people are typically people in the corporate world or people who have to visit family and friends for emergency purposes. And today, corporate travel has come down significantly. Because a lot of the corporate travel was driven by the tech world, especially BangaloreSan Francisco and Bangalore - Seattle, it was absolutely driven by people who are on work or in tech, etc. And I think for that demand to come back, the airlines will wait because that's what ultimately drives ultra long haul nonstop travel.
Is there any infrastructure that we will be able to see in the second half of this year and next year at BIAL?
We have just commissioned two facilities this year, which are the cargo warehouse and cargo village and the Express cargo terminal. And we've also just opened the North Cargo Road, which was opened or widened in September and we have also opened a truck parking facility- all of these are dedicated to cargo, freight, and logistics.
With the busy holiday season, there is a lot of e-commerce activity that usually happens around this time. What sort of capacity-building is taking place at BIAL?
We have just opened the ECT(Express Cargo Terminal) in March so we've now got exceptional capacity at Bangalore airport from an e-commerce perspective. So the new ECT caters specifically to courier companies. So, UPS, DHL, FedEx, and EICI- they are all there and we have dedicated space for these companies and for e-commerce. We are in a very good position with respect to capacity.
What numbers are you looking to touch with ECT?
The ECT itself should take our capacity to another 120,000 to 240,000 metric tons. So that will be the overall capacity annually.
This interview was originally published in Indian Transport & Logistics News' November - December 2021 issue.