Orchid Shipping moves over-dimensional boiler parts from India to Nigeria
June 23, 2020: Orchid Shipping executed a very critical shipment involving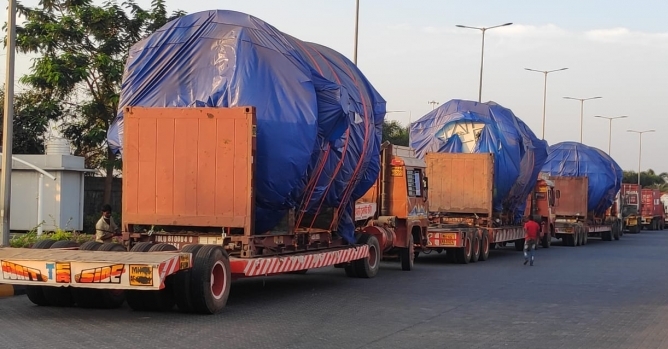 June 23, 2020: Orchid Shipping, an XLP member, executed a very critical shipment involving 3x20'FRs from Jawaharlal Nehru Port to Onne Port, Nigeria in April during the lockdown.

The cargo (Boiler parts) was 5.4mt by height has been the biggest challenge imposing on the team. Besides, acute shortage of ground staff including drivers/lashers coupled with severe restrictions on the movement of vehicles from the warehouse to Jawaharlal Nehru Port, owing to the ongoing lockdown, imposed several bottlenecks in the handling of the cargo. Special permission from the several concerned authorities had to be sought for the safe passage of the containers with adequate escorts.
JNPT - Colombo - Lome - Onne
The routing from Jawaharlal Nehru Port involved two transhipments (Colombo / Lome). In Colombo the challenge was to arrange the inter terminal movement of the containers given the max permissible height is only 4.5mts. Special low bed trailers were arranged to move the containers successfully, negotiating a low hanging bridge and feed the mainline vessel to Lome. Then came the next challenge – a monthly saling from Lome to Onne, coupled with the restrictions at the Onne port in handling over height cargo exceeding 4.5mts, once more. But with arduous and regular follow ups with the Onne terminal authorities, finally special slings where arranged to handle this special cargo there on. The containers are now resting in Lome awaiting the last leg vessel.
The specifications of the cargo shipped on the 3x20'FRs are:
Dims : 5.5 x 5.4 x 5.4 mtr
Wt : 7 Tons
Units – 3 mtr
POL - Jawaharlal Nehru Port
POD - Onne
Equipment - 3 x 20 FR