Navayuga Engineering begins development of Machilipatnam Port
February 8, 2019: Navayuga Engineering Company Limited (NECL) the flagship entity of Navayuga Group has announced that it has started the development of Machilipatnam Port, one of the most long-awaited deep sea ports on the east coast of the country.Andhra Pradesh Chief Minister N Chandrababu Naidu laid the foundation stone for th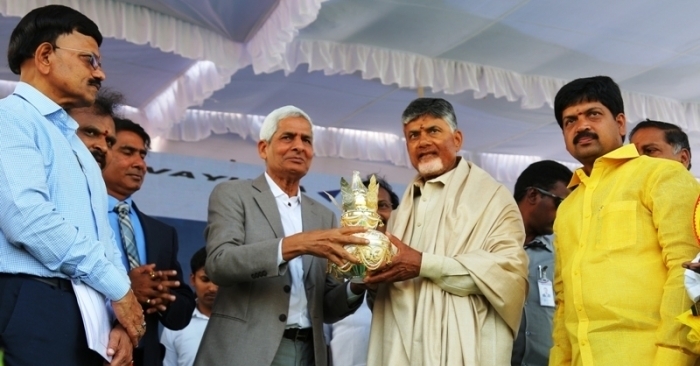 February 8, 2019: Navayuga Engineering Company Limited (NECL) the flagship entity of Navayuga Group has announced that it has started the development of Machilipatnam Port, one of the most long-awaited deep sea ports on the east coast of the country.
Andhra Pradesh Chief Minister N Chandrababu Naidu laid the foundation stone for the green-field, all-weather multi-purpose port. Machilipatnam is one of the megaports and an ambitious project planned under the Sagarmala program. The deep water sea port, is centrally located on the coast of Bay of Bengal in the Krishna district of Andhra Pradesh. Port based SEZs, power plants, industries, ancillary units etc. are also planned in the ports vicinity.
Spread across 4800 acres, the first phase is expected to be completed and operational in record time of 18 months. With four berths to be operational after the first phase of construction, Machilipatnam will be able to handle 40 million tonnes in the first phase, when completed it will be capable of handling 150 million tonnes. The port will handle multiple cargo's like container, bulk, dry bulk, liquid bulk, general cargo and project cargo.
On the occasion, Chinta Sridhar, managing director, Navayuga Engineering Company Limited said, "Having successfully undertaken several port development projects, we are poised to achieve the distinction of being the largest developer and operator of ports in India. We aim to develop the port in a record time of 18 months Given Machilipatnam's access to prominent international waterways, the project will be a significant catalyst in positioning India strategically as a global international trading hub. The port will herald a new era of economic activity and dramatically transform the lifestyle of the localities by generating umpteen business and employment opportunities."
Strategically located, Machilipatnam will be the gateway for most international trading activities of central India. It will not only cater to Andhra Pradesh and Telendana but also extend the logistics benefits to Madhya Pradesh, Maharashtra, Chattisgarh and Karnataka. It is well connected with roads & rail connectivity with national grid. The port enjoys shortest distance connectivity with Inland Container Depots (ICDs) as compared to any other port on the east coast of India.
Besides the strategic location, the advantage of an extensive back up area for container stacking will make Machilipatnam one of the most preferred container ports on the east coast of India.
Navayuga Engineering Company Limited, bagged the project to develop the port on Build-Own-Operate-Transfer basis for a period of 50-year. Subsoil at the site of the port consists of very soft marine clay for nearly 18 metres. Navayuga has developed the design of a structural breakwater, which is a first in the world. Layout of the breakwaters and berths have been made to obtain absolute tranquility in the port waters.
Machilipatnam was a flourishing port town during ancient time. During the 17th century, the port was a trade centre for French, British and Dutch.