National Asset Monetization Pipeline to positively impact Indian logistics
The government of India declared National Asset Monetization Pipeline for the next four years, on Monday (August 23, 2021).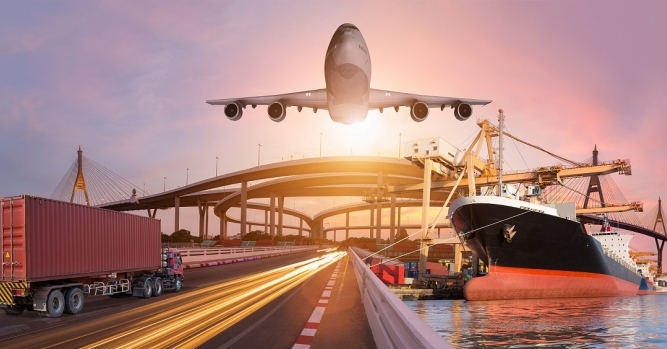 The government of India declared National Asset Monetization Pipeline for the next four years, on Monday (August 23, 2021). As part of this plan, the government is looking for monetization of ₹6 lakh crores assets like roads, power-generation facilities, airports, sports stadiums, warehouses, gas pipelines and railway infrastructure. This is a great step from the government to unlock the potential of assets through the public-private partnership model, writes Vikash Khatri.
The objective of the government is to enhance capital expenditure, resulting in a chain impact on growth and employment. In the plan, the government has categorically mentioned that ownership will not get transferred and assets will be given back to the government after a specific time.
The impact of the monetization plan of the government is expected to give a strong boost to the logistics sector in two ways. On one side, it is directly linked to the creation of efficiency through private participation in the underutilized assets, while the other indirect benefit is by usage the proceeds for new infrastructure creation which in turn will support the logistics sector. The asset Monetization pipeline declared by the government is spread across 13 sectors and these sectors will be having a very diverse set of assets within each sector. Out of these sectors, the majority of assets are expected to be linked to infrastructures that have been owned or created by the government in the past.
| | |
| --- | --- |
| Asset Monetisation Pipeline | Amount ( ₹ in cr) |
| Ports & Shipping | 12828 |
| Aviation | 20782 |
| Warehousing | 28900 |
| Natural Pipeline Gas | 24462 |
| Product Pipeline / Others | 22504 |
| Roads | 160200 |
| Railway | 152496 |
| Mining | 28747 |
| Stadiums | 11450 |
| Power Transmission | 45200 |
| Power Generation | 39832 |
| Urban Real state | 15000 |
| Telecom | 35100 |
| | Source PIB |
Out of 13 identified sectors, 7 sectors are directly linked to the logistics domain. There may be different usage of assets based on asset class or location and some of them will augment the efficiency of logistics operation through a public-private partnership model, while some other usage may be purely commercial without giving any tangible boost to logistics. As per the NMP document, the total planned amount for monetization from these seven sectors in the next four years is ₹422,172 crore, which is more than 70 percent of the overall pipeline. The planned combined contribution of the roads and railway sector is more than half of the monetization pipeline.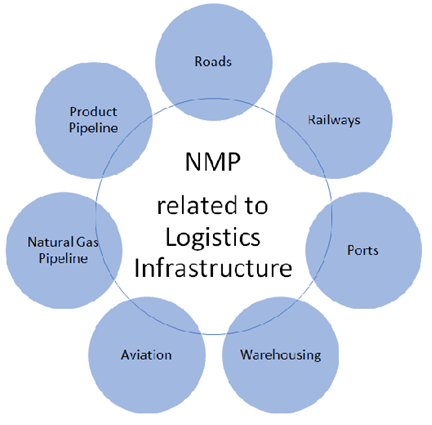 In the case of the road sector, the government has a plan to have a toll-operate-transfer model and an Investment trusts model for moving ahead. India has one of the largest networks of roads spanning around 6 million Kilometer and out of which national highways are almost at 3 percent. So far National Highway Authority has done a commendable job in building road infrastructure through its BOT model. The introduction of new models in the road sector for PPP will further improve road infrastructure across the country.
On the warehousing front, FCI and CWC hold warehousing space for more than 550 lakh metric tonnes apart from warehouses owned by other agencies like Central Railside Warehousing Company and state agencies. Most of these warehouses are not state of art construction and operate with low efficiency. Public-Private Partnership (PPP) model will give thrust on improving logistics activities from these warehouses. We clearly see a scope of value unlock in such warehousing assets specially located in urban or industrial areas. Some of the identified assets under NMP include storage depots, warehouses under the central sector agencies, Food Corporation of India (FCI) and Central Warehousing Corporation (CWC).
Monetization from railways might not be completely aligned from the logistics point of view, as it may have asset monetization components like passenger train operation, passenger train terminus operation, railway sports stadium operation and other assets having commercial usage for passengers and tourists. But some other operations like dedicated freight corridor, freight terminus operation or freight train operations will help the sector to grow.
India has 13 airport terminuses operational under the public-private partnership model out of which 6 were leased to the private sector in 2020-2021. Brownfield model of privatization has been successful so far and all the relevant stakeholders have benefited from it. As per the NMP document, the government has planned 25 other major AAI airports for monetization in the next four years, which are currently under AAI. This is going to benefit air cargo operations across airports.
According to the NMP document, the assets considered for monetization are spread across 9 of the 12 major ports. Most of the identified projects for private sector participation are expected to drive port efficiency as some of these are additional berths, mechanisation, container jetties, O&M of container terminal & development of oil jetty.
On the front of the pipeline, the involvement of private players in operation may be a constraint as India has 19000 Km of operational natural gas pipeline and more than 15000 KM is under construction. The involvement of private players in monetization will depend on the utilization of these assets, which are currently underutilized.
Overall new policy looks promising and provides positive wives for the logistics and supply chain industry. Players operating in logistics infrastructure will have more headroom to grow, while logistics infrastructure users will have more enablers for efficiency.