Maersk to share 9 million weather observations to aid climate studies
Danish carrier A.P.Moller–Maersk (Maersk) will release all historical and future ocean weather observations into the public domain for free use by the scientific community across the globe.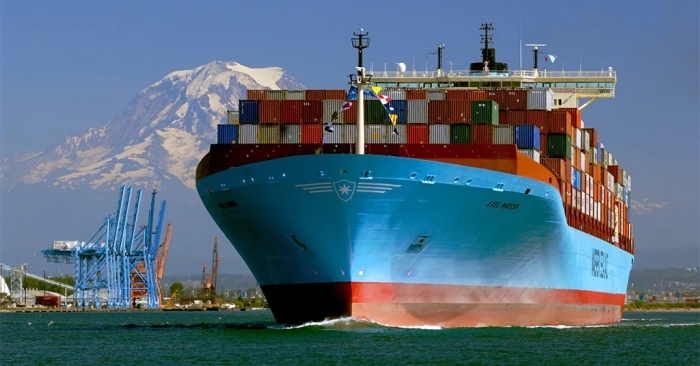 January 27, 2022: Danish carrier A.P.Moller–Maersk (Maersk) will release all historical and future ocean weather observations into the public domain for free use by the scientific community across the globe.
The data, which has been collected by Maersk vessels since 2012, increases publicly available ocean weather data by 28 percent.
"Maersk crews and vessels have collected weather observations for years, and we are proud that we now can share these data and help researchers in gaining a better understanding of the impact climate change has on our surroundings," says Aslak Ross, Head of Marine Standards, Maersk.
The goal is to aid climate research and weather forecasts by providing data from oceans where ground level data coverage is slim, and most data comes from satellite observations with limitations.
"Climate change is without doubt one of the biggest challenges the global community is facing, and we have set an ambitious strategy for our business to achieve net zero greenhouse gas emissions in 2040," Ross added. "We have also, as a part of our environmental, social and governance (ESG) strategy committed ourselves to contribute to climate and ocean science with data gathered from our vessels. An opportunity being our digitised weather observations."
9 million observations
The data – more than 9 million observations – will be shared via the Global Ocean Observing System (GOOS), run jointly by UNESCO and the World Meteorological Organization (WMO). GOOS collects ocean weather observations for climate science and provides input to weather forecasts.
"As a member of the scientific community, I am thrilled that we get access to this unique data set," says Dr. Johannes Karstensen, GEOMAR, Helmholtz Centre for Ocean Research, Kiel, Germany.
"The data will help to better constrain past ocean surface conditions but also help to improve future predictions - from weather to climate."
With all 300 owned vessels sharing data multiple times a day, Maersk shares more than 7,000 observations every day. Some vessels are even live feeding data to weather services around the globe.
In collaboration with the National Meteorological Service of Germany, Maersk has installed automated weather stations on several vessels. These are calibrated research-grade measurement stations which collect a greater variety of data points at a higher quality, even further improving the contribution to weather forecasting and climate science.
Efforts for decarbonisation
Global shipping's 2021 carbon dioxide emissions increased 4.9 percent from 2020, not only rebounding from the 2020 Covid lows but also surpassing 2019 levels, according to the 2022 industry outlook by shipbrokers Simpson Spence and Young.
"The key driver was the recovering 2021 world economy where demand for durable goods has remained firm while services demand has increased. Added to this is a trend towards longer ton-mile trade, higher steaming speeds in some segments, and increased port congestion."
Shipping is estimated to account for 3 percent of the world's emissions, and the International Maritime Organisation has agreed to cut ships' carbon intensity by 40 percent by 2030.
Maersk had, earlier this month, announced accelerating its decarbonisation commitment with an advanced net zero emission target by 2040 - one decade ahead of the initial 2050 ambition.
"As a provider of end-to-end logistics services across all transport modes, it is a strategic imperative for us to extend our net zero ambition to the total footprint of the business," says Soren Skou, CEO, Maersk, in his LinkedIn post.
Tangible near-term targets for 2030 include a 50 percent reduction in emissions per transported container in the Maersk Ocean fleet and a 70 percent reduction in absolute emissions from fully controlled terminals.
Maersk, in December 2021, unveiled an ocean-going container vessel with a nominal capacity of approximately 16,000 TEUs capable of being operated on carbon-neutral methanol.
Some key advantages:
* 20 percent improved energy efficiency per transported container vs. industry average
* Forward accommodation enables larger container carrying capacity; and
* CO2 emissions displacement = 1 million tonnes annually when 8 vessels are deployed
The initial vessel, out of eight to be built by Hyundai Heavy Industries, will be introduced by Maersk in the first quarter of 2024.
Soren Toft, CEO, Mediterranean Shipping Company (MSC), says it is critical that priority this year is not only to respond to the huge demand being experienced in the very complex, congested markets that emerged amid Covid but also to ensure that it is not decoupled from the efforts to decarbonise.
"Collaboration is key in order to achieve the aspirational decarbonisation goals set out by the shipping industry," Toft said earlier this month while delivering the keynote speech at DNV's Fuel of the Future Conference.