Maersk pilots containerised cargo movement on National Waterway-1
February 12, 2019: Maersk recently began its first inland containerised cargo pilot movement in India through the countrys first multimodal terminal on river Ganga (National Waterway-1) from Varanasi to Kolkata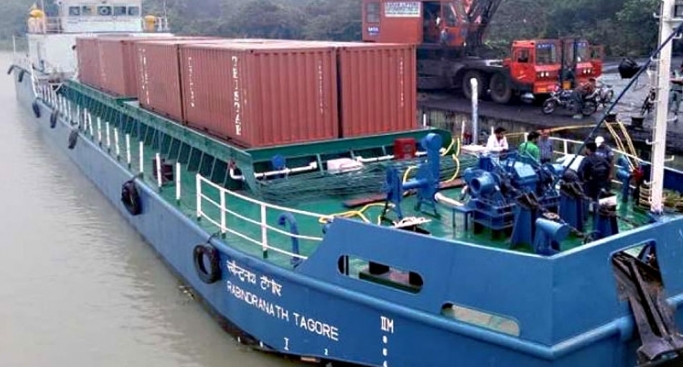 February 12, 2019: Maersk recently began its first inland containerised cargo pilot movement in India through the country's first multimodal terminal on river Ganga (National Waterway-1) from Varanasi to Kolkata.
The company flagged off the vessel 'M.V. Rabindranath Tagore' loaded with 16 TEU of empty containers that will be plying from Multi-Modal Varanasi Terminal to RR Jetty in Kolkata, a distance of 1,390 kilometre. The event marked another milestone for the company and is expected to further boost their business activity in and around the region.
"We truly believe that India's trade growth is hidden in our hinterlands. As the global integrator of container logistics, we are focused on providing efficient supply chain solutions for our customers, and efficiently linking Indian importers and exporters in hinterland locations with markets around the world. The initiative will help facilitate the cargo movement from the hinterland to directly move to and from Bangladesh and rest of the world through the Bay of Bengal," said Steve Felder, managing director for Maersk - South Asia on the sidelines of the event.
India's Multimodal Transportation Current Cost in India
| | | | |
| --- | --- | --- | --- |
| Mode | Freight movement | 1 litre of fuel can move | Cost of transporting 1 ton of freight over 1 km |
| Road | 65% | 24 tons | 2.28 |
| Rail | 27% | 85 tons | 1.41 |
| Waterways | 0.50% | 105 tons | 1.19 |
Despite the country's vast coastline and river network, the containerisation level in India stands at only 57 percent, well below the global average. India has 14,500 kilometres of navigable waterway, which can be utilised as a channel to move cargo within the country and to neighbouring countries, and potentially reduce logistics costs. Containerised cargo transport through Inland Waterways presents several inherent advantages such as reduced handling costs, easier modal shift, reduced pilferage and damages thereby enabling the cargo owners to reduce their carbon footprints