Zypp Electric introduces ZyppDash, a dashboard to simplify fleet management for logistics biz
Client Dashboard feature will allow users to monitor the locations of their vehicles and riders, carbon saved tracking, ensuring the efficient and effective operation of the fleet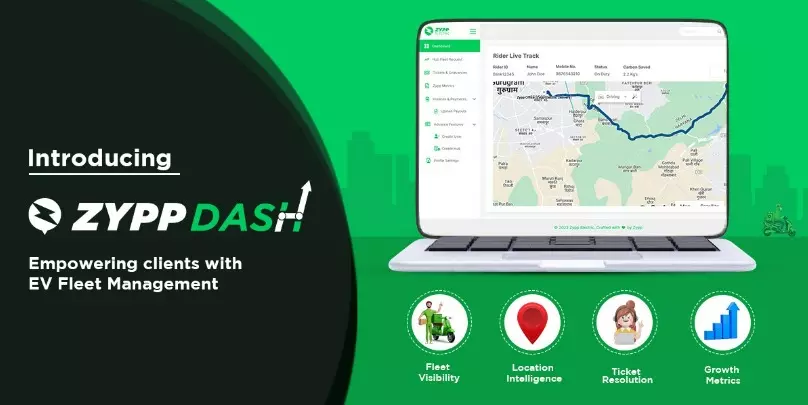 Zypp Electric, India's largest 2W EV-as-a-Service platform has recently launched ZyppDash - EV Fleet Management Dashboard for Businesses. The purpose of the dashboard is to simplify the process of requesting and managing fleets.
The new web-based application will be available for all Zypp Electric partners to track the real-time location of their vehicle and rider information to ensure effective utilization of time and effort. The application will enable Zypp delivery partners to monitor total carbon saved on kilometers traveled along with ESG goal alignment, manage on-duty riders and vehicles and allot orders through the application.
Today with a fleet size of 8,000 vehicles, Zypp is currently managing last-mile deliveries for over top 50 industry giants today, including Zomato, Swiggy, Zepto, BlinkIt, BigBasket, Amazon, Flipkart, Myntra, PharmEasy, JioMart, Delhivery, Spencers, etc. to execute affordable and sustainable last-mile deliveries.
Given the growing EV demand, Zypp Electric also intends to roll out over 2 lakh electric scooters and expand its services to 20 Indian cities by the end of 2025.
Commenting on the roll-out of the application, Akash Gupta, Co-Founder, and CEO at Zypp Electric said, "At Zypp Electric, we are bridging the gap of EV adoption for delivery with our fleet and trained manpower for EVs. Hence, we also want to ensure smooth management of the fleet, riders, and orders for our partners. We at Zypp are always looking to provide cutting-edge and industry-first EV solutions for fleet management. The launch of ZyppDash - EV Fleet management Dashboard is a service add-on for our partners which sets us apart in the EVaaS industry. We aim at enabling our partners to track various metrics real-time and make them informed about their fleet and business operation for optimum utilization of resources. We are actively working to transition the country's last-mile logistics to electric by adding 1000-1500 electric scooters and 1000+ riders every month in our fleet."
According to a press release issued by the company, the Client Dashboard application will be further updated with the following tech updates including a rider efficiency tracking system which will be installed to enhance productivity by measuring the time taken to complete orders, the number of orders completed by each rider over a given period of time and any other relevant metrics. This information can then be useful for identifying trends, analysing performance, and making data-driven decisions about how to optimize operations and improve efficiency.
Ticketing and grievance management will be added on, whereby the users would be able to raise grievance tickets that will be routed to the appropriate team or individual for resolution. And further Zypp Matrix will be added as a feature to track the updated hierarchy of Zypp executives and SPOCs for problem resolution.
Recently, Zypp Electric made a key hiring on the technology front and appointed Amit Goyal as Director of Engineering. He is responsible for designing and structuring of technology systems and managing the implementation of technology projects.
Zypp plans to continue its investments in team, product, and technology and incorporate more data science-related functionalities to improve the driver and customer experience via tech-enabled last-mile delivery service. Zypp Electric is a leading Indian tech-Enabled EV-as-a-Service platform provider which was founded in 2017.