Zomato promises 10-min food delivery; Can Blinkit model work here?
Zomato's finishing stations will house bestseller items based on demand predictability and hyperlocal preferences.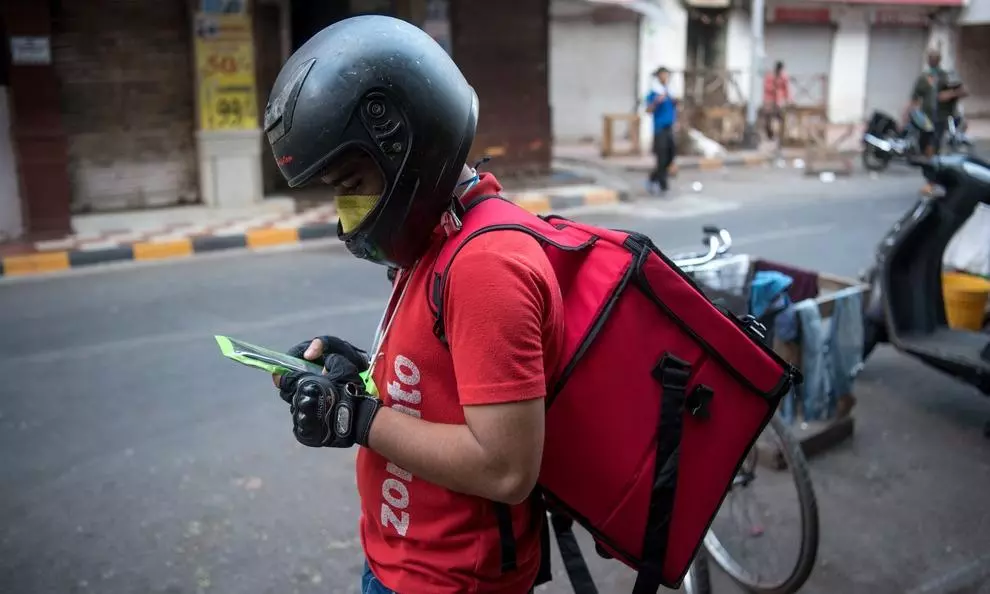 Is Blinkit Zomato's new pathway to glory? 10-minute delivery of food is the next launch - Zomato Instant - in Gurugram next month.
Launching the plan, Deepinder Goyal, Founder & CEO, Zomato said: "Innovating and leading from the front is the only way to survive (and therefore thrive) in the tech industry. And here we are… with our 10-minute food delivery offering – Zomato Instant."
How is this even going to happen?
"Nobody in the world has so far delivered hot and fresh food in under 10 minutes at scale, and we were eager to be the first to create this category, globally!, " writes Goyal.

"We deeply care about how we do what we do. So the first thing we told ourselves when we thought about instant food delivery was "no compromises".
"We narrowed down to eight principles around which we are building Zomato Instant–
*(Almost) as affordable as home-cooked food
*Highest quality of fresh food
*World class hygiene practices
*Minimal use of plastic packaging
*Convenient packaging for quick/easy consumption
*Traceable supply chain (v2)
"Delivery partner safety; and
*Deep collaboration with restaurant partners."
Zomato's finishing stations will house bestseller items (~20-30 dishes) from various restaurants based on demand predictability and hyperlocal preferences. "Luckily, the experience of having delivered 1.35 billion orders across India over the years makes our job a little easier."
Zomato, Goyal says, always believed "that in order to compete with home cooked food, restaurant food needs to work on the following four tenets:
*Affordability
*Accessibility
*Assortment; and
*Quality
"In short, AAAQ. And if Zomato Instant works as envisioned, it will create significant impact on affordability (at least 50 percent reduction in cost to the end customer), accessibility (reduction of delivery time from 30 minutes average to under 10 minutes), and quality (with influence over the supply chain, we will be able to ensure highest grade ingredients and hygiene practices across the supply chain)."
Reactions have been pouring in:
The best, so far, was from restaurateur Riyaz Amlani:
Goyal response to all reactions via a tweet thread: "I just want to tell you more about how 10-minute delivery works, and how it is as safe for our delivery partners as 30-minute delivery."
Zomato already owns over 9 percent stake in Blinkit as part of its earlier investment of over $100 million.
The board of Zomato had last week approved a plan to grant loan up to Rs equivalent of $150 million to Grofers India Private Limited (GIPL) "in one or more tranches and delegated the authority to the senior management of the Company to decide the key terms of the loan and execute the definitive documents at a future date. The interest rate for the loan will be 12 percent p.a. or higher with a tenor of not more than 1 year. This loan will support the capital requirements of GIPL in the near term and is in line with our stated intent of investing up to $400 million cash in quick commerce in India over the next 2 years. "
Goyal also added a reason why he is so bullish on building out Zomato Instant. "After becoming a frequent customer of Blinkit (one of Zomato's investments in the quick commerce space), I started feeling that the 30-minute average delivery time by Zomato is too slow, and will soon have to become obsolete. If we don't make it obsolete, someone else will."
Blinkit, however, is facing challenging times as, according to reports, it has been forced to close "dark stores" to streamline operations. As per Zomato's Q3FY22 results, Blinkit was operating "400+ dark stores across 20 cities in India. 100 percent of Blinkit's business now is quick commerce format with a median delivery time of 12 minutes."
Operations-wise, Swiggy, Dunzo and Big Basket are also giving it tough competition.
Zomato is indeed planning to place money on the table for quick commerce, and Zomato Instant could well be its first steps. Zomato is clearly on to another challenge: will shareholders back Team Goyal & Zomato?