Zomato FY2022 loss widens to Rs 1,220cr
For Q4FY2022, revenue from operations increased 75% to Rs 1,212cr and loss increased to Rs 347cr.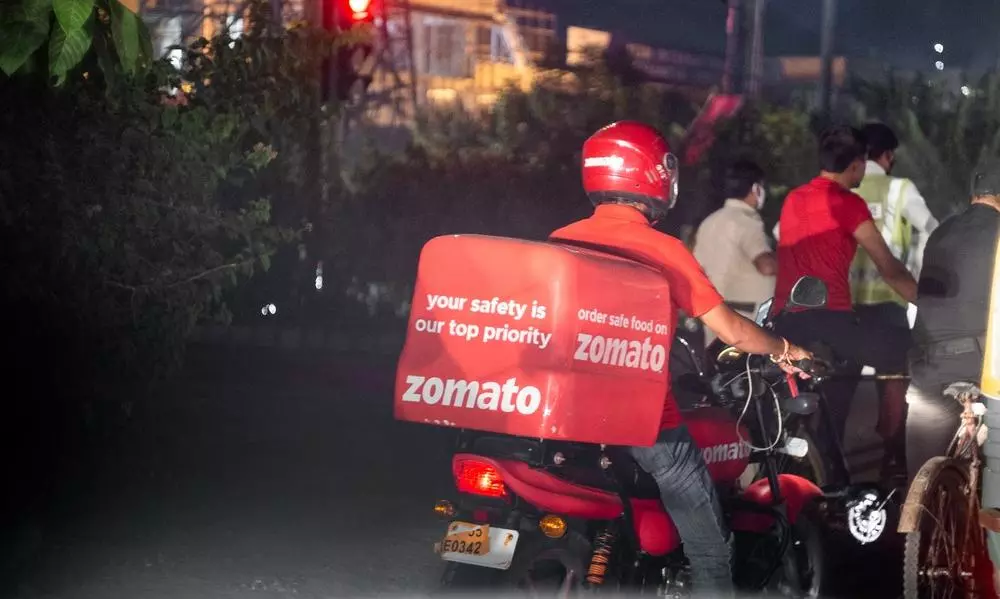 Food delivery platform Zomato reported more than doubling of revenue from operations to Rs 4,192 crore ($566 million) for the year ended March 31, 2022 on growth in order volumes while the average order value remained stable.
Loss increased to Rs 1,220 crore ($165 million) from Rs 822 crore ($110 million) in FY2021, according to the results announced today.
For the quarter ended March 31, 2022, revenue from operations increased 75 percent to Rs 1,212 crore ($163 million) and loss increased to Rs 347 crore ($47 million).
The quarterly results were presented in a Q&A format with CEO Deepinder (Goyal) and CFO Akshant (Goyal) answering questions from Ms Savvy.
"This format is inspired by one of my all time favourite books All I want to know is where I'm going to die so I'll never go there – Buffett and Munger - A Study in Simplicity and Uncommon, Common Sense," says Deepinder in the statement.
"Gross Order Value (GOV) increased 6 percent QoQ and 77 percent YoY to Rs 5,850 crore ($790 million) in Q4FY22. On the profitability front, contribution as a percent of GOV increased to 1.7 percent in Q4FY22 as compared to 1.1 percent in Q3FY22. Adjusted EBITDA (for food delivery) as a percent of GOV was -1.3 percent as compared to -2.2 percent in Q3FY22."
The key levers on the revenue side are restaurant commission rates, ad-sales and customer delivery charges while on the cost side, the key levers are delivery cost, discounts and other variable costs, says Akshant. "We take real-time calls on these levers, which drive the economics of our business and hence quarter on quarter trends can sometimes be volatile for a particular lever."
Average monthly transacting customers were at an all time high of 15.7 million in Q42022, up from 15.3 million in Q32022. "Likewise, average monthly active restaurant partners (205,000) and delivery partners (316,000) were at all-time highs as well," says Akshant.
Zomato's average order value (AOV) for FY22 was Rs 398 compared to Rs 397 for FY21. "For the top eight cities, we actually saw the AOV increase 3 percent in FY22 over FY21. We currently don't see any material downward pressure on the AOV," says Akshant.
Bullish on quick commerce: Deepinder
Talking about Blinkit, Deepinder says: "We continue to remain bullish on quick commerce, especially given how synergistic it is to our core food delivery business, and are excited with the progress that Blinkit has made in this space. While there is a lot to do as the business is at its early stages, there's still a lot of low hanging fruit to drive growth and efficiency. Blinkit has grown well in the past six months, and has also significantly reduced its operating losses.
"We have committed to give them a short term loan of up to $150 million to fund their short term capital needs. Beyond that, there is nothing to share at this moment."

"No view on Zomato Instant yet"
Speaking about Zomato Instant, Deepinder says: "I would love to add some colour to our plans for Zomato Instant. It is currently a pilot to test 10-minute delivery of limited food SKUs. The hypotheses that we are testing are - a) do customers order more if delivery time reduces to 10 minutes; and b) is there a business model where delivery of food can be done in 10 minutes at the same or better contribution per order than our existing business.
"We do not have any answers here yet as the pilot has been live for a few days and only in one location. We can perhaps give you some update on this in the next quarter. If the pilot is successful and we decide to scale it beyond the current handful of locations, then there will be capex needed to set-up the food finishing stations. But that will only happen once we have confidence that the payback period for the capex will be attractive."
With the launch of services in 300+ new cities in Q42022, Zomato is now present in 1,000+ towns/cities across India.