Whistle Drive bets big on EVs for last mile deliveries
Idea is simple - help urban cities & businesses thrive with efficient mobility solutions: Founder Rakesh Munnanooru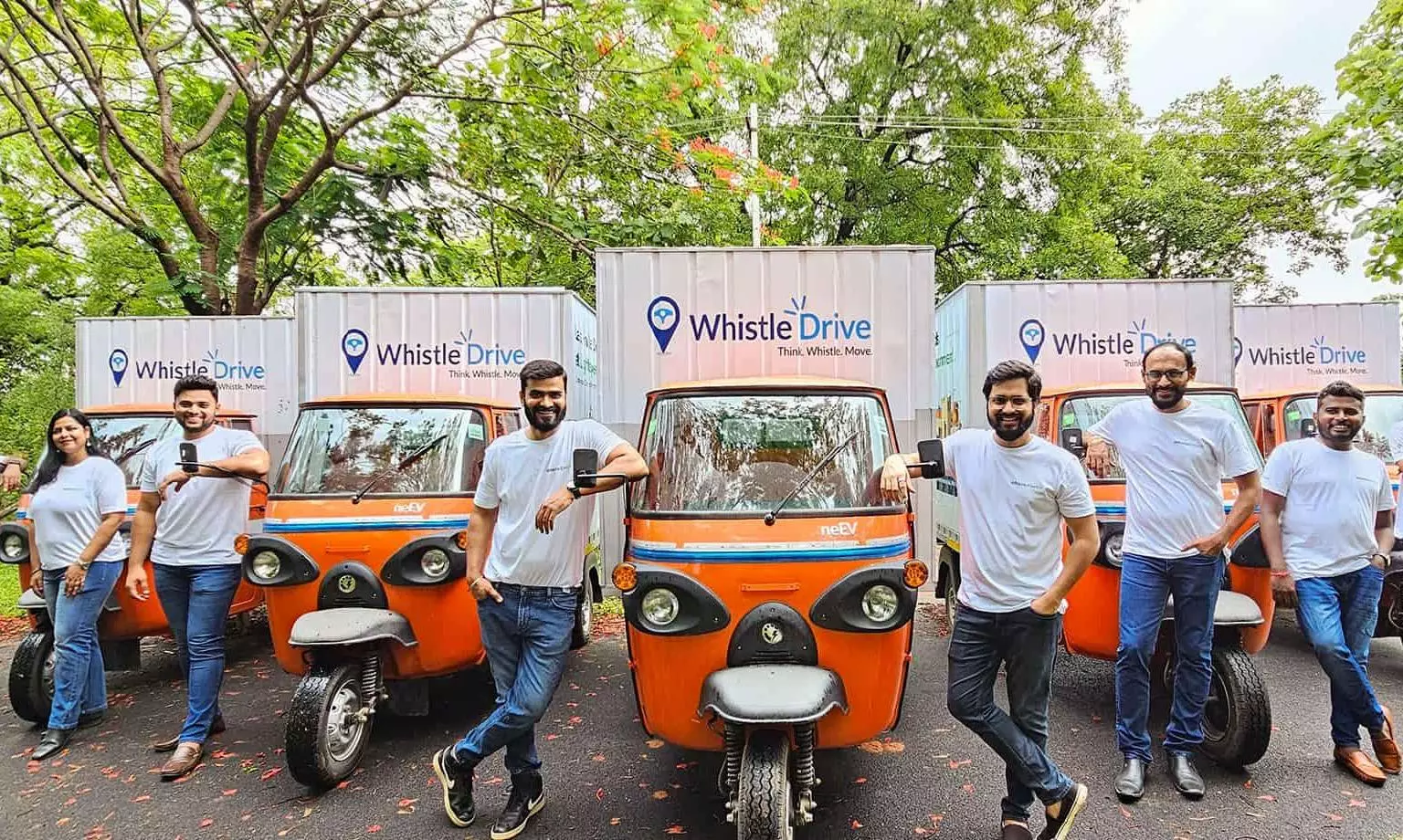 Urban mobility company Whistle Drive has decided to go "ALL-IN on electric vehicles."
"Sure, we've had a few electric vehicles cruising around for a while but now it's time for the whole vibe to sync in! We're fully committed to it, with our foot on the pedal and our eyes on the road ahead," says a LinkedIn post.
"We're in this for the long haul. Our decision to consciously increase our EV fleet count is backed by a deep understanding of market conditions and our unwavering commitment to serving you better. We're listening, adapting, and putting your needs first.
"So get ready, because you'll be seeing more of our sleek and shiny electric vehicles hitting the roads soon. Together, we'll be setting new standards for corporate transportation and logistics."
Founded by Rakesh Munnanooru, Whistle Drive is led by a team including Prashanth M (Chief Growth Officer), Sireesha Tipparaju (Chief Product Officer) and Adinarayana Chennupati (Chief Operating Officer).

Whistle Drive has raised over $10.8 million (Rs 88 crore) in three rounds till now, and is funded by Colosseum Group.
Growing EV adoption in India
With its growing relevance, the government has dedicated Rs 10,000 crore under the Faster Adoption and Manufacturing of Hybrid and Electric Vehicles (FAME) scheme to advance EV charging infrastructure.
"The charging infrastructure in India is projected to expand to 15 million units by 2030 with an estimation of 48,000 chargers to be installed in the next 3-4 years. This rapid expansion of public charging units would affect personal buying patterns as well as create significant change in mobility and transportation services," says a release from Whistle Drive.
As of end-June 2023, as per Vahan data referenced on July 1, total sales were recorded at 721,971 units, which is already 73 percent of India's EV sales in CY2022. Three-wheelers account for more than 34 percent of the total EVs, says Whistle Drive in its release.
Mission 100% electric in 2-3 years for Whistle Drive
With the infrastructure increasing and rising adoption, WhistleDrive is planning to run all their last mile delivery operations and shorter commute trips in employee transportation with solely electric vehicles.
"Our idea is very simple - help urban cities and businesses thrive with efficient mobility solutions," says Munnanooru. "We tried going all-electric two years ago but then realised the market isn't ready yet but I strongly feel now is THE time."
Whistle Drive is operating on an asset-light model as a tech platform with 800 vehicles now out of which around 30 percent are EVs. Most of the vehicles are leased and the company is encouraging individuals to invest in EVs by committing certain business to them. And as much as 60 percent of Whistle Drive's business is from e-commerce.
Maersk goes green
Logistics integrator Maersk deployed its first electric scooters for decarbonised last mile deliveries in Gurugram in partnership with Indisalads.
"These electric scooters will go about the city delivering wholesome and healthy meals," says a LinkedIn post.
"At Maersk, we are taking every step in the direction of building decarbonised end-to-end logistics solutions for our customers and getting closer to our 2040 ambition to achieve Net Zero emissions. We firmly believe in sustainable solutions that benefit both our planet and our customers."

The brand-new electric scooters deployed for Indisalad's B2C deliveries have a total range of 115 km to a full charge, the post added.
Zomato, TVS sign EV deal
TVS Motor will deploy over 10,000 electric scooters over two years, powered by its advanced electric powertrain and superior battery technology, for food ordering and delivery platform Zomato.
"These vehicles will contribute towards revolutionising last-mile delivery, enabling Zomato to further reduce carbon footprint. TVS Motor will also ensure that delivery partners onboarded on Zomato have access to charging stations within their radius and receive smooth digital integration to ensure ease of delivery."